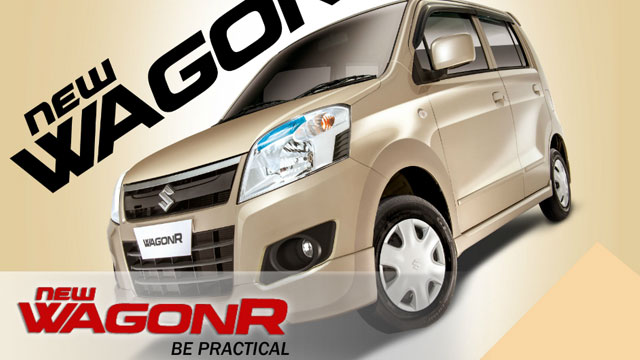 Pak Suzuki Wagon R Body Kit – Is It Worth The Extra Money?
Pak Suzuki's Wagon R is becoming one of the most popular cars in Pakistan. With a reasonable price range of between 8lacs to 10lacs rupees, this car is slowly winning the hearts of many Pakistanis. Though the Suzuki Wagon R comes with a number of features, Pak Suzuki released a new accessory package. The Accessories include:
Door Visors: Door visors are a pretty cool accessory to have in your car. They have a number of benefits, like:
Deflects bright sun
Prevents rain water from coming in when door glasses are slightly down
Prevents fog from forming on windscreen by letting air pass through easily
Directs wind into the car, allowing you to have a comfortable ride when AC is turned off
These are just a few benefits mentioned, door visors also give the car a good look. Pak Suzuki is offering this accessory for a price of Rs.6, 160.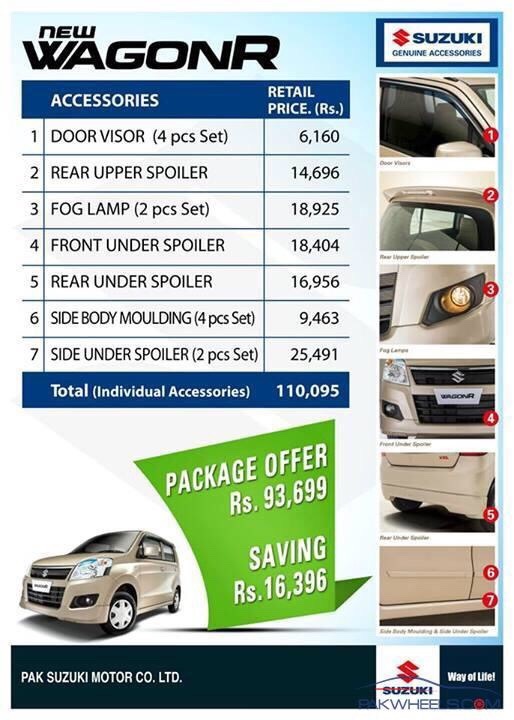 Rear Upper spoiler: Rear spoilers, especially in low-performance cars are purely for improving the looks of the car. Most FWD cars have them and most people believe they don't improve performance. Rear spoilers work best for high-performance sports cars as they improve the aerodynamics of the car, making them more stable at high speeds. New sports cars have active rear spoilers which adjust automatically with the speed of the car. The rear upper spoiler gives the wagon R a sporty look and you can get one for your wagon R for Rs.14, 696. Car accessories can be found at car accessory shops at a more affordable rate across the country, though there is no guarantee of the quality.
Fog Lamps: Fog lamps are considered as a must have accessory. Especially for people that go to work early and experience the early morning fog. Driving in a foggy weather can be dangerous and fog lights help to reduce the risk of being hit by vehicles upfront. Fog lights shoot a beam of light to the ground improving visibility for the driver and makes your car visible to other drivers on the road. They are a must-have accessory and for Rs.18, 925 you could get it for your wagon R.
Front under spoiler: Pak Suzuki is offering this accessory for Rs.18, 404. This accessory gives the Wagon R a cool sleek look. They are designed to make the Wagon R more aerodynamic and make the car more stable at high speeds.
Rear under spoiler: These are a must have accessory if you want to give your car a powerful rally car kind of look. The rear under spoilers and front under spoilers help improve the aerodynamics of the car greatly. You could get this accessory for Rs.16, 956.
Side Body Moulding: This car accessory makes the sides of the car look classy. They are matched according to the color of the car, though the universal color one could go with is black. These plastic strips fit on the doors of the car and they are mostly used to improve the aesthetics of the car. You can get this accessory from Pak Suzuki at a price of Rs.9, 463.
Side under spoilers: This accessory is good if you want your car to look like a low riding car. They help the aerodynamics of the car as well. You could get this accessory for your Wagon R for Rs.25, 491.
The total cost of all these accessories goes up to Rs.110, 095, though Pak Suzuki is offering a discount package of Rs.93, 699. Many would suggest that one could get these accessories at less than half the price from the local car accessory shops, the question is would the quality be as good as that of Pak Suzuki.
Also, Check Out Suzuki Wagon R 2018