When Pak Suzuki saw the increasing popularity of used import Wagon R, they decided to launch their version as well. The local WagonR went on sale in the April of 2014, and Pak Suzuki was able to sell 2,532 unit in FY2013-14. The sales figures doubled to 5,067 in 2014-15. Pak Suzuki sold more than 1000 units in January 2016 for the first time. The car finally has been able to attract the attention of Pakistani auto consumer, although the journey was not as smooth as Pak Suzuki had hoped for. It took Pak Suzuki almost two years to finally break into 1000 car a month club. (Figures – PAMA)
Also, Check Out Suzuki Wagon R 2018
As mentioned above, Pak Suzuki took the bold step of launching their own version of Wagon R after seeing the popularity of imported model. It feels like Honda Atlas has also followed the same model with the launch of HR-V after seeing the popularity of Vezel crossover. Importers have been importing Wagon R from Japan by 2011-12.
Before we begin, it should be mentioned here that Pak Suzuki has named their car 'WagonR', whereas internationally it is 'Wagon R'. So in the article where you see WagonR, we are talking about local model, and when its Wagon R, it is the imported model. The Suzuki Wagon R is a super small Kei car and was first launched in Japan back in 1993. It is a one of the most popular Japanese Kei cars both in its country and in Pakistan. Currently, the imported Wagon R is in its fifth generation (2012 – present). Although you can find a Wagon R as old as 1995, but most famous generation is fourth (2008 – 2012), and then fifth generation (2012 – present). Although different in shape, the WagonR launched by Pak Suzuki is also the fourth generation of the popular mini hatchback. This particular shape is available in Pakistan, India, Indonesia and couple of other countries. For the sake of keeping this blog short, let's just compare local WagonR with the fourth generation imported Wagon R only.
Although imported Wagon R is available with 660 cc engine, the local version was launched with a 1.0-liter 3-cylinder K-Series engine. The imported Wagon R comes with an automatic transmission, whereas local Wagon R only comes with a 5-speed manual transmission.
There are currently two variants of locally assembled WagonR:
VXR – PKR 979,000
VXL – PKR 1,019,000
VXR is the normal model, whereas VXL is top of the line. There difference between VXR and VXL is mostly cosmetic, like silver and chrome bits and pieces here and other. But there are some more fundamental differences as well, like VXL comes with front power windows, keyless entry, security alarm and central door locking, which is absent in VXR model.
There used to be a bare bone VX variant as well but it has been discontinued. It lacked things like power steering, electric windows, tachometer, central locking and remote control locking, air conditioner, security alarm, and audio system, etc. All of these things, including few others, are available in VXL model. The basic model was a good option for people who were interested in a cheaper car with only basic options.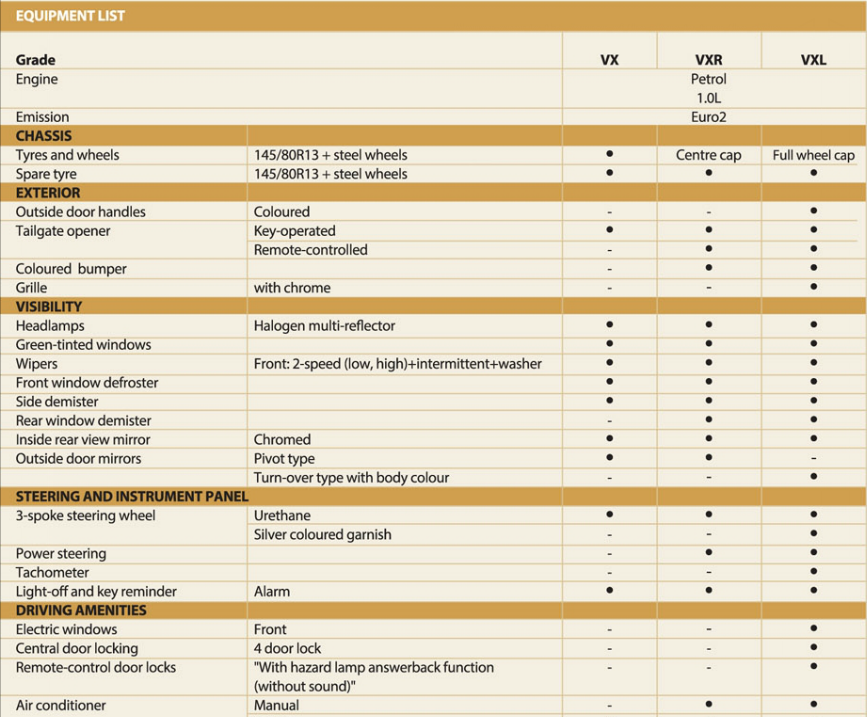 If you don't want to buy a brand new local WagonR, you can purchase a used 2014 local WagonR VXL for the average price of PKR 1 million, or a bit lower, whereas 2014 local VX WagonR is available for around PKR 9 lacs and below. There is almost no difference in the price, but considering you will have to bear cost of freight and registration of a new car, maybe buying a year old WagonR is better for some. Or you can just get a brand new one.
Now let's talk about the imported Wagon R options. There are eight variants of imported fourth generation Wagon R available in Pakistan. And those are,
FX Limited
FT Limited
Limited
FX Limited II
FX-S Limited
Stingray Limited
FX Idling Stop
FX
The good thing about imported Wagon R is that you get arguably overall better build quality than local cars. Secondly, there are usually more options in variants than local WagonR., and the third thing is the availability of options. You get a lot more in relatively less price. There are a whole lot of small difference in these variants like, alloy wheels, interior color, DVD back cam, push start, fog lights, immobilizer, etc. One major option available in FX Idling Stop is the eco mode, on the other hand Stingray is the sportier model. For details of the equipment options, click here. As the motor is concerned, the imported Wagon R comes with a 660 cc 3-cylinder engine mated to an automatic gearbox. According to company's numbers, 660 cc Wagon R does 21.5 km/l under controlled environment. The real world numbers are of course going to be different. Many owners claim their Wagon R does around 15-16 km/l within city.
Suzuki Wagon R Limited
Suzuki Wagon R FX
As far the price of the car is concerned, the fourth generation Wagon R falls in the same price bracket of local WagonR. You can buy an imported 2008-2012 Wagon R for PKR 1 million. The good thing about the car is that even 2015 model Wagon R is available in the same price range of PKR 1 million. The cheapest fourth generation imported Wagon R you can find is for around PKR 8 lacs.
Import Wagon R Through PakWheels
But, if you don't want to go for the typical Suzuki route, why not go for FAW V2? A brand new FAW V2 with a 1.3-liter engine will cost you PKR 1,049,000. V2 is a bit pricier than local Wagon R, but it is slightly longer and wider than the Wagon R; 3600 mm to 3760 mm in length and 1475mm to 1680mm in width. V2 is more powerful as well considering it has a 1300 cc 4-cylinder engine compared to Wagon R's 1000 cc 3-cylinder. Also, V2 comes with alloy wheels, ABS, airbags, and keyless entry.