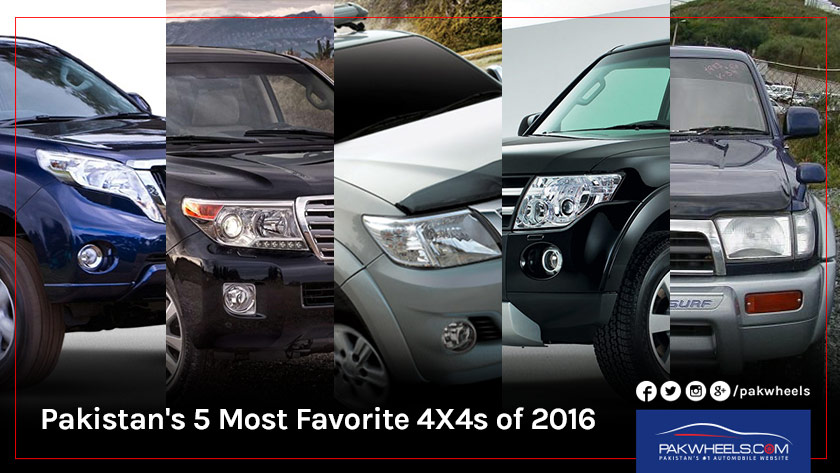 Pakistan's 5 Most Favorite 4X4s of 2016
Third in the series of top 5's, let's have a look at the top 4×4 vehicle searches on PakWheels.com in 2016. The 4×4 culture in Pakistan traces its roots back to early 90's, when these vehicles were made available for public use. The culture began with the introduction of Mitsubishi Pajero, and later on the gradual introduction of Land Cruiser -from Toyota Indus dealerships- manged to usurp the monopoly of Pajero. Today, majority of the 4×4's found in good condition bear the insignia of Toyota and Land Cruiser. Moreover, the imposition of higher import duty, tax structure, limited consumers and land cruiser's resale value in Pakistan has contributed greatly in upsetting any investment plans from a local or foreign investor in this segment. Nonetheless, following is a list of highly searched 4×4's in Pakistan during the year 2016.
#5: Toyota Surf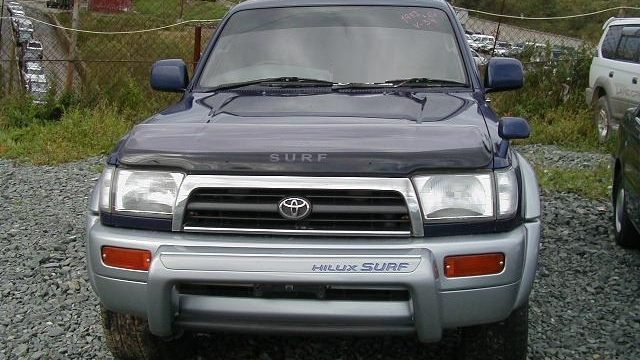 The Hilux Surf aka Toyota 4Runner is a mid-size sports utility vehicle produced and sold by Toyota from 1984 to present. Speaking in terms of local context, the vehicle started to gain popularity in mid-late 90's. As of 2005, the 4Runner (Surf) was replace by Fortuner -based on Hilux platform- in the Asian market. The variants SSR-X and -range topping- SSR-G can still be found in good condition in the local market. Both these models came with an option between the 2.7, 3.0 and 3.4 L engine variants.
#4: Mitsubishi Pajero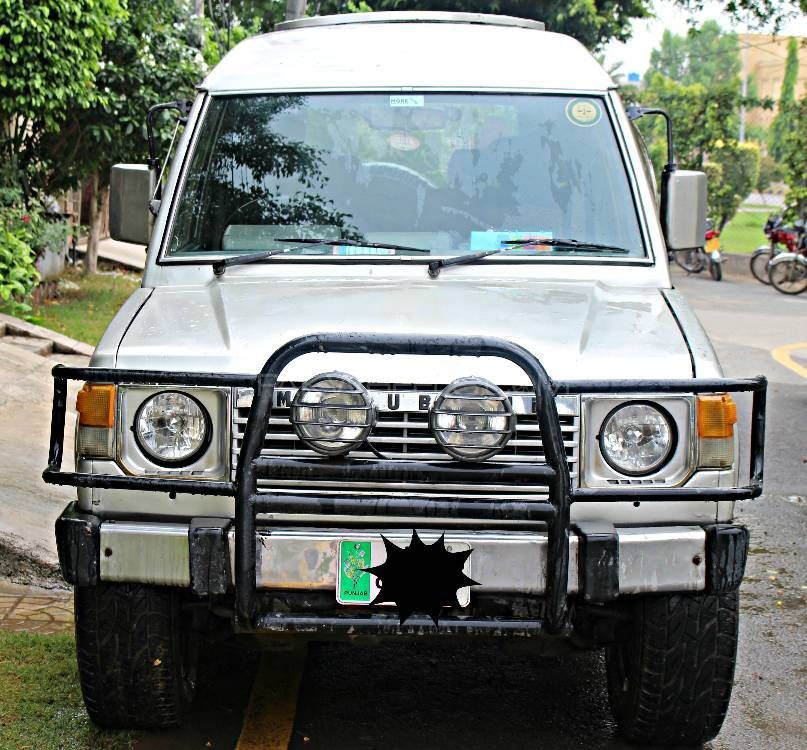 As mentioned earlier Mitsubishi Pajero laid out the foundations for introducing 4×4 culture in Pakistan and that means the Pajero's listed today in Pakistan are going to be old. Majority of the Pajero's available for sale are GLS or Exceed (2.5,2.8,3.0). The second generation -GLS and Exceed- debuted in 1991. A new, larger body was introduced in four different versions; Metal Top, Canvas Top Convertible, Semi High Roof Wagon and High Roof Wagon (long wheelbase). The short wheelbase models were stretched by 70 millimeters (2.8 in) and the long-wheelbase models by 30 millimeters (1.2 in). The available engines included a 3.0-liter 12-valve SOHC with ECI-Multi electronic fuel injection and a 2.5-liter turbocharged diesel engine with an inter-cooler. Moreover, in 1993, the company introduced two new engine options; 3.5-liter 24-valve DOHC with ECI-Multi and a 2.8-liter turbocharged diesel with an inter-cooler.
#3: Toyota Hilux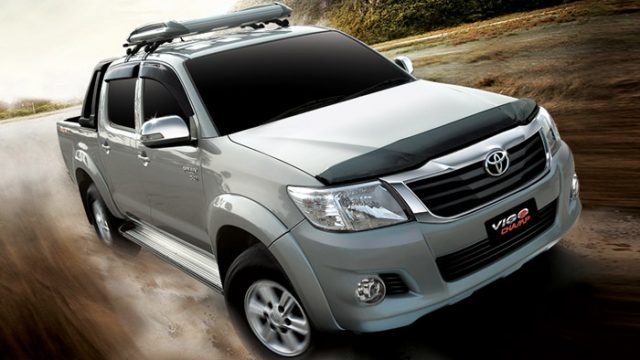 Toyota Hilux, mostly sold as a pick up truck is a light commercial vehicle that is manufactured by the Japanese car manufacturer Toyota. It is sold in many countries around the world, except Japan, North Korea, South Korea, India, United States and Canada. Moreover, it is the only locally manufactured pick up truck available in the Pakistani market and thus it has enjoyed consistent sales over the years. Indus Motors has recently announced the newer -Eighth generation- in Pakistan. This newer generation of Hilux is modeled on 'keen look' used in Corolla E170, with LED Daytime Running Lights and slim projector headlights. Toyota Indus has offered three variants of this vehicle:
V variant
G variant
Single cabin
All variants will feature a 3.0 Litre 1KD engine.
#2: Toyota Land Cruiser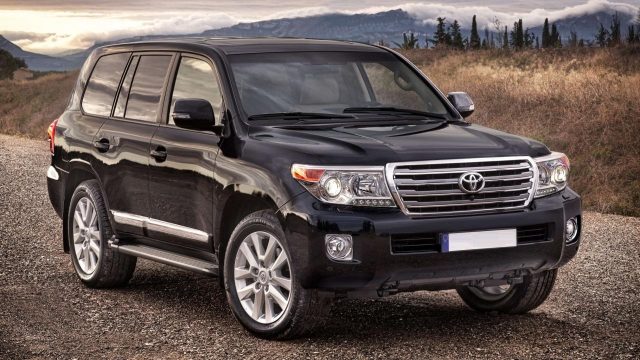 Toyota Land Cruiser is undoubtedly one of the most loved 4-Wheel drive vehicles in the world and is Toyota's longest running series. It is known for its durability and reliability. The vehicle is currently in its 10th generation (J200) and comes with a lot of modern equipment, an improved interior and an improved engine. It comes with bigger brake rotors, calipers and a heavy front suspension. Land Cruiser comes in 5 different engine variants; 4.0 L 1GR-FE V6, 4.6 L 1UR-FE V8, 4.7 L 2UZ-FE V8, 5.7 L 3UR-FE V8, 4.5 L 1VD-FTV V8 turbo diesel. Since its launch, the J200 series has seen a number of face lifts.
#1: Toyota Prado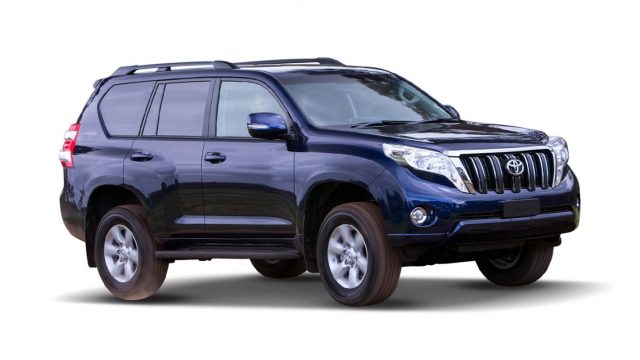 The Pakistani auto industry is majorly driven by the factor of resale. While the rest of the world treats its cars like an expense, Pakistanis treat their cars like an investment. Hence, Pakistan is ranked very high in the Toyota sales globally. Furthermore, Toyota in Pakistan is considered a citadel of automotive thirst. The latest generation of Prado is powered by a 4.0 liter V6 engine which makes 271 hp and 381 Nm of torque, which makes the vehicle reach a speed of 100 km/h from zero in 9 seconds and take it up to the speeds of 200 km/h. There's also a 2.7 liter straight-four engine, which makes 161 hp and 246 Nm of torque, does a 0-100 km/h in 13 seconds and can reach speeds up to 170 km/h.