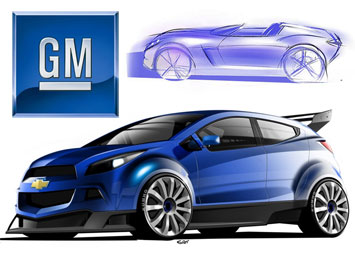 Pakistan Government working on to bring General Motors (GM) to Pakistan
To break the monopoly of the local car assemblers, it is understood that we need more automakers than relaxing import legislation for cars and to do exactly that, Yamaha is in talks with Pakistan government and recently, the Adviser to Prime Minister on Industries Muhammad Basharat Raja said that talks were held with delegations of Korean Company and General Motors (GM) to motivate them to invest in Pakistan and he hopes for positive results.
General Motors was previously the world's largest automaker in the world but owing to the economic recession and credit crises, it fell down from the rank of no.1 to trail behind Toyota and VW. Still however, GM owns a number of very popular brands such as Cadillac, Chevrolet, GMC, Opel, Vauxhall and others while only Chevrolet brand vehicles are assembled in Pakistan by Nexus Automotive.
Chevrolet Cruze is imported while Spark is assembled at Nissan Gandhara facility at Port Qasim during the plant's idle capacity hours.
Even though the investment comes to around $ 15 million, GM's presence in the local market is hardly felt, neither the three largest assemblers see GM-Chevrolet as a potential competitor due to the lack or correct marketing and policies used by Nexus Automotive.
On the left is Cruze, while on the left is the international market Spark model which is not introduced in Pakistan rather an old, obsolete model of Daewoo Matix, rebadged as Chevrolet Spark for Pakistan. (Pictured below)
Raja told the National Assembly that the government is considering giving more incentives for investment in car manufacturing in the country. He added that presently one hundred and fifty thousand cars are being manufactured in the country and fifty thousand are being imported annually which are not sufficient to meet requirements.
The Adviser to the PM is perhaps wanting GM to expand its operations in Pakistan and become a real market player as we need more cars, locally made cars instead of imported ones so the economy may benefit from it as well.