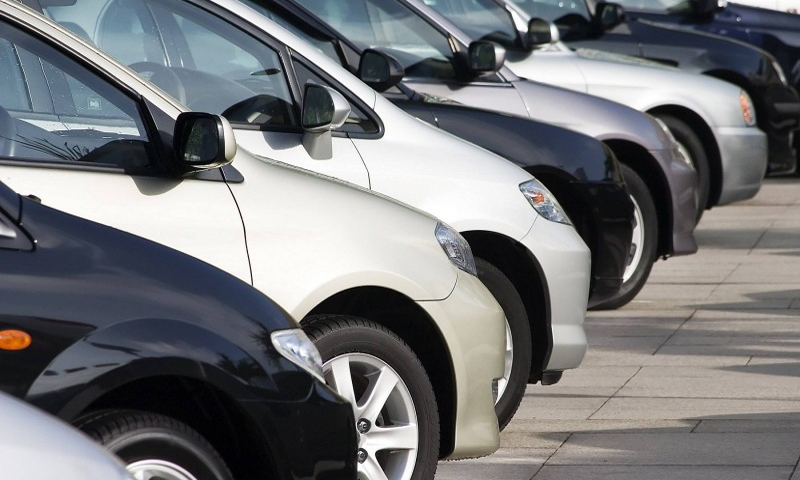 Pakistan's Top 6 Passenger Vehicles Sold in September-2016
Since the closure of Punjab Taxi Scheme, the automobile sales of Pakistan, which felt bloated and artificial seem to have returned to normal levels.
With monthly car sales in Pakistan being recorded at 12263 units, the country's largest auto-manufacturer led the personal vehicle segment growth and has claimed top two spots in the 'Pakistan's Top 6 Local Passenger Vehicles Sold in September, 2016'.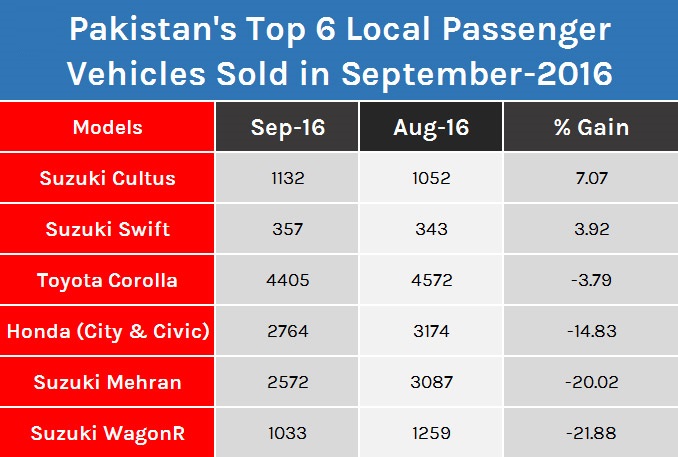 Resisting the dropping sales figures, the king of locally produced vehicles is surprisingly Suzuki Cultus, with its sales still going strong, despite its long and notorious life. The car has proved that it is still one of the most favorite locally produced cars in Pakistan.
Suzuki Swift claimed the second spot in our list with its improved sales of 3.92% as compared to August 2016′. So far so good, but categorizing Toyota and Honda is difficult. Because both these auto-manufacturers present their sales and production data in a collective form as opposed to Pak-Suzuki's style of presenting individual (Vehicle) figures to PAMA. Nonetheless, Toyota Indus managed to secure 3rd place with its slightly decreased sales, which are being attributed to public holidays occurring in September. The company recorded a slight decrease of -3.79% in its overall sales for its Corolla line-up.
We saw an (spike) increase in the Honda Atlas sales when the company started delivering the new Honda Civic to its customers. However, since Honda Atlas does not employee its workforce in all three slots (3×8-Hour Shifts) of a day, the public holidays seem to have an effect on the company's sales. No official word has been released by the company, which leads us to draw this (lack of sufficient man power) logical conclusion for the dropped sales. The company recorded a drop of -14.83% in its sales in September 2016.
The penultimate spot was taken by Suzuki Mehran. Pak-Suzuki managed to sell 2572 units in September, which is -20.02% decrease in the sales of a single car. It seems that the imported Japanese (Kei) cars have managed to deliver some mighty hits to the sole (locally produced) vehicle in the 600-800 cc category.
The last spot (Surprisingly) was taken by Suzuki WagonR. Ever since its launch, the demand of this car has constantly remained on top, which is evident by its On-Money rate -averaging at 35-40k- in the markets across country. The car, which was aimed to tackle the increasing number of Japanese cars has proven to be a huge success for the company.