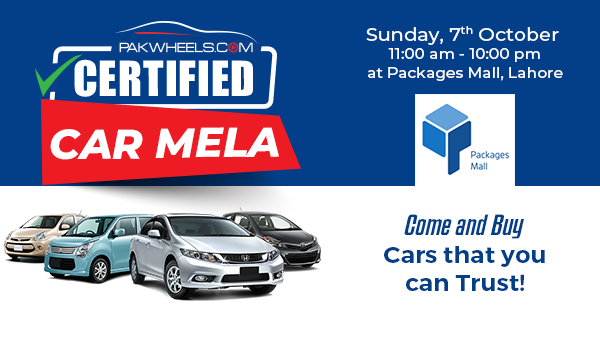 Reasons why PakWheels.com Certified Car Mela should not be missed!
Looking for a used car, but not sure of a reliable source? Let PakWheels.com Certified Car Program find you a car of your choice at the Certified Car Mela, happening on 7th October 2018, at Packages Mall Parking, Lahore.
Buying a used car is a challenge, especially when the auto market is full of options, but one can't tell the quality of the car. In Pakistan, used cars trade has a great potential, as the demand for cars is high, but supply is not meeting the requirement, which makes the consumers go for a used car option.
But, determining the exact condition of a used car is not easy for a consumer. According to a survey conducted by PakWheels.com, about 1640 people agreed to the fact that buying a used car is a risk.
In an aim to help people buy the best car, PakWheels.com brings the Certified Car Mela, where hundreds of certified cars will be there that are certified through expert technicians and the latest equipment.
It is one of its kind Certified Car Mela, which is happening for the first time in the country. Here are some reasons, you should not miss the chance!
Best Condition Vehicles:
Under PakWheels.com Certified Car Program, the vehicles in the best condition and with a clean history qualify. In order to get certified, the vehicle should meet certain criteria.
Multi-point Inspection:
We inspect the vehicles over 200 points under the assistance of highly talented professionals.
Guaranteed Satisfaction:
To satisfy our buyers, PakWheels.com offers 30 days or 1000kms repair warranty.
Read More: Risks of buying a used car in Pakistan
The potential buyers will have hundreds of certified cars to choose from, which includes local and imported hatchbacks, sedans and SUVs. To make it even easier for you to decide, at the Certified Car Mela, each car will have its own detailed verification sheet highlighting the complete history and condition of the car.  Moreover, the dealers will also be there at the event to assist you further.
So, see you at the Packages Mall Parking on Sunday 7th October 2018.