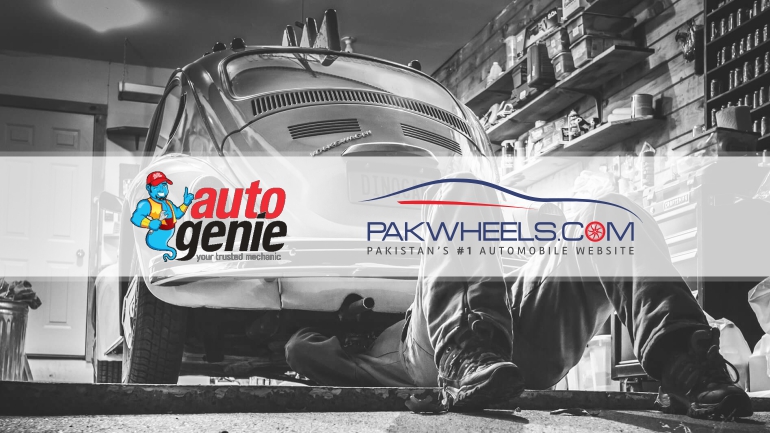 PakWheels Invests US $100,000 In AutoGenie: Pakistan's First On-Demand Auto Service Portal
PakWheels is proud to announce its partnership with AutoGenie. AutoGenie is Pakistan's first virtual automotive maintenance portal. It is a virtual space where you can order car maintenance jobs from the comfort of your home. AutoGenie will do almost anything auto related for you, from oil change to A/C service to paying your traffic challan for you, you can call them and it will be done. AutoGenie was founded in October of 2014 by 4 friends from Lahore
PakWheels has invested USD 100,000/- in AutoGenie to expand its operations in Pakistan. Due to this partnership, AutoGenie will be able to use PakWheels resources like its user base, auto industry connections and current vehicle data. The partnership has enabled PakWheels to be at the forefront of the on-demand auto service industry in Pakistan. Right now AutoGenie is operating in Lahore, but one of the goals of the partnership is to help AutoGenie expand in other cities as well. After the partnership, AutoGenie will be handling the services side of the partnership by providing direct services to the auto consumers, whereas PakWheels will employ its expertise to build up the digital aspects of auto services like providing services related to car financing, insurance planning and more.
Raza Saeed, CEO PakWheels said,
We are delighted to join the forces with AutoGenie. We are aiming to provide to Pakistani auto consumers all the services they would need, from searching for a car, to buying it and then taking care of it. Our objective is to be a one stop shop for the local car buyers.
PakWheels and AutoGenie are hoping to create a synergy that can fully cater the Pakistani auto consumer, from searching for a suitable car, then buying a certified vehicle, to getting the best motor insurance deal for it and then taking care of its scheduled maintenance.
CEO of AutoGenie, Hamza Abbas talked to our team regarding his vision and how it is going to help the Pakistani auto consumers,
With the changing trend of buying and selling things online, general public has become adaptive to such services. As a result of this partnership one can enjoy the convenience of buying his car, maintaining it while he keeps it and selling it when he intends to upgrade, all this through online assistance. On-demand service industry is flourishing just like e-commerce.
He further added,
…auto-maintenance industry is about to get clean and interesting.

The investment is going to help the expansion of the infrastructure of AutoGenie in Lahore and later expand AutoGenie services to other cities, and Karachi is on the top of the list. AutoGenie has already serviced more than 1500 vehicle since its start in Lahore.