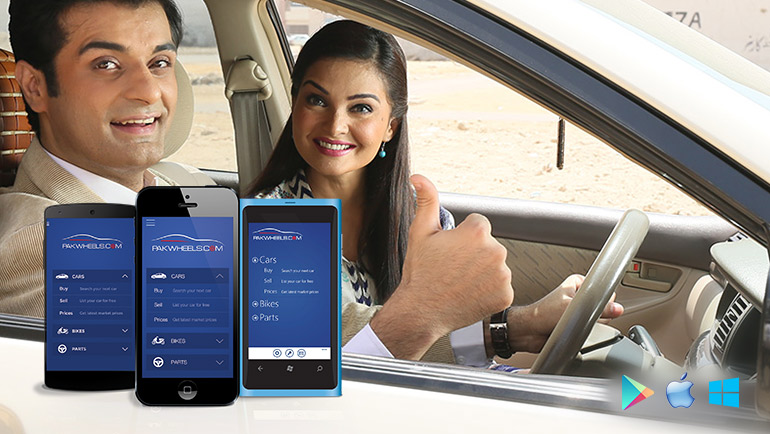 PakWheels Mobile App Provides Great Movability By Helping You On The Go
We here at PakWheels try our best to bring our visitors and users the best automotive solutions we could find. And in order to make the website and our services more accessible to all users we have been working continuously on our mobile applications to make them more comprehensive yet user-friendly. Our applications are available on Android, Apple iOS and Windows Phone.
For the ease of our users, we have developed two different mobile applications that cater to two different types of queries. First mobile application is dedicated to work on all of our forums. You can use it to reach your fellow PakWheelers. The application is designed in the best way to provide the best user experience while browsing our forums. You can not only view and reply to the existing threads but can start your own thread as well.
The second application is made just to make sure you get the best buy and sell section experience. The focus of the application was to help you find your desired vehicle in the easiest way possible. Either you can just do a quick search to find your desired car, or you can find the best suitable vehicle by entering in your exact requirements. When developing the app, our only aim was to make the experience of buying and selling your car as pleasant as possible.
When you tap the Buy and Sell app, you will see following options to choose from:
Tap on the thing you are looking for, and we will help you find it.
If you have tapped in the Cars, you will see options like Quick Search to immediately find the car of your dreams. Or you can sell your current car through this section as well. Also, if you are interested in new cars available in Pakistan or are looking for tips and advises regarding your car, you will find all the related information in this section.
Same it the case with Bikes section. You cannot only look for used bikes, but can also used to app to find information about the new bikes as well. And also, you can upload an ad through the app to sell your current bike.
The parts section is the best way to locate that specific thing you were looking for all these months but couldn't find it. This section is like a treasure chest with people who are interested in builds and restorations and they have to locate parts from all over the country. You can not only buy but can also put ads of parts yourself. If you have a spare bumper sitting in your backyard that you cant find time to take to the local scrap market, take few photos and upload your ad today.
Tapping on More will take you to our blog and Cool Rides section of PakWheels where members have uploaded their cars to share with fellow automotive enthusiasts.
On mobile application provides great movability and helps you find your desired car on the go.