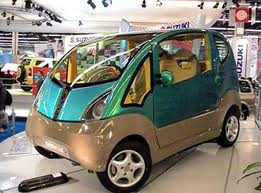 Potential Mehran's replacement is here – Tata Nano's distant cousin, the Air Car to be launched soon, CM Sindh
The fast depleting reserves of natural gas has provoked alot of decision by the government however very few of them have actually been materialized if I may not be wrong. The Air Car Project is another such step taken by the government apart from increasing CNG prices exorbitantly.
The Air Car is, well as the name says, it runs on air and is quite successful in Holland and France. MDI (Motor Development International) is one company which makes commercial Air cars in exclusive collaboration with Tata.
MDI will be launching its vehicles in Pakistan, whose 80% parts can be built in Pakistan while the rest of the can be imported as the CEO of Iman Investments Limited presented while highlighting the production concept and MDI business model. Mr. Raschid A. Jaffery further informed that in the first phase 7500 Air Cars will be prepared in 50 steps.
One of the models as shown in MDI's website, Mini Flow Air, which by the way looks like the Tata Nano, has 180 KMs urban range on and a top speed of 110 KM/H on something called mono energy. But it does beats the stupid Mehran by all standards. It deliver more range on one full tank and also, top speed is more as well.
But it is sad to see that the one single man is being taken into confidence rather the company doing some actual marketing research and learn what the people want but I think everyone's here to make money.
You can click on the following link to check out all the models built by MDI.