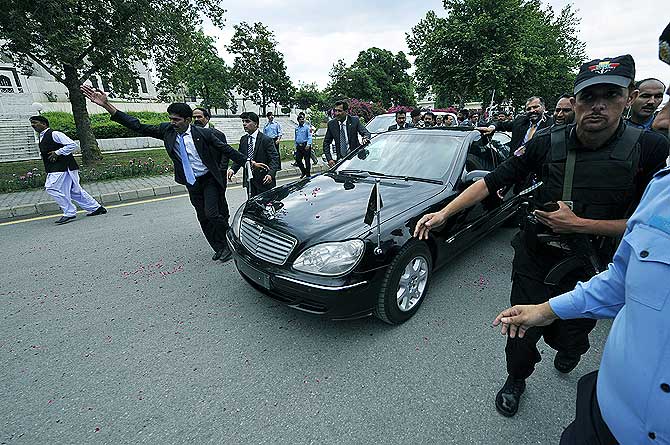 Prime Minister Nawaz Sharif refuses to use Indian bulletproof car at SAARC Summit
KATHMANDU: The Prime Minister of Pakistan, Nawaz Sharif has rejected using the bulletproof vehicles provided by India at the South Asian Association for Regional Cooperation (SAARC) Summit scheduled for next week in Kathmandu.
Nawaz Sharif will be bringing his own car from Islamabad to the Kathmandu, while all other heads of states including Sri Lankan President Mahinda Rajapaksa, Bhutan's Prime Minister Tshering Tobgay, Afghanistan President Ashraf Ghani, Bangladesh Prime Minister Sheikh Hasina, and Maldives President Abdulla Yameen will be using vehicles provided by India.
Prime Minister of Nepal, Sushil Koirala asked the Prime Minister of India, Narendra Modi to provide vehicles as the Nepal only has 4 bulletproof vehicles, 2 out of which are currently being used by the President and Primi Minister of Nepal and 2 are in need of repair.
The move by the Pakistani Prime Minister is seen as a rebuff towards India due to the tension created by cross-border firing that has been happening since late August after India called off the peace talks with Pakistan.
Foreign Ministry spokesperson Khaga Nath Adhikari denied the move as a rebuff saying, "It's not that they have refused to use an Indian car… when the US president travels, he also brings his own car, it's not an issue,"
We also think it has nothing to do with the rebuff, the Prime Minister of Pakistan loves his cars.
The SAARC Sumit is going to be held on the 26 and 27 of November this year.