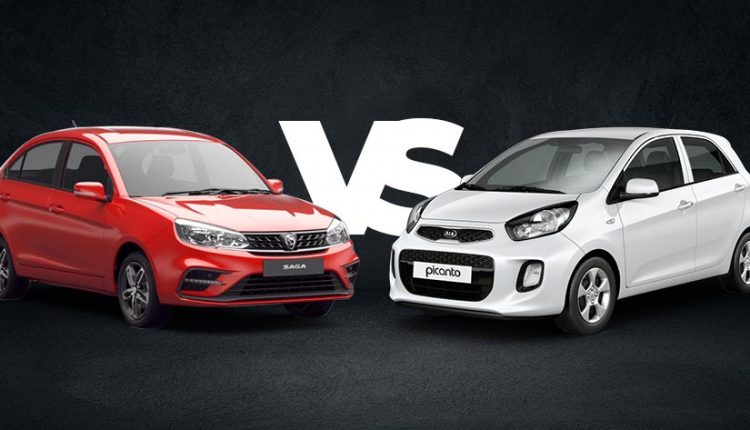 Proton SAGA Standard AT Vs KIA Picanto AT – A Comparison
As Proton Saga is launched to compete in both sedan and hatchback segment, we are here with another comparison of this recently-launched sedan with a hatchback KIA Picanto. In this comparison, we are going to compare Proton Saga Standard Automatic (AT) with KIA Picanto AT, mainly because both cars have similar price range.
Engine and Transmission: 
Proton Saga is launched with 1299cc Inline 4-Cylunder DOHC VVT engine, which generates 95hp and 120Nm, while Picanto has 998cc Inline 3-Cylinder MPI engine with capability of generating 69hp and 94Nm torque. Saga clearly has dominance in this category because the engine size is different of both cars.
Moreover, the Saga and Picanto both have 4-Speed Automatic Transmission, making them equal in this category.
Exterior: 
At the front, you will se that both cars have Halogen Headlights, however, Saga doesn't offer DRLs, which has been offered in Picanto. Meanwhile, Saga has 14-inch Ally Wheels as standard, while these 14-inch Alloy Wheels are optional in Picanto, mean you have to pay extra money to get Alloy wheels.
Interior: 
The first thing you will notice is that Saga has Hydraulic Power Steering, while Picanto comes with Electronic Power Steering. Both cars offer Power Windows in them, however, Saga and Picanto come with Standard Audio System, however, you can get a company fitted 9-inch Touchscreen in Picanto after paying some extra cash.
Safety: 
Both cars come with Dual Airbags, and ABS. Meanwhile, Saga comes with Rear Parking Sensors, EBD and Brake Assist as Picanto doesn't have these features. It means, Saga is much safer car to drive and travel in as compared to its competitor.
Price: 
Proton has launched the Saga in Rs2,125,000, while the current price of Picanto is Rs2,049,000, which makes Saga Rs76,000 expensive than Picanto, but you should remember than former is a sedan, means more space for you and your luggage.