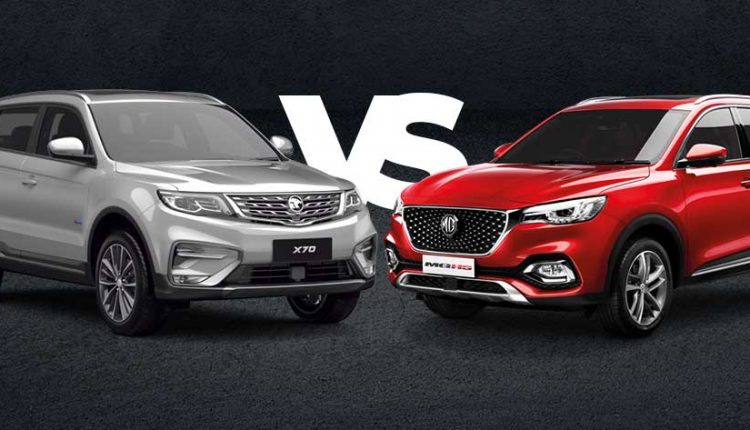 Proton X70 Vs. MG HS – Which SUV is Safer?
Proton X70 and MG HS are two recently-launched compact SUVs in Pakistan. Both cars have multiple features, specs and options in them. On the one hand, MG is owned by a Chinese company, SAIC, while Proton is a Malaysian company.
As mentioned earlier, both vehicles have a number of modern features; however, in this article, we will compare their safety features. These features are extremely important for the car, the driver, and passengers. The local customers have complained about the lack of safety features in locally assembled vehicles for long. Hence, such SUVs are great additions in Pakistan's auto market. 
So, without any further delay, let's evaluate, which of these SUVs are safer. It is pertinent to mention that this comparison is between Proton X70 FWD and MG HS FWD.
Airbags: 
Both MG HS and Proton X70 come with 6 airbags each, making them equal in this category. The manufacturers have installed airbags for both front and back passengers. Furthermore, these SUVs have airbags in their pillars, making them extremely safe machines for travel.
Park Assist Front Sensors: 
On the one hand, Proton's SUV comes with Park Assist Front Sensors, while MG does not offer this feature in its vehicle. These sensors make parking very easy and convenient for the driver, as he/she can park the car in tight spots very comfortably.
Autonomous Emergency Braking (AEB):
Proton X70 and MG HS, both come with the feature of Autonomous Emergency Braking (AEB). AEB puts the vehicle into a complete halt if some individual/object comes in front of it suddenly. This is a great feature, especially for highways, when the vehicle is at high speed.
Forward Collision Warning (FCW): 
Both Proton and MG have offered this feature in their SUVs, respectively. The FCW will issue a warning if there is something in front of your car during drive, which is great for your safety.
Blind Spot Information System (BLIS) 
Both SUVs by MG and Proton come with this safety feature. BLIS will warn you, if there is another vehicle in your blind spot, saving you from any potential crash or accident. BLIS is an excellent feature on highspeed because sometimes you remain unbale to see other cars, at your blind spot, during the drive.
Lane Departure Warning (LDW): 
Again, both SUVs have the Lane Departure Warning (LDW) feature. It means these cars issue a warning if the driver unintentionally drifts into another lane without any indicator. It means the feature will take the driver's attention back to the driving.
Door Operating Warning System (DOW): 
Proton X70 comes with the Door Operating Warning System (DOW), while MG has not installed it in its vehicle. The DOW system will issue a warning if there is a car passing by while opening the door. This feature not only keeps you safe but also the other vehicles.
Hill Climb and Descend Assist:
If we look at the Hill Climb Assist feature, both X70 and HS have these feature. This means both SUVs are very easy to drive in mountains.
Final Verdict: 
The safety comparison between these two SUVs shows that Proton X70 has an edge over its competitor. The Malaysian company's vehicle has additional features like DOW, Park Assist Front Sensors and Hill Descend Assist, making it safer than MG's car. It is also pertinent to mention that Proton will offer similar features in locally manufactured CKD units, which is a piece of great news because no locally manufactured vehicle offers this many safety features in it. Henceforth, Proton is setting a new precedent in Pakistan for other car manufacturing companies, which definitely great for the consumers.