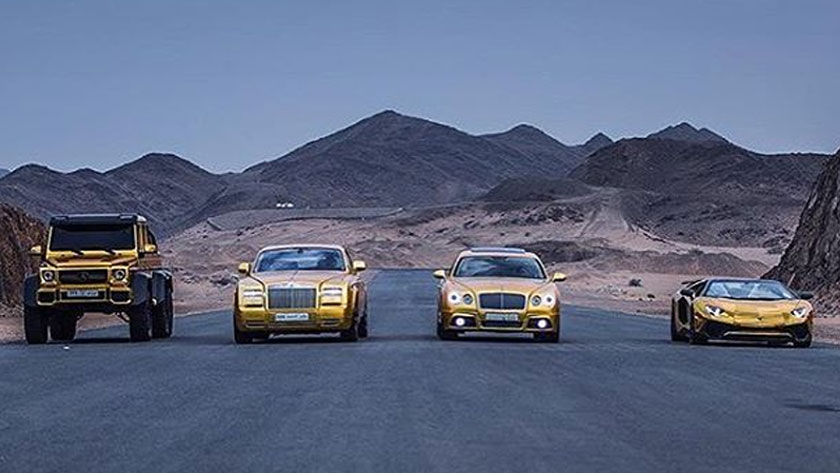 Saudi Petrolhead Owns Four Gold-Plated Supercars That You Can Only Dream Of
There is an idiom in the English language, "the heart wants what it wants". If your heart wants four gold-plated supercars, you got to have them. Most probably you won't be able to have one. But one Saudi youngster's heart wanted four gold-plated supercars, and he definitely has them. The 23 year Saudi national Turki Bin Abdullah loves to spend his time flying around the globe and is nowadays living in one of London's posh residential areas. He took his friends and his four supercars along with him as well.
Turki Bin Abdullah owns a 6×6 AMG G-Wagon, a Rolls-Royce Phantom Coupe, Lamborghini Aventador, and a Bentley Flying Spur. Approximate worth of his cars is around 1.5 million GBP. The Lamborghini Aventador V12 monster that is capable of doing 0-62 km/h in just 2.7 seconds. And can reach the top speed of 217 mph.
Also Read: Ten Supercars Revealed At The 2016 Geneva Motor Show That You Must See!
This multimillionaire automotive enthusiast has not only put Londoners under the spell of his cars but has kept people around the world engaged through his social media activities. His car photos and videos have been video hundreds and thousands of time on his official Instagram account @turkiabdullah777. In one of his pictures, you can see a Cheetah sitting in his Mercedes-Benz. Turki has taken his cars to almost all the main cities of the world, including Paris and Dubai.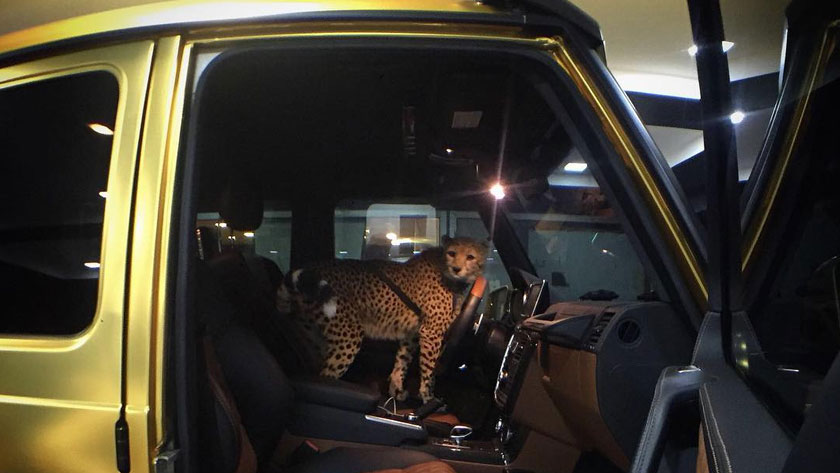 Not much is known about his family's background. Some claim Turki Bin Abdullah belongs to the Saudi Royal family. But there has been no affirmation from Turki or his immediate circle about this claim.
And if you think these pictures are photoshopped, check the video below:
https://www.youtube.com/watch?v=f5PDIqCNxMw