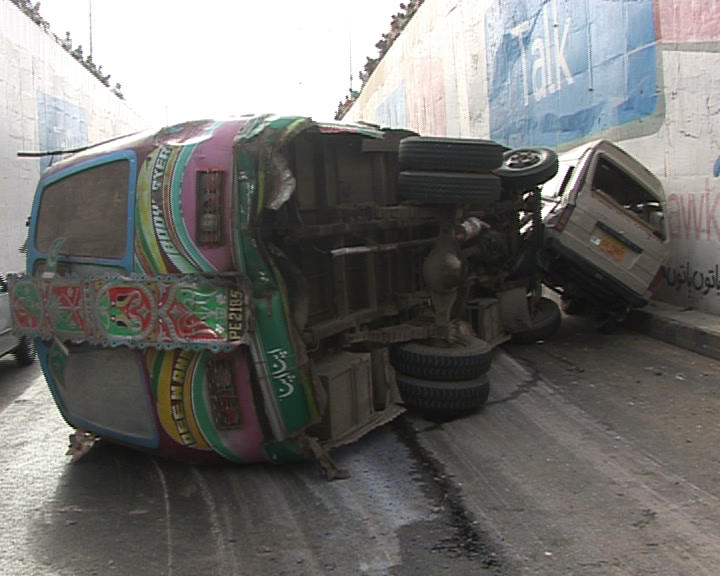 According to Dr. Amir Shaikh, DIG Karachi Traffic Police, five fatal accidents occur every two days on roads in the city. Statistics for the first four months of 2016 were shared with the media. Talking about the total number of accidents in last three year, the DIG was quoted saying,
"Very little improvement has occurred so far as 30,000 accidents were reported every year. This year, so far, has not proved to be much different."
He further remarked that in almost 90% of cases, parties involved in the accidents often come up to some sort of agreement with each other. 40% of patients brought to Emergency at Jinnah Postgraduate Medical Centre are involved in some kind of traffic accident.
Also Read: Traffic Violation Evidence System (TVES) By Karachi Traffic Police Is Gaining Momentum
He also told the press that over speeding is clearly the reason for most of the accidents, especially on Superhighway. Despite several warnings, the drivers do no pay much attention.
Other than over speeding, DIG Dr. Amir Shaikh said that factors like unnecessary and dangerous overtaking, and underage or unskilled drivers cause the majority of accidents. The DIG further said that many of those untrained drivers do not have any sort of driving permit.
The data has revealed that 60% of drivers do not possess a valid driving license. Karachi City Traffic Police deploys around 3,200 personnel to modulate around 3.79 million vehicles across the city through various junctions and intersections. Cars make a bit more than 32% of that traffic whereas motorcycles and rickshaws make around 55% and 5.5% of total traffic respectively.
More than 900 vehicles keep on adding to the bulk every day. A safe estimation suggests that each traffic police officer has to manage 1031 vehicles each day in Karachi.
Dr. Shaikh mentioned the Superhighway, the National Highway, Korangi Industrial Area, Main Korangi Road, Sharea Faisal and Mauripur Road as the accident hotspots.