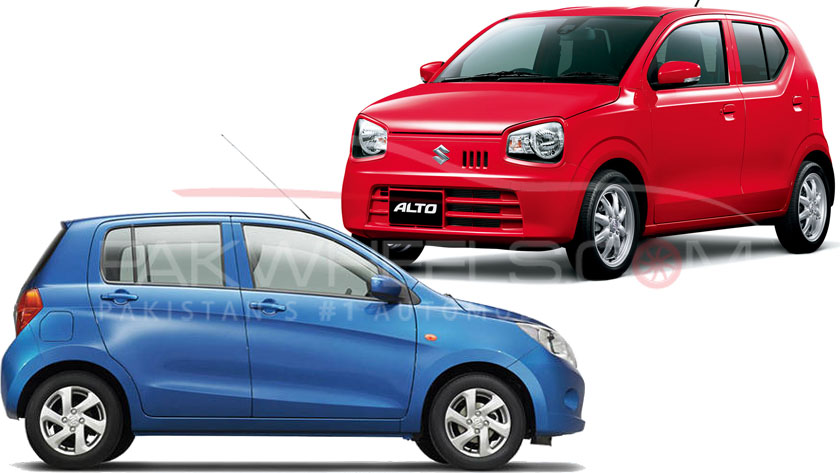 The automobile market has suffered many hits this past month. The dollar has been rising exponentially and drastically, inflation is on the rise, the government has imposed Federal Excise Duty (FED) on locally manufactured, and imported cars which will invariably result in an increase in vehicle prices and the legendary Mehran has been discontinued. All this has left us questioning what's next for the local auto market industry, now one of the most volatile sectors of Pakistan's economy. However, people's search habits on Pakwheels.com remain the same. 
For June 2019, in the used car category people's interest was only in three cars: Suzuki Alto, Honda N One and Suzuki Wagon R. Alto topped the searches for the month by 53% increase in searches. People are highly interested in the new Alto which launched this month, especially considering Suzuki Mehran's production has been discontinued. Suzuki Wagon R received attention for the same reason. On the other hand, searches for Toyota Prius, Suzuki Swift, and Honda Vezel declined by 20%. 
In the 660cc engine capacity passenger cars, Suzuki Alto held the lead for most searched. Top four most searched were Daihatsu's Mira, Suzuki Wagon R, and Suzuki Jimny. Since February 2019, these three vehicles have been the top searched cars for the 660cc passenger car category at Pakwheels.com.
Among the 1000cc engine capacity passenger cars, the search trend was Suzuki centric. The vehicles searched Suzuki Cultus, Vitz, Alto, and Wagon R. Last month, the top search was Toyota Vitz followed by Suzuki Alto, Cultus, and Wagon R.
Read Also: Most Searched Cars on PakWheels.com in May 2019
Top searched Sedans for June 2019 were Toyota Corolla, Honda Civic, Honda City and Suzuki Liana. In May 2019, the search trend was the same except for Suzuki Margalla instead of Suzuki Liana. 
The top searched hatchbacks on Pakwheels for June 2019 were Suzuki Alto, Mehran, Daihatsu Charade and Move. Suzuki Alto and Cultus were in the top searched sedans in May as well. 
In June 2019, most searched SUVs were Toyota Prado, Toyota Land Cruiser, Suzuki Jimny and Toyota Surf. These were the top searched vehicles for May as well; however, the sequence for top searched has changed slightly. 
In the bike category, Honda CG 125, Honda CD 70, Honda CG 125 Special Edition, Hi-Speed Infinity 150 and Honda Pridor were the top searches for June 2019. In May, the most searched bikes were Honda CG 125 Special Edition, Honda CG 125, Honda CD 70, Yamaha YBR 125 and Hi-Speed Infinity 150, which shows the similarity in the searches.
Overall, the top searched vehicles on Pakwheels irrespective of categories were: Suzuki Alto, Suzuki Wagon R, Toyota Corolla, Suzuki Cultus, and Honda Civic. These were the same last month as well.