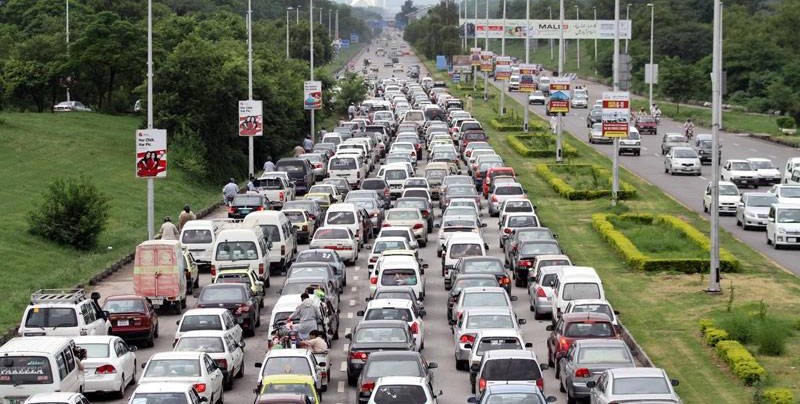 Solutions for Islamabad Expressway Traffic Congestion
Introduction
As we all know that during peak hours, the Islamabad expressway is congested with all sorts of transport vehicles, travelling to and from Islamabad. This is partially due to mass migration of people from city to suburban areas and partially due to ongoing construction of Rawalpindi Islamabad Metro Bus Project. As a daily commuter on Islamabad Expressway, it takes me around an hour and a half for a distance of only 25 kilometers.
RELATED: Motorway Link for Eastern Rawalpindi – A suggestion to solve the traffic problem
I have looked in to this with a great deal of interest and I would like to share my experience and highlight a few possible solutions for the Islamabad expressway traffic congestion problem:
Problem Areas / Bottlenecks
If you travel from DHA-2 to all the way till Kulsum Plaza on any given day during peak hours, you will encounter the following bottlenecks:
Congestion on expressway due to U-Turns leading towards different housing societies.
Slow traffic in front of housing societies entrances/exists on expressway.
One lane and shoulder blocked due to a broken lorry.
Slow traffic due to heavy traffic, especially at Airport traffic light.
Bus/Van stops on main expressway from Airport traffic light till Sector I-8, closes down one lane permanently and leads to heavy traffic coming on the other side.
Biggest bottleneck lies just prior to Faizabad Flyover. There are two exists leading towards Rawalpindi and after that the expressway squeezes from five lanes to three lanes which creates a massive back log and in case of any accident the back log stretches all the way till Khanna Bridge, as illustrated below: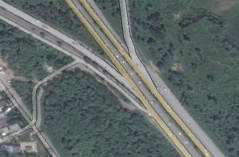 This bottleneck continues from Faizabad Flyover to all the way till Zero Point Flyover. The expressway squeezes to three lanes in this area instead of five lanes.
I-8 traffic lights are also a bottleneck where traffic police is battling everyday to keep the traffic moving.
Similarly, if you travel from Kulsum Plaza to DHA-2 during peak hours you will encounter the following bottlenecks:
I-8 traffic lights are the first hurdle, which are invariably blocked due to traffic load.
Faizabad Flyover traffic jam especially after the traffic from Rawalpindi joins the main expressway. That particular patch is also three lanes instead of five lanes and causes a huge backlog. At this point the buses also join in and slow the traffic.
Khanna Bridge traffic lights are also blocked due to traffic coming from extreme left to take a U turn or go towards Khanna.
Airport traffic lights are also a big hurdle with traffic backlog stretching for miles. The cars going straight on the expressway are halted due to the fact that expressway squeezes from five lanes to two lanes.
The biggest hurdle on this route is mainly due to a broken lorry. It takes a good one hour to clear this patch and at time more than that because multiple lorries breakdown at the sametime.
Traffic further slows down due to entrance exists of housing societies.
In my opinion these are the major factors contributing to hour and a half long drives, which in actual should only take 30 minutes.
Short Term Solutions
These solutions are short term so that immediate action can be taken to resolve this issue. Furthermore, when the Rawalpindi Islamabad Metro Project is complete the traffic load on expressway will reduce as well but its effects will only be visible from Faizabad Bridge onwards, the rest of the highway will still get chocked.
Peak Hours Signal Free Corridor: Peak traffic hours start from 7:00 AM till 9:00 AM and then from 5:00 PM to 7:00 PM. During these peak hours it is recommended that the U-Turn facility for Khanna Bridge traffic light, Faizabad traffic light and I-8 traffic light should be closed with movable barriers (the ones used during VIP routes). This will provide a stoppage free corridor from Airport traffic lights to Islamabad. People can use Khanna Bridge to cross over whereas; people can also use Zero-Point Flyover to go towards I-8 or they can also use the service roads. The numbers of people using these U-Turn or Traffic Lights are far less in number as compared to people travelling straight on the expressway. Similar, signal free corridors are successfully operational in Karachi.
Extension of Roads on Critical Patches: If the road patches on both sides of Faizabad Bridge (near exists and entrance to Rawalpindi) are extended to accommodate one more lane it will significantly reduce the traffic pressure.
Heavy Traffic Restriction During Peak Traffic Hours: If the heavy traffic, such as big trucks and tractor trolleys, are barred to enter Islamabad from 7:00 AM till 9:00 AM then it will improve the flow of traffic and give more space for buses and vans on the left two lanes.
Similarly, if the heavy traffic is restricted and not allowed to leave Islamabad from 5:00 PM to 7:00 PM, it will further improve road conditions and will also reduce the chances of lorry breakdown during peak hours.
Long Term Solutions
I have listed down the long-term solutions and they are all self-explanatory:
Construction of Airport Chowk Flyover / Under Pass.
Construction of Khanna Flyover / Under Pass.
Construction of I-8 Flyover / Under Pass.
Broadening of Expressway:

Near housing society entrance/exists.
From Faizabad Bridge to Zero Point Bridge from three lanes to five lanes.
From DHA-2 to Airport Traffic Lights from two lanes to five lanes.
Service roads from single lane to two lanes on each side.
Relocation of bus stops from main expressway to adjacent service roads.
Under ground passages/tunnels: for pedestrians, cycles, bikes, cars, trucks, tractors etc. in front of all housing societies.
Strengthening of Service Roads and adjacent roads to expressway.
Relocation of CNG / Petrol Pumps on Service Roads and elimination of straight road access to pumps from expressway.
Traffic Control Rooms at Airport Traffic Lights and I-8 Traffic Lights with LED sign boards to inform commuters about traffic jams.
Metro service from Rawat to Faisal Mosque.
Conclusion
If the above mentioned short-term and long-term suggestions are accepted it will result in:
Time saving
Fuel cost saving
Environmental friendly
Emergency service friendly
Stress relief for daily commuters
Stress relief for heavy vehicle drivers
Less manpower of Islamabad Traffic Police
Safe and easy access to Islamabad, even for VIPs
Public awareness on Peak Hours so that they can individually devise strategies to avoid congestion
I had written individually to various ministers, government officials and traffic police SSP but unfortunately, no one has replied back or even acknowledged that they have received these suggestions. Sometimes it feels that the development authorities neglect the suburban area of Islamabad.
It is sad because the amount of time we spend each day on the road under stressful conditions is getting worse. So we need to accept this challenge on long-term basis and plan so that we can effectively handle the flow of traffic entering and leaving Islamabad.