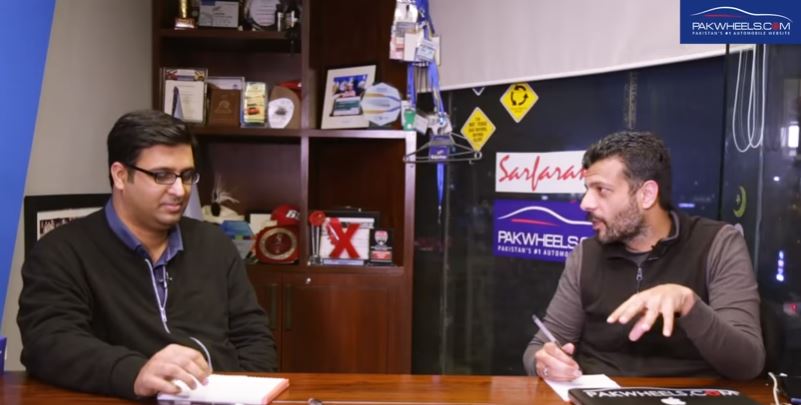 Suneel Munj Interviews Atir Sehgal of United Bedian Motors
In the backdrop of PakWheels owner's review video of United Bravo, viewers increasing interest in this new entrant in the local market left a number of questions unanswered. PakWheels, therefore, invited Mr. Atir Sehgal of United Bedian Motors for an interview to explain more about this car and help the viewers form an informed opinion on United Bravo.
Here's a very candid interview of Mr. Sehgal conducted by PakWheels Suneel Sarfraz Munj.
SSM: Bravo's steering is awkwardly placed. Our viewers believe it is placed very high. What do you have to say?
AS: Bravo is a new entrant in the market and therefore the more feedback we get, the more we will be able to address such complaints. United, in future, will look into the Bravo's steering placement issue.
SSM: Bravo doesn't come with a spare wheel?
AS: This issue is also work in progress. For now, Bravo is assembled here, while CKD kits are imported from China. United Bravo in China doesn't come with a spare wheel. The car, however, comes with an inflator like Japan imported cars.
SSM: Don't you think the tyre issue will discourage families from traveling in this car and further don't you think this car will be good for commute within a city only?
AS: In the third phase, United will give a spare wheel in the car. Making space in the car for a spare wheel requires substantial work on the car's existing design. However, the company is committed to providing a spare wheel in this car in the future.
SSM: Is this car being sold in Punjab only? Do you have dealerships in other parts of Pakistan?
AS: The company's plant is situated in Punjab and therefore Punjab is being focused on right now, especially in terms of sales and spare parts. The company's head office is in Lahore. We have dealerships in Islamabad, Faisalabad, and Multan with more to follow in other cities. These dealers will exclusively deal in United products.
SSM: What about the spare parts of this car. What is the price of its headlights?
AS: Approximately Rs.8,000.
SSM: This is 30% more expensive than Mehran's headlights?
AS: True. Bravo's parts are being imported from China and assembled in Pakistan. As we find more local vendors, users will find Bravo parts in greater variety and quality.
SSM: What about the availability of spare parts?
AS: Parts are readily available.
SSM: How much is your car (United Bravo) locally produced?
AS: For now, it is completely imported in parts and these parts are then assembled locally. Sometimes it is cheaper to import these parts despite dollar fluctuation than procuring them from local vendors.
SSM: Speaking of China, what is this car's history there? How receptive are Chinese to Bravo? What's the feedback?
AS: You've mentioned FAW. But FAW has not been able to gain a foothold in the local Pakistani market. United, on the other hand, aims to provide a good quality car to local Pakistani consumers. The company has a history in Pakistan – it started off with 2-wheel vehicles, then it moved into 3-wheel vehicles market and now it has moved into the 4-wheel vehicle sector.
SSM: Aren't you weakening your case by stating that FAW, which is also a Chinese vehicle like United Bravo, has not been able to gain a foothold in Pakistan? By the way, I don't agree that FAW has not been a success in Pakistan. I haven't come across a single FAW user complaining about FAW company. So, getting back to Bravo, has it been introduced in another market or is Pakistan the first country where it is being "tested"?
AS: Since this is a Chinese car, therefore it was first tested in China. We are gaining a faster foothold in Pakistan than FAW. Bravo's engine is Suzuki Mehran based.
SSM: What do you mean by Suzuki Mehran based?
AS: Ring, piston, clutch plate, etc. are all of Mehran.
SSM: Is it safe to assume then that your vendors are the same as Suzuki Mehran's?
AS: Vendor isn't the same but the supply chain is the same.
SSM: This is confusing, please clarify.
AS: Ours and Suzuki's supplier is the same.
SSM: Is this car EFI Euro II compliant?
AS: Yes.
SSM: Its engine and gear are both of Mehran's?
AS: Yes.
SSM: So, the engine and gear of United Bravo are inspired from or derived from Suzuki Mehran's engine and gear?
AS: Yes.
SSM: If this car's engine is better than Mehran's then why isn't its pickup as good as Mehran's?
AS: This is due to the better fuel economy of United Bravo as compared to Suzuki Mehran. It is also because of computer programing.
SSM: What's the car's fuel average?
AS: Approximately 14-16 km with AC within a city and on a highway, more than 20 km per litre. The car comes with a dry battery and its radiator's design is based on a German design.
SSM: Our owner's review of your car experienced a different fuel average?
AS: Fuel average can be accurately measured only after the car has been driven and then inspected at 1,000 km. In your owner's review, the driver had driven the car for less than 1,000 km.
SSM: Since this car is 100% imported therefor its price will be most vulnerable and susceptible to dollar fluctuation?
AS: Not necessarily. It also depends upon the duties. These cars are CKD cars, which means they are assembled here. This protects the car, to some extent, from dollar fluctuation.
SSM: United Bravo's introductory price was Rs.850,000. Now its price has been increased to Rs.895,000. With registration, it will go up to around Rs.950,000. Why would someone buy this car without test-driving it? Why don't you let people test-drive your car?
AS: We had the policy to let people test-drive Bravo. Unfortunately, a couple of our test-drivers got injured while driving the car and therefore the company stopped this facility.
SSM: But this is no excuse to stop allowing others from test-driving your car?
AS: Not every car manufacturer lets you test-drive their car. Only promotional cars are for test driving.
SSM: Tell us your company's expansion plan as in when this car would be available in Sindh, KPK and other parts of Pakistan?
AS: Our expansion plan will start to take shape by the middle of this year. Our dealerships will expand in other parts of the country. These will be exclusive United dealers. United intends to make only those its exclusive dealers who have a background in the automotive industry.
SSM: I called a variety of United dealers, but they were hesitant to divulge or reveal information regarding United products?
AS: I am surprised that you experienced this. I welcome you to come to our dealership. I assure you that we'll answer all your questions.
SSM: Getting back into the car, I'd heard of the car's inferior rubber quality, but when I sat in it, I wasn't impressed but wasn't disappointed either. The car's interior wasn't as bad as I'd thought. Exterior, however, had issues like over-spray, foggy indicators and stuff. What does your company intend to do about this?
AS: United is focused on quality. Quality is its first priority. Yes, human error is there but we are trying to improve this car on week by week basis. We are also planning to roll out our automatic variant in the coming year then perhaps 1000cc Bravo and so on.
SSM: Tell us about Bravo's safety features? For example, does this car have an immobilizer?
AS: For now, Bravo doesn't come with this safety feature. Though it has booster breaks but no airbags.
SSM: Has this car been crash tested?
AS: Yes, it was crash tested in China. However, it was driven for 60,000 km in Pakistan to check its safety.
SSM: While it was driven in Pakistan for 60,000, were there any accidents?
AS: Yes.
SSM: Based on that, how would you rate the car's safety features?
AS: Bravo's built quality, its steel quality, is better than its primary local competitor. Headlights and bumpers are also better.
SSM: Tell us about the warranty on this car?
AS: For now, one-year or 20,000 km, whichever comes first. In the coming time, we are planning to extend this one-year warranty.
SSM: How can a Bravo owner register a complaint with United?
AS: There is a department in United, which exclusively deals with complaints relating to quality. Company's helpline number is 042-111-786-221 or they can email them at [email protected]
SSM: Do Bravo owners come to you with issues relating to quality and manufacturing? For example, the Bravo car in our video had a silencer issue.
AS: We are aware of such issues. We called the owner of the car after watching the video. The car requires adjustment. He can visit our dealership at his convenience.
SSM: Thank you.