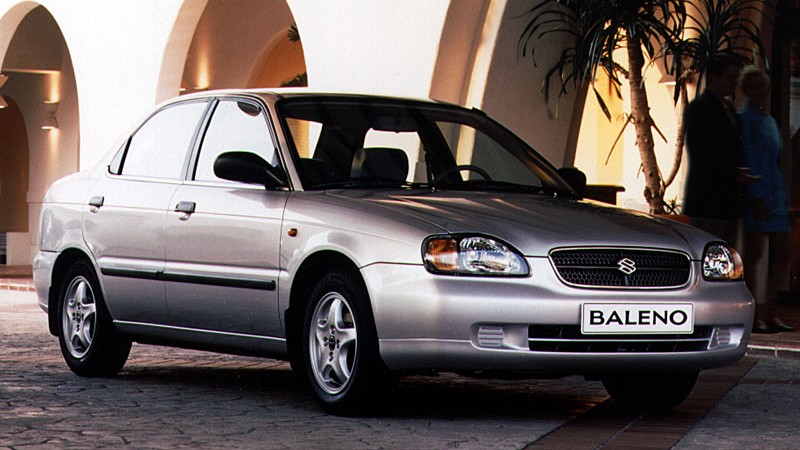 Suzuki Baleno And Its Failure
I think we've convinced ourselves to never accept a sedan offered by Pak Suzuki whether it has a 2.4 liter or a 1.3 liter engine. If you recall back, there was a car called Suzuki Baleno and it was for those who couldn't afford a Corolla or a City but wanted a sedan, probably for more space. Currently none of us would even be interested to talk about the vehicle as it flopped to such an extent.
Also the car was seen on roads but what Suzuki thought about it, was not accomplished. Just introducing a sedan with the same engine capacity will not make you win the hearts of customers. You need to work on a lot more.
Suzuki Baleno entered the auto world in 1995, known with different names around the globe. The sedan offered in Pakistan had either a 1.3 liter engine or a 1.6 liter engine. A sports edition was also offered and the special thing about it was that it was also offered in black paint work. Anyways, the thing is, why the car couldn't reach the customers properly and why couldn't it make its name.
Suzuki has always been at a war, in fact tried to be at a war with Honda and Toyota. We've heard a lot of times why Toyota and Honda have their customers and they will stick to them no matter what happens. As Honda is more popular in Punjab because of the roads available and Toyota in Sindh and Baluchistan because of the rugged roads, likewise where do you make Suzuki Baleno stand? It looks like Suzuki just shaped the vehicle into a sedan and was confident enough to wipe of Toyota and Honda.
Suzuki Baleno had many issues with it; one of it was low road clearance, almost hitting every speed breaker. Although the engine was 1.3 liter but it couldn't perform well. Another issue that was commonly seen in the vehicle was of shocks. Shocks gave up very soon as the car used to literally drag on road if 2 healthy people sat in it. Another issue noticed in the vehicle was of sagging silencer due to frequent hitting on roads.
As the car was more seen on roads during 2000-2005, likewise the petrol prices were also seen to hike up. Going for alternate fuel type in this particular vehicle was not at all a good idea. This sedan was never ever made for CNG. By installing CNG the car faced major issues in the head gasket. In short the car failed in our country and couldn't do well.
Going back to from where I started, why can't we accept sedans offered by Suzuki? Although I find myself lucky enough, guess why? As I recently saw a Suzuki Kizashi on road. I remember when the car was launched, I prayed to see the car on road and yes I did once, it felt amazing.
Editor's Note: If you disagree with the author and are interested in a used Baleno, click here.