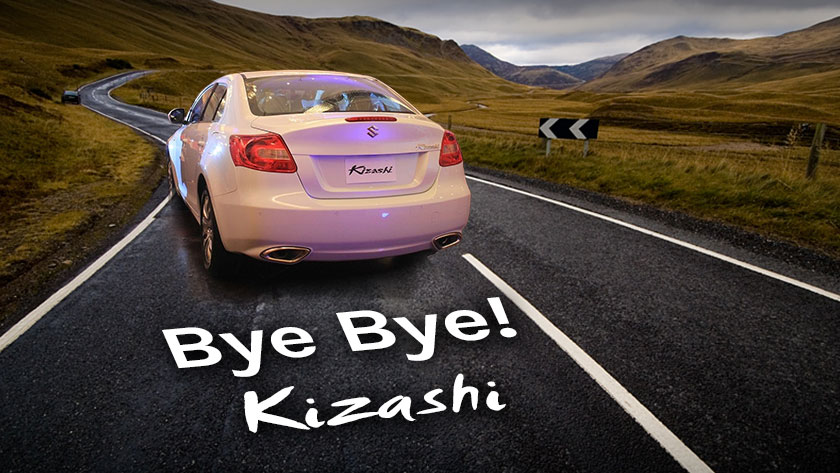 Suzuki Kizashi Says Final Goodbyes to Pakistan!
Yesterday, while doing research on Pakistan's locally available cars, I stumbled across a thread on PakWheels.com, where a user had commented on the possible discontinuation of Suzuki Kizashi due to its non-existent sales in Pakistan. It was during my quest for the company's fiscal year reports that I noticed the de-listing of Suzuki Kizashi in the Products section of Pak Suzuki's website. Further inspection revealed that the company had removed it from the 'All Product Prices'.
A simple call to Pak-Suzuki's customer relations center to inquire about the disappearance of Kizashi revealed that:
Company had imported a limited number of Kizashi units in Pakistan and for now the company is not entertaining any further orders, which is why 'Kizashi' can't be seen on the website
It should be noted that when Kizashi was launched in Pakistan, it was already a retired car in the international market. I am not against Kizashi, but it should be noted that (new) CBU's are not very successful in Pakistan, which can be attributed to the imposition of higher taxes on them.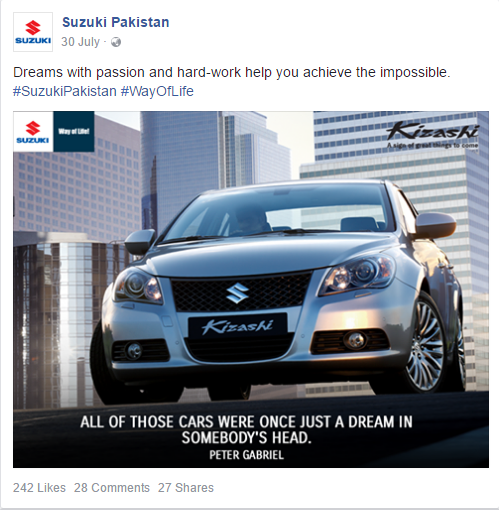 Furthermore, at Kizashi's launch, company officials revealed that they have opted to introduce Kizashi in Pakistani market because there is more to Suzuki brand then economical cars. I personally believe that introducing this car was a calculated move on the company's part to assess the response of Pakistanis to a higher end Suzuki car. Moreover, this also leads me to point out the Pak-Suzuki's song, in which Kizashi was in the spotlights. Mehran, Cultus, Bolan and Ravi were not included in this video, which leads me to conclude with a question "Is the Pak-Suzuki hesitant to show its prehistoric vehicles, which play an integral role in generating the company's revenue"?
The car comes with many features from high-end sedans like key-less entry & engine start, steering controls, auto-dimming rear-view mirror, rain sensing wipers, parking sensors and so on. It features a 2.4 liter engine with CVT transmission, paddle sifters or it could be selected with a 6-speed manual transmission. The whole package presented a price tag of 5 million rupees.
Most of you already know the details about Kizashi through our previous articles, so I will not bore you with that information again.
But will this sudden 'No more orders' on Kizashi effect the spare-parts availability for a handful of Pakistanis who own this car?
What do you think of Suzuki's attempt on introducing higher ended models like Kizashi in Pakistan?