Suzuki Mehran – The Most Popular Car in Pakistan
Pak Suzuki replaced the Suzuki FX also known as SS80 by introducing their top selling car till date, the Suzuki Mehran. The auto manufacturer started the production of the small four-seat family car in 1988. In the starting years, it was said to be a basic version of Suzuki Alto. Powering the car with an 800cc petrol engine, a CNG (compressed natural gas) version was also introduced in 2006. The car went through minor changes in 1998 where the seats were changed and GA model was replaced by VX. Later on some more changes were made in 2004 and a VXR version was also launched.
Also Check out: Suzuki Mehran 2018
Since 1988 Pak Suzuki has been producing large tin cans, putting wheels on them and calling it a car in the end. It's been more than 20 years that this car is present in the market without any significant changes. Suzuki Mehran has proved it name, being a star product for more than 15 years and now a cash cow. It is true to say that still Mehran is doing great in the market. Doing great in terms of everything, resale, maintenance, rough and tough and what not.
But does the latest model have value for money? I have used Suzuki Mehran in the past and talking about my own experience, I have had a 2002 model white Mehran; I guess the most popular color till date, I remember the brand new Mehran was bought for 299,000 and after using it for four consecutive years, the car was sold for 315,000 in the year 2005. No lies, but I remember that our car was sold in three days and I am sure there are many who have their deal for this car in a day as well. Showing the market value and the reselling ability of the car, it is also ruthless forgetting to mention how easy it is to maintain.
Imagine you have parked your car on a busy road for example, the Empress Market, Karachi; you come back after a while and notice that you have lost both the side mirrors, what to do next? You really don't need to worry as you will get the side mirrors for peanuts. How convenient and low cost is that.
I must say the Mehran we grew up with is way better than the Mehran we have now. Talking about the toughness of the car, you will see this car from the smoothest highways to the rugged roads, from straight roads to the rocky mountains. I remember our Mehran travelling interior Sindh like anything. Every weekend it was in Hyderabad and the car never refused to go. It is true that even if you don't care for this vehicle, Mehran will still surely care for you.
Suzuki Mehran in Pakistan turned out to be an ideal example for other local companies. Adam launched its Revo but unfortunately, made great losses. Even the imported cars couldn't capture the market Mehran had. It is true that although imported cars have way better features, but the price tags are comparatively higher. The high price tag is an indication for Pak Suzuki to lower the cost and the price tag of Mehran too. Because once Mehran reaches a price 1 million, it will eventually vanish from the market. Even at the current market situation, we have Daihatsu Esse present which is under 1 million and is way better than Mehran. Pak Suzuki needs to learn from these imported cars and pitch in something new to Suzuki Mehran so they can get the same market share they had previously in early 2000's and the 90's.
The 800 cc engine will make sure that the pistons keep working even if there is a burp of petrol in the tank. It is funny but true that the car with each hiccup will ensure that you reach the petrol pump and will never make you push it to the gas filling station.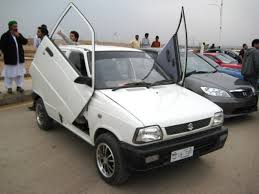 You know the best part of Mehran, it makes you the dude of streets, after bikes, you're the one leading the roads, you're the one who can make deep cuts with no fear of smashing into another car. The size of the car is such that it will never let you hit into any other car. Mehran is also one of the most modified cars you'll ever see. I must say I am fortunate enough to see a white limousine Mehran on Shaheed-e-Millat Road, Karachi. You'll see a variety of modifications on Mehran, from spinners to rims, from low profile tires to extended bumpers, from carbon fiber hood to spoilers, from the sleekest lcd interiors to the loudest sound system. If you own a Suzuki Mehran you own almost all cars accessorize. Not only this but this car is very popular within taxi drivers because it is easy to maintain and you will still see the old GA model of Mehran used as taxis.
Try to get a speeding fine on this tin with four wheels; it will never let you because it cares for you.