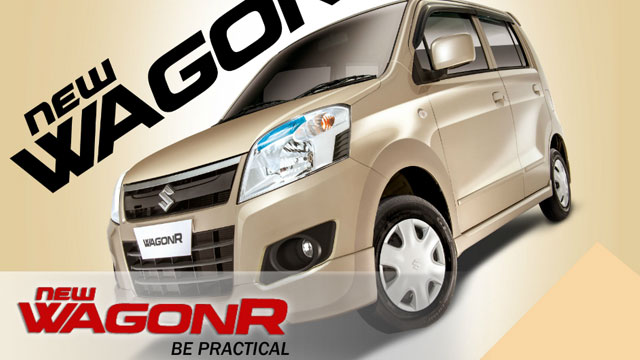 Fallout Of Suzuki Wagon-R New Advertisement Campaign
For last few days, few friends of the blog has complained that we criticize Pak Suzuki way too much. Maybe there is some truth in it as well but please keep in mind that we are not criticizing them just for the sake it, but to help them improve. The fact that Pak Suzuki ranks in top three car manufacturers of Pakistan is no doubt a good thing, but it's saddening to see the same car maker making substandard vehicles, and then selling those substandard cars to our auto consumers as if they something out of this world. Wouldn't it be great if Pak Suzuki starts selling new cars, that it offers internationally, along with its decades old Mehran. It's our right, just like other Suzuki car buyers around the world.
Recently, Pak Suzuki started "practically perfect" marketing campaign for its Wagon-R, at a huge scale. Considering that we still don't get basic equipment like ABS, air bags, central locking, electric windows etc. in all three variants of the Wagon-R, makes you think you are still stuck in the past. You still have that manual window door handle to wind it up or down, in two of the Wagon-R variants.
Had it been 20th century, we would have been fine with all the stuff Suzuki Wagon-R doesn't have. But it's not! We are living in an age full of all sorts of tech, and except Pak Suzuki, everyone is on board. We'll stop here, because we know people would complain about it. But what can one do about people expressing their frank opinions about Pak Suzuki and their cars on social media? Even Pak Suzuki's Facebook page had the same thing going on.
There are more than 250 comments on the Wagon-R commercial uploaded at Pak Suzuki's Facebook page, and most of them are negative. The point is, we are not only ones who talk about the abysmal quality of cars made by Pak Suzuki, but a major chunk of automotive enthusiasts have the same opinion. Major criticism is on the high price, and low built quality of the car.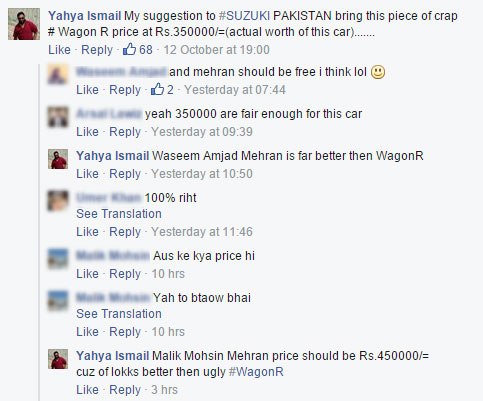 One of the commenter, Yahya Ismail, a resident of Karachi said that considering the built quality of Wagon-R, Pak Suzuki should start selling the car for Rs 350,000/, which is the actual worth of the car. Another Facebook user, Ehab Mohib wrote that his old imported Japanese Suzuki is far more equipped than the new Wagon-R. Usman Khalid, resident of Lahore said that had cars like Mehran and Bolan been made in some other country, they wouldn't have been allowed on the roads.

A lot of the people said that they would prefer buying a Toyota Passo or FAW V2 instead Wagon-R, because those cars had a lot more to offer than just a power steering.
Its possible employees at Pak Suzuki are not very thrilled about all the criticism they face. But believe us, our only concern is to make them realize their shortcomings, and make them improve themselves. But the point is, is there anyone at Pak Suzuki who has any interest to listen to the general consumer and improve their products.