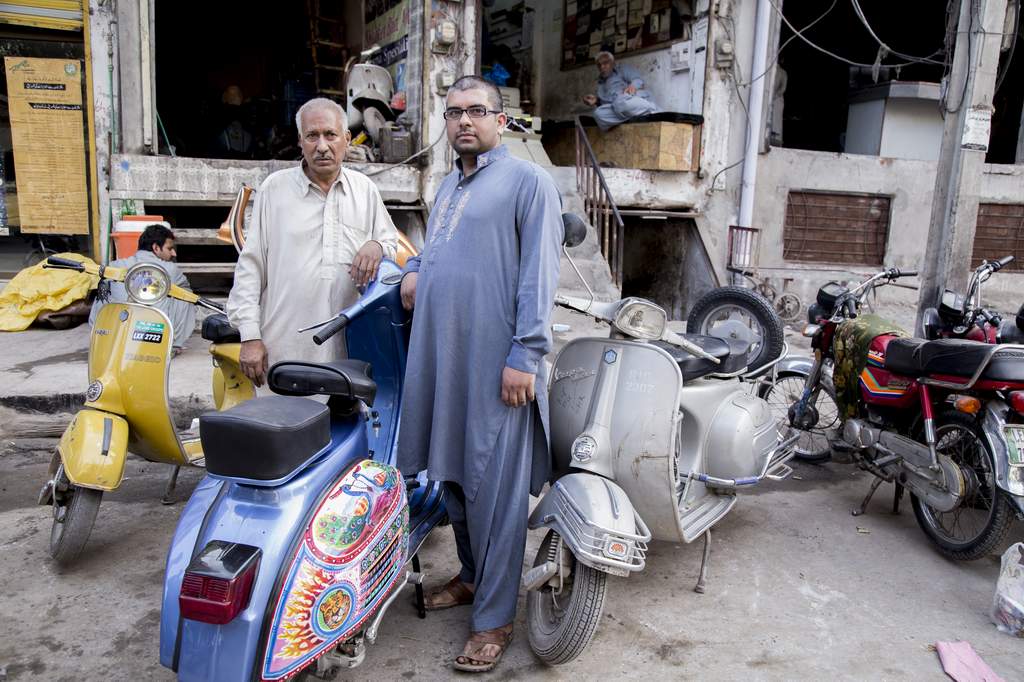 A Talk with the Owner of Vespa Restoration Garage in Lahore
Continuing our tradition of covering anything that is on wheels, we at PakWheels.com reached out to a Vespa scooter restoration garage located on Nisbat Road, Lahore. Back in 1966, this setup was founded by Mr. Shaukat Butt as a Vespa repair workshop, which was later transformed into a Vespa restoration garage, owing to the discontinuation of brand new Vespa scooters' sale in Pakistan. The setup is now run by Mr. Muzzamil Butt (son of Mr. Shaukat Butt) under the supervision of his father, the founder of this setup.
PakWheels to Mr. Muzzamil Butt: Can you please introduce yourself.
Muzzamil Butt: My name is Muzzamil Hussain Butt and my qualification is F.A. Me and my father have been running this business of Vespa scooter (also known as Piaggio Vespa) restoration for many years. In fact, we were the first ones in Pakistan to start the business of Vespa scooter modification and restoration. By the grace of Allah, we are now famous across the country.
Are you and your father working on Vespa scooter restoration independently or do you have any other teammates who help you in this work?
MB: No! Me and my father Mr. Shaukat Butt independently take care of this scooter restoration garage.
Can you please tell us about how it all began?
MB: My father Mr. Shaukat Butt founded a workshop of Vespa repair, around 50 years back and after the discontinuation of new Vespa scooters' sales in the country, he transformed this business into a Vespa restoration garage. In the beginning, he exported restored Vespa scooters to England in collaboration with one of our relatives. Since then, we have been continuously exporting Vespa scooters all across the globe.
Did you get any formal technical training of scooter restoration or you learned this skill from your father?
MB: I have learned this skill from my father. Ten years back, when I was a student, I used to help my father part-time in his workshop. Now I find myself fully capable of restoring Vespa scooters.
Do you also sell restored Vespa scooters or you only restore scooters of your customers? Who exactly are your targeted customers?
MB: We not only work for our local customers but also restore old Vespa scooters and sell them in Pakistan as well as abroad. Our targeted customers include locals as well as the foreigners.
Can you tell us the names of countries to which you have exported your restored Vespa scooters?
MB: So far, we have exported our restored Vespa scooters to Belgium, Germany, Austria, United Kingdom, Paris, Thailand, Vietnam, Taiwan and many other countries across the Europe.
From which cities of Pakistan do you most often get orders for the restoration of Vespa scooters?
MB: Although we receive orders from across Pakistan, the most frequent orders are from Lahore, Karachi, and Islamabad.
Are you also making use of the internet to reach out to your prospective customers?
MB: Yes of course! Without the internet, we wouldn't be able to run this business. We also have our business website from where we get queries of customers from across the globe. Moreover, for reaching out to local automobile customers, I consider PakWheels.com as the most reliable platform. You can find many ads of my restored Vespa scooters for sale on PakWheels.com.
Do you also restore any other two-wheelers or vehicles than the Vespa scooters?
MB: No, we restore only Vespa scooters.
What are the difficulties that you face during this business?
MB: The biggest challenge that we face is the unavailability of Vespa spare parts in Pakistan because people are no longer into restoration of these vehicles. We are required to import Vespa spare parts from India, Thailand and many other countries.
How long does it take you to restore an old and out of order scooter into a brand new one?
MB: It takes us an approximate of 3 to 4 weeks to completely restore a scooter. Here I would also like to mention that a scooter restored by us is nothing less than a brand new one.
What are the procedures involved in the restoration of an old Vespa scooter?
MB: First of all, we buy an old Vespa scooter and disassemble it completely. The first step following the disassembling is denting, followed by paint job, electrical wiring and ultimately the fitting of brand new accessories including the seats, lights, electrical switches, and the new tyres.
How much would it cost approximately for a Vespa enthusiast to get his scooter completely restored by you?
MB: The complete restoration of a Vespa scooter with Italian accessories costs an approximate of PKR 100,000, and this is because of the unavailability of its parts in the country. Moreover, people in Pakistan now prefer motorbikes over scooters. When exported, each Vespa scooter sells at an approximate price of 3,000 to 4,000 USD.
What do you think is the future of Vespa scooters in Pakistan?
MB: Talking about Vespa scooters in Pakistan as well as around the world, I feel that they will always have their specific fan following, no matter which era we live in.
Lately we have seen many new scooters in the market from different companies that look quite similar to the Vespa scooters. Has their entry in the local market affected your business?
MB: Not at all. The new petrol or electric scooters can never be compared with the Vespa scooters as these are still far more reliable and practicable than the new ones.
After our interview with Mr. Muzammil Butt, we got a chance to meet Mr. Shaukat Butt, the founder of this Vespa restoration garage in Lahore.
PakWheels to Mr. Shaukat Butt: Can you please tell us about yourself?
Shaukat Butt: My name is Shaukat Hussain Butt. I started off my career as an assistant mechanic of Vespa scooters under the supervision of Ustaad Mola Bakhsh on McLeod Road Lahore. After getting myself fully capable of repairing Vespa scooters, I opened my own workshop; some 45-50 years back. At first I worked only for local market, later is started exporting scooters to England with the help of one of my close relatives, who lived in England. Later we started exporting scooters to all over the world.
When exactly did you feel that your son should also assist you in this business?
SB: I was getting old and was no longer energetic enough to run this business all alone, so I asked my son to join me fulltime in this business.
How efficiently has Muzammil helped you run this business?
SB: Muzammil has taken this business to the next level. Being an educated person, he can professionally handle all the queries from across the world and can deal with all kinds of customers.
How do you see this business today as compared to the past?
SB: This business is far more profitable today than it ever used to be in the past.
For some restoration is a business and for some lucky souls, this activity is all about passion. From Mr. Muzzamil and Shaukat Butt, the restoration is the combination of both, business and passion. Such extraordinary people should be supported and highly encouraged by the Government of Pakistan as they not only raise our country's image abroad but are also contributing in bringing revenue from across the globe.