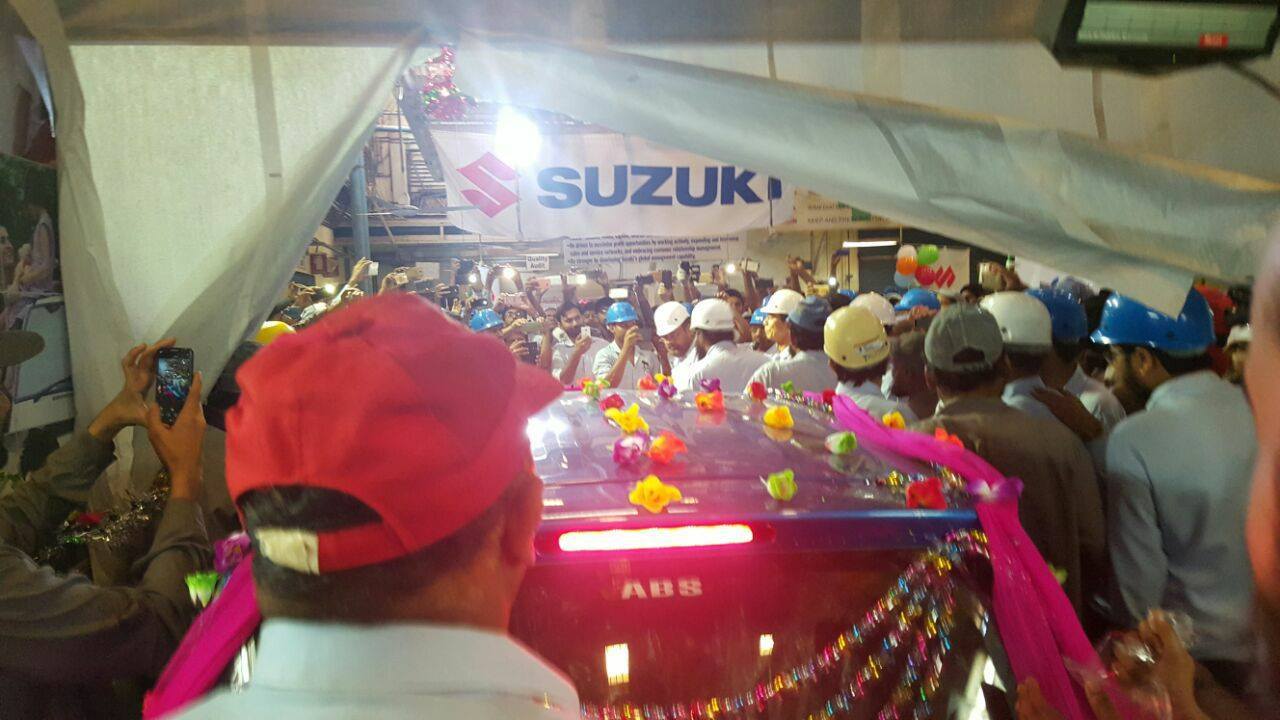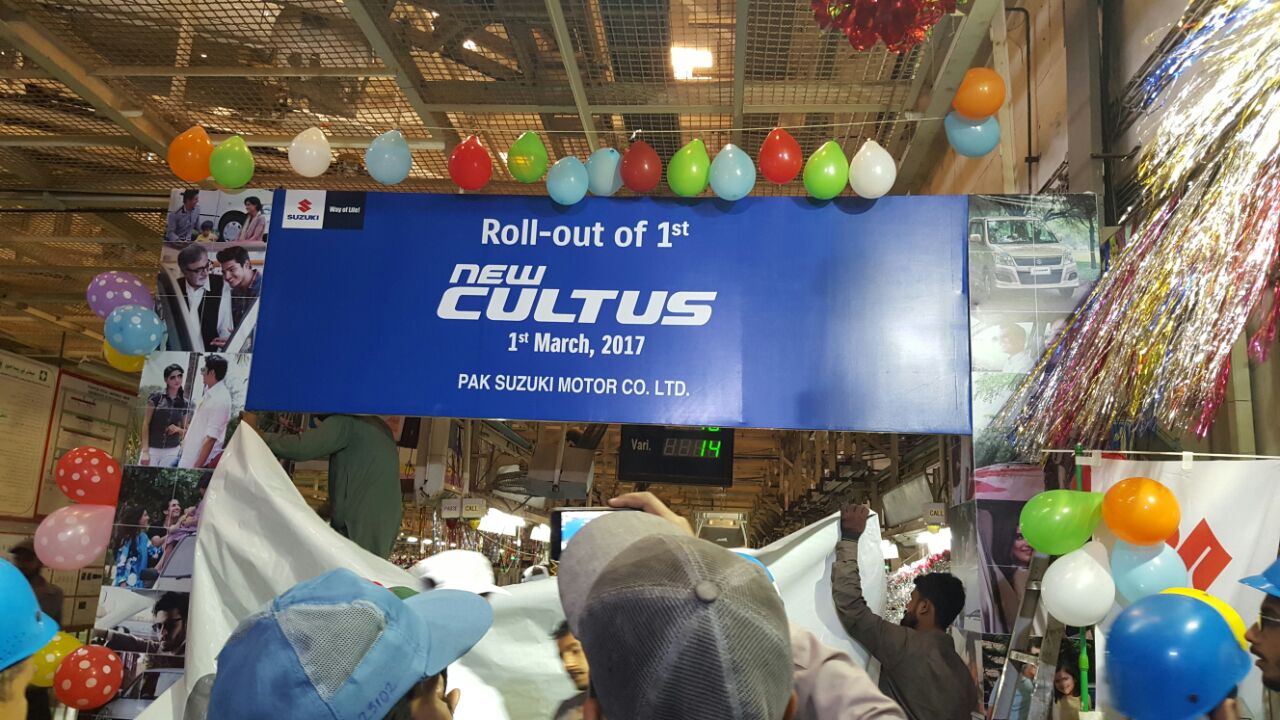 The Pakistani automotive industry is on a sugar high, with all the recent launches the Pakistani consumers are finally looking at a progressive environment. A couple of months ago there were a few pictures of the new Cultus, which went viral and in regards to these images, we at PakWheels are trying to uncover everything about this car. The viral images reflected a 'CULTUS' badge on a vehicle which is being sold as Celerio overseas. If you remember then we unveiled the first few pictures of this car's rolling off ceremony from the production line-up at the Pak-Suzuki manufacturing plant. This statement further indicates towards an accelerated mass production of this car, which means we will be seeing this car on showroom floors, very soon.
Also, Check Out Suzuki Cultus 2018
Read: Pak-Suzuki Organises Employee Orientation for the New Cultus
There is a lot of speculation about the upcoming Cultus (Chassis code YLA 310) which I might add is all due to lack of official word from Pak-Suzuki on this car. This article is an attempt on my personal end, to dig out information on this car. And joy oh joy, my sources have replied back, so without further ado let's get to it. Please keep in mind that these are unofficial specs of this car and must not be taken as final.
Variants:
The new Cultus will be available in  two variants. A VXL and VXR.  VXL being the top trim level with all available features and equipment.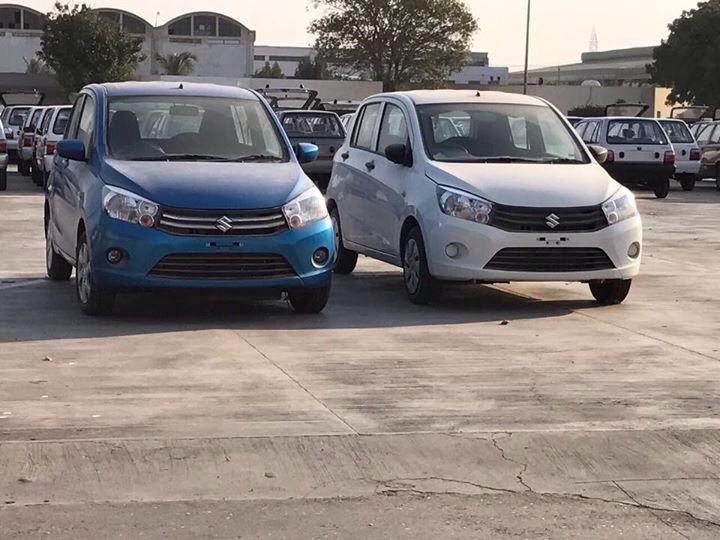 (New Cultus will be offered in two trims: Blue is VXL, while the White one is VXR)
Engine:
Being in under 1000cc category, both variants will be powered by a Suzuki's famous multi-point injection K10B 998cc engine. This engine has power output of [email protected] rpm and manages to produce 90NM @ 3500 rpm of torque figures. Life abroad is a little different, internationally this car is also being offered with a Duel Jet engine K10C engine, which we are not expecting to be offered in Pakistan.
Transmission :
Let's put one thing straight, this car will NOT be offered with an automatic transmission. Many of us were expecting an automatic transmission for the first time in this category by a local car company but our reports confirm that there will be NO automatic transmission for Cultus. Both VXL and VXR will be equipped with a conventional 5-speed manual.
Suspension and associated components: 
Both variants of the new Suzuki Cultus will have MacPherson strut with coil spring at the front, while Torsion-beam with coil spring in the rear. In terms of brakes, this car will come with ventilated disc brakes at front and drum brakes at the rear as standard. Both variants, VXL & VXR will get an electric rack & pinion steering wheel. The tilt steering function might make it to VXL trim only.
Exterior:
There are a lot of things to talk about this segment so I will list down everything and make it more worthy of your attention:
Body Highlights: Predictably Pak-Suzuki will be making both these trims visually distinctive from each other. How? VXL, top of the line model of new Cultus will come with body colored and chromed fixtures on its exterior. This model -VXL- will get a chrome front grill while the body color door handles as well as body colored side view mirrors. Meanwhile, VXR will have a black front grill, black door handles and black side view mirrors.
VXL will also get fog lights as standard, while VXR will be offered without this option.
VXR will come with steel wheels, while the VXL will come with alloy wheels.
Both VXL and VXR will carry 165 /65  R14 wheels.
Halogen reflector headlights are standard on both variants.
In some international markets, the smaller reflector in the headlight is programmed to run as daytime running lights (DRLs) but I believe that this function will be introduced in the new Cultus as well.
Both VXL and VXR get a high mounted stop lamp mounted on the rear hatch. Unlike  European version of Celerio, here there is is no rear wiper on both variants which makes it little odd because nowadays a rear wiper on hatchbacks is a standard feature.
Both models get a whip type antenna centrally mounted on the roof near the windshield.
Interior:
It's the same story inside:
VXL will be garnished and peppered with chrome touches, while VXR will be based on the old and vintage looks. Chrome trims pieces around ventilation vents as well as a 'U' shaped trim piece around the central portion of the dashboard, which holds the radio unit and HVAC controls. The chrome trim will also be found on the gear shift lever knob. As mentioned earlier, VXR will have plain black plastic pieces.
Both VXL and VXR will be equipped with an immobilizer, but there is no option of push-button start/stop.
Remote control central locking will only be available on VXL trim, as per initial reports.
Both VXL and VXR will have a manual heating, ventilation and air conditioning unit.
There will be a standard single CD with radio stereo system identical to what is currently available in the Ciaz sedan. The stereo will also have a USB input on the front face. While VXL trim will have 4 speakers mounted in each door, VXR will come with only two speakers, both mounted in front doors (passenger and driver).
There will be a switch mounted for activating the fog lamps, right next to the steering in the VXL trim. Although there is a space for 5 switches in this area but PKDM Cultus VXL will utilize only one spot for fog lights switch, while VXR will have nothing here. In international variants of this car, this area is utilized to display electronic stability control On/Off switch and headlight height adjustment switch.
The VXR variant of this car will not have cigarette lighter switch, which means a no-no for charging your cell phone by plugging a charger.
Intermittent wiper is standard across both variants.
In terms of convenience, only VXL will be equipped with power windows. The VXR, on the other hand, will have manual window regulators.
The side view mirrors on VXL will be electrically power adjusted by means of joystick type switch, while VXR will get a manual way of side view mirror adjustment.
The VXL will get a 60:40 split seat with fully collapsible functionality, while the VXR variant will only get a collapsible seat.
Additionally, the VXL will get a parcel tray in the rear cargo area.
Apart from above, VXL will get fabric trim pieces on the front driver and passenger doors, while rear doors will be fitted with plastic panels. In the base model of new Cultus -VXR- both front and rear doors will be fitted with plastic panels, so don't expect a fancy finish. Grab handles (handles mounted on the roof) are three in total number in the VXL (one for the front passenger, two for rear passengers on each side), while VXR will get only one grab handle on the front passenger's side.
Safety:
Now we come to the point, where everybody's paying close attention. Pakistani consumers have highly appreciated the launch of Ciaz sedan with two standard air bags. The previous generation of Cultus and other products from Pak Suzuki, except the newly released Ciaz or the high-grade Kizashi, were never equipped with a passive safety system in form of air bags. Now, though, things are certainly about to change. Pak Suzuki is not introducing one but two air bags in this car. One of which is for the front driver and the other is for the front passenger. Although this availability of air bags is exclusive to VXL variant only. There is one other thing that needs to be mentioned here, the steering wheel of VXL will look different from VXR due to the presence of an airbag in it. Additionally, VXL will also be fitted with Anti-lock Braking System 'ABS'. To make both these cars visually distinctive from each other, the company will be fitting ABS sticker on the back and airbag warning stickers on passenger side's sun visor on the VXL trim.
Overall the chassis of  Cultus is based on 'Total Effective Control Technology (TECT)'. The design uses high strength steel at strategic location resulting in increased occupant safety as well as reducing the body weight for improved fuel economy.  TECT also reduces the road noise, harshness, vibration and improves the driving stability & agility. Overall this new model is many steps ahead of its predecessor as far as the safety of the occupants is concerned.
On European, NCAP testing agency , Celerio [known as Cultus now in Pakistan] is rated at 3 star as far as the saefty rating. The European model also comes standard with Electronic Stability Control which is not an option on this new Cultus for Pakistani market.
Price:
Finally, we come to address the elephant in the room. Sadly, I don't have any information about this heading but I can safely say that Pak Suzuki will slate Cultus between Wagon R and Swift although current swift looks less equipped comparing this upcoming Cultus. Pak-Suzuki might bring next generation of Swift in the future to introduce a much-needed revision in this car. Since Swift is always placed above Cultus, I don't see Cultus price going over Swift.  As far as the variants are concerned I have already mentioned that this car will be launched in form of VXL and VXR, and after analyzing the features and equipment, I expect a price difference of around PKR 140,000 to PKR 160,000 between both models of this car.
Overall, the new Cultus will be a nice addition in the under 1000cc segment, although it took Pak Suzuki a very long time to bring this car in Pakistan but due to stringent policies and lack of competition, the company had very less motivation to do so in the first place. The new car is definitely heads and shoulder above than its descendant and will provide an edge over the imported vehicles currently available in the market. Let's not forget Pak-Suzuki's sales and service network which spans all over Pakistan, this one fact alone will play a decisive role in this car's success and will give the customers a much-needed relief and convenience. Cultus will soon be launched and you will be able to see one at showrooms within next few weeks.
Below you will find pictures of overseas Celerio which I have marked to pinpoint the features discussed in this article. Please keep in mind all features and equipment discussed here are unofficial details and must not be taken as an official release. Features listed below in form of a table are based on available information received from different sources and may or may not be in actual.