Cars sales in Pakistan went up in double digits at the end of the last fiscal year. 150,063 units of passenger cars (sedans and hatchback) were sold in these 12 months (July 2015 to June 2016) as compared to 127,552 units of sedans and hatchbacks in M12FY2014-15. That is an increase of 17.6%. If you add Suzuki Bolan in passenger cars, the total number of passenger cars goes up to 180,079 units. But which car was the winner when it comes to a total number of sales? Let's see which one sold the most number of units overall, and which car sold the most number of units in this last fiscal year as compared to the previous fiscal years (percentage increase).
Also Read: Car Sales in Pakistan up by 17.6pc at the End of FY2015-16 – A New Record!
Most numbers of units sold
Well, I think the answer here is pretty obvious. It cannot be any other car than the sweetheart of Pakistani auto consumers, the Toyota Corolla. Corolla always makes it to the top of the list no matter what. You can almost always bet on the fact that the Corolla is going to be the most sought after car in Pakistan. Indus Motors sold as many as 57,452 units of Corolla (1300cc to 1800cc) in FY2015-16. Comparing it to previous (FY2014-15) fiscal year, the company sold 51,398 Corolla cars in FY2014-15. And that is a percentage increase of 11.77%. It is definitely impressive, but not as much. Following are the month by month sales numbers of both FY2014-15 and FY2015-16.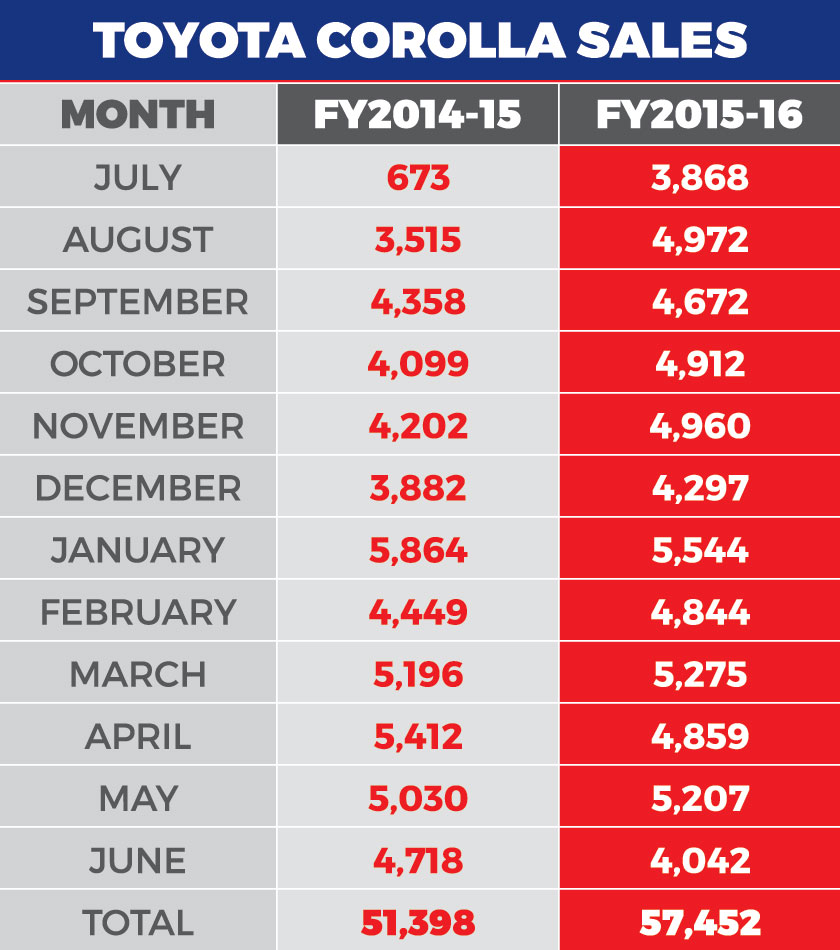 Most percentage increase
And when talking about which car sold the most number of units as compared to its previous cycle, the result might surprise you. Suzuki WagonR had the most percentage increase in its sales this previous fiscal year than any other car brand. Pak Suzuki sold 9,482 units in FY2015-16 as compared to 5,246 units. And that is a percentage increase of incredible 80.75%. That is quite remarkable. The WagonR initially had quite a rough take off. Until November 2015, Suzuki was selling its new car only in hundreds per month (703 units in November 2015). Suzuki WagonR finally broke into '1000 cars a month' club in January 2016 selling 1,100 units in a month. Although sales once again fell in hundreds after that, but they remained near the one thousand mark for the rest of the year.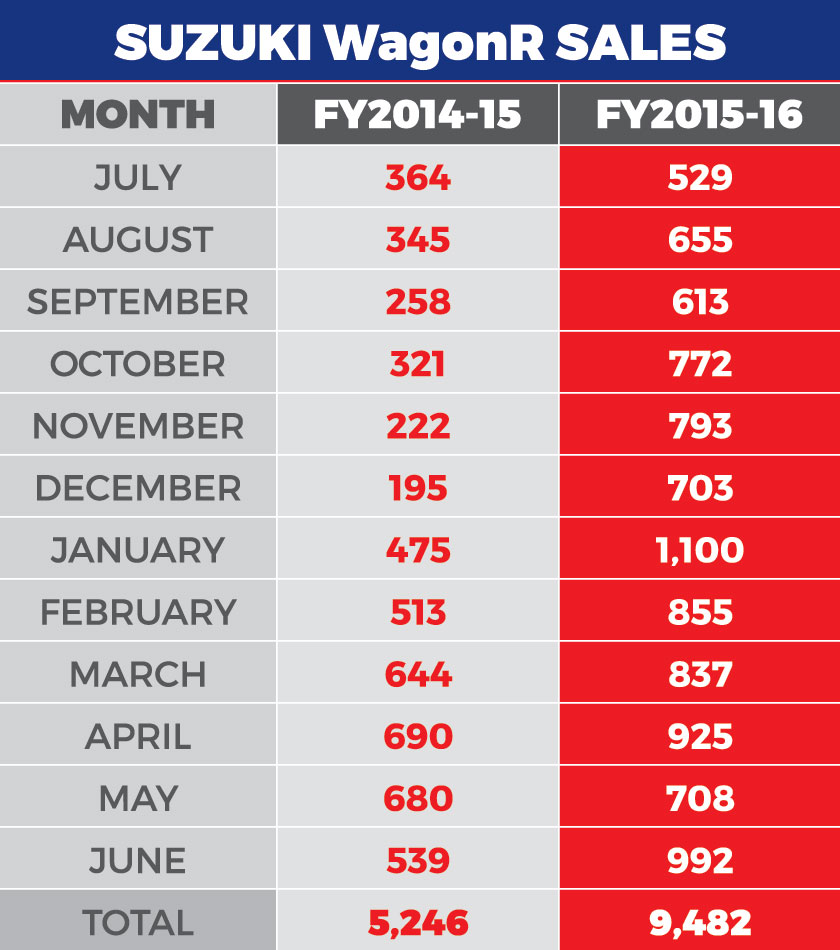 These two cars in Pakistan are the undisputed winners of the last fiscal year. Finally, we have an auto policy. But how is it going to impact the current fiscal year and sales of locally produced cars is yet to be seen. We hope the scene is tempting enough for the new entrants to come to Pakistan as well.