Toyota Hilux, which to me, is quite simply the Corolla of the pickup trucks. After being in production worldwide since 1968, there is no doubt in the fact that Hilux is often mistaken as a genre in itself, known for extreme durability, sturdiness and exceptional off-road capabilities. Currently, Toyota Hilux is sold worldwide except Japan (which is ironic), United States, Canada, North Korea, South Korea, and India.
On 21st May last year, Toyota simultaneously launched the eighth generation Hilux in two countries i.e. Thailand and Australia. While in Pakistan, Toyota still sells the seventh generation Toyota Hilux. In Toyota's defense, a global availability means that like Toyota Corolla, Toyota Prius, and other globally available cars, Hilux too suffers from production delays which hinder a unified launch of successive iterations.
Have a look: 2016 Toyota Hilux Revo Officially Launched (Photos)
What Does it Look Like?
Hilux Revo adopts the new Toyota 'Keen Look' design language which allows it to share appearance with the new Corolla, Fortuner and Innova. On the outside, the new Hilux features slim projector headlamps coupled with LED Daytime Running Lights (DRLs). Once you step inside, you see an interior similar to that found on Corolla, Fortuner and Innova thanks to a consistent design language established by Toyota.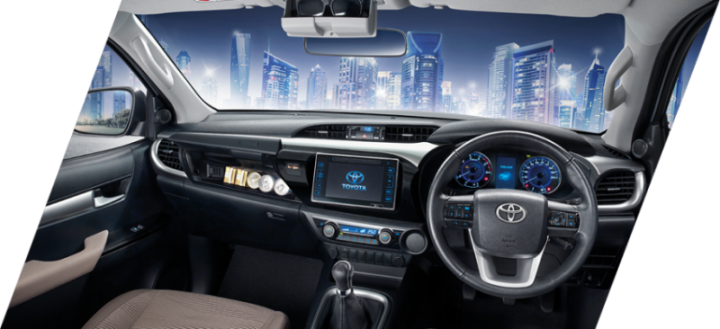 Why is it Called Hilux 'Revo'?
As the seventh generation, Hilux is famously known as Hilux Vigo or even Vigo Champ in some countries like Pakistan, the markets carrying the eighth generation Hilux are calling it the Hilux Revo. The legacy of Hilux naming apart, the word Revo has been derived from 'revolution' which was also adopted as a tag line on the teaser images for Hilux Revo.

What's Under the Hood?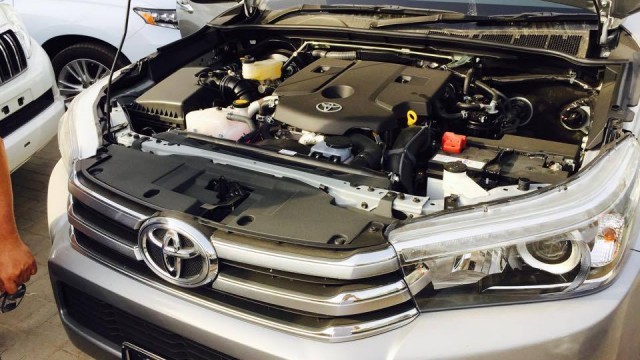 As with every Hilux, Toyota is offering a choice of multiple engine options all the way from 2.0-liter to 4.0-liter gasoline and diesel engines. Toyota is also giving four different transmission options in the markets it's currently available in, which include, a 5-speed manual, 6-speed manual, 5-speed automatic and 6-speed automatic.
So When is it Coming to Pakistan?
It's been fourteen months since its initial reveal, and apart from a couple of dealers importing it to Pakistan, there is still no official word on its availability for Pakistani market. However, there is a sign of hope as the new Hilux had made its way to many markets since its official reveal last year. To name a few, it's now available in the Philippines, Malaysia, Indonesia and most surprisingly in Bangladesh in addition to Thailand and Australia where it got its global debut.
Also read: 2016 Toyota Hilux Launched In Malaysia
Gradual launch of the all new Toyota Hilux is reminiscent to the way tenth generation Civic became available to other markets now eventually getting a launch in our country. Seeing a similar continuous launch pattern of the eighth generation Toyota Hilux and the way cars have made their way to our market, we can hope to see it getting an official launch in Pakistan sometime by the end of this year.
Toyota Hilux Revo imported by a dealer in Pakistan:
Read more: The 2016 Toyota Hilux Revo Makes Its Way To Pakistan