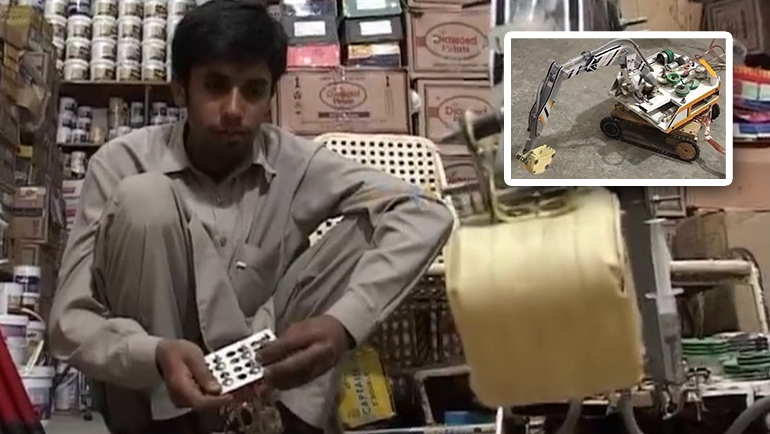 Stumbled upon a news report by a Pashto TV Channel of Sajjad Khan from Mingora Swat, who has managed to create a remote control excavator much like how Tony Stark created the first Iron Man suit in Iron Man 1 inside a cave, using nothing but a box of scraps and some tools. But looking at the video, it will seem that Tony had a far bigger box of scraps to fiddle with than this kid.
Sajjad, at just 23 years of age, just used simple on/off switches to control the bot. This otherwise would have been made using sophisticated and programmable pic microcontrollers. The lust of getting this done has compelled him to make it either way, without the access to proper equipment. His inquisitive mind if coupled with the right education, could lead him to do stuff you can't even think about. I have worked with R/C cars all through my four years in electrical engineering. Their behavior is unpredictable. Considering that he has made a stable bot using just junk is a marvelous feat to achieve.
It also highlights the fact that education should be made easily available in all the remote areas as well. Currently, equipped with a Mechanical Diploma, but if given some proper education, training, exposure, and mentoring, this guy and many like him could achieve wonders.