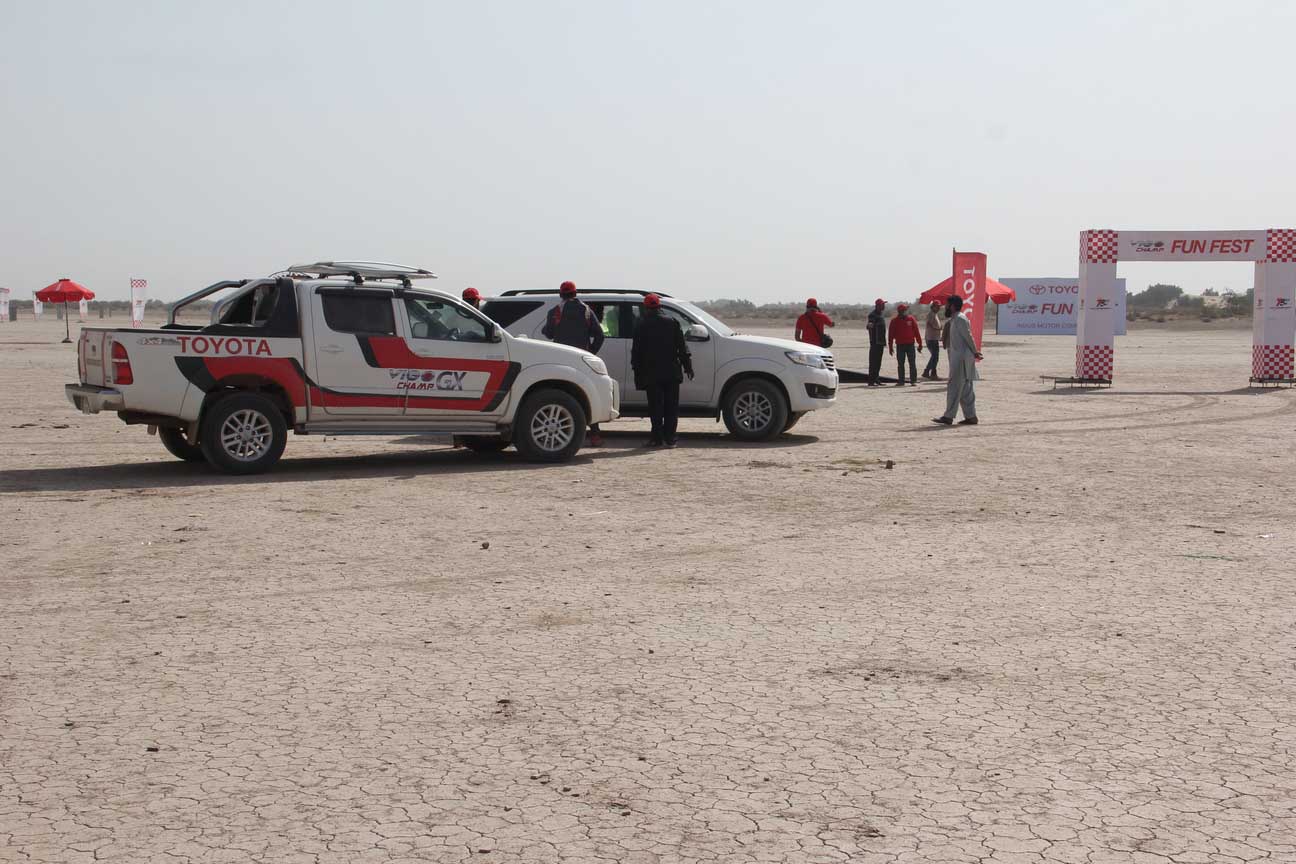 Toyota Indus Motor Begin Their Motorsports Journey In Pakistan With The 2016 Cholistan Rally
Cholistan Rally is perhaps the most celebrated motorsports event in Pakistan. Its growing popularity is a testament to the fact that motorsports are picking up pace here and if we can give it the right direction and vision, we can also produce the people like Enzo Ferrari and Colin Chapman, and more importantly, CARS. It may seem awkward to a lot of you for saying this but Toyota is out there for the same reason. More units of Fortuner TRD Sportivo are sold over the normal one. And we floored a Hilux Vigo Champ hard!
Full Disclosure: Toyota Indus Motor called me up and asked if I wanted to go to Cholistan Rally this year and have a chance to drive a Vigo Champ hard around their nifty little circuit carved up in the desert sand. Why yes I said! Toyota flew me over to Multan (which has a fantastic new airport, perhaps the best one in Pakistan), ferried us to a hotel in Bahawalpur to rest and next morning, we left for Cholistan.
We reached Multan in the evening around 7. Toyota had asked to move to Bahawalpur for the stay that night but how could we leave without eating the famous Ghanta Ghar ki chaanpein (Mutton ribs of Multan). Once delicious mutton ribs were had and the stomachs left burning due to over-eating, we left Multan for the hotel in Bahawalpur, a city which apparently seems to hit the sack by 8 or 9 in the evening.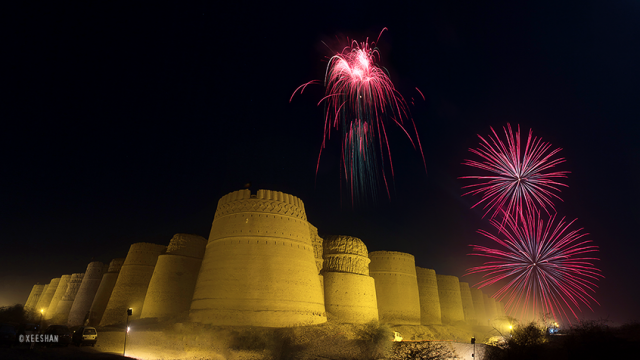 Next morning, we left for Toyota's camp in Cholistan just 15 minutes to the right of Derawar Fort. It was a tent, a nice enough tent that I had a pretty good sleep in but before we reached the site, we got stuck up in traffic on the new but roughly paved single-track road constructed recently for the event, which by the way was the biggest this year compared to all recent years.
We slept in a mostly warm tent on a cold winter night with a comfortable blanket and bed, but to think about how folks used to sleep in the early days of Cholistan Rally, the event has come quite afar. Ronnie Patel shares a thought from the early days:
"When we started Cholistan Rally we used to sleep on bare land in cold nights but we did not give up and today Cholistan rally is our proud product that attracts hundreds of entries."

To think the success of this year's Cholistan Rally is largely owed to the number of sponsors, entries and guys in attendance; that will be incorrect. Families and females were also there in a number that left us in awe. It was such a pleasant environment despite the rush, the area of Cholistan and Derawar Fort felt like a metropolis during rush hour. All the area now needs is a vision to develop this place into a proper tourist space.
Toyota this year was a partner for the rally, and not just the type of sponsor who splatters their logos and taglines all over a event rather they actively participated in the event. The pilot car was a Toyota for the flag-off on the main race day and Owais Khakwani was Toyota's named driver for the event who unfortunately had to retire from the race when his Toyota Hilux ran into some technical problems.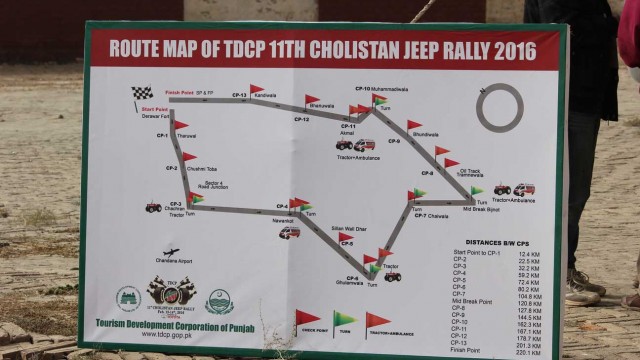 And the best part is, we got to bash a Toyota Hilux Vigo Champ hard in a custom short circuit Indus Motor had created away from the actual track. The track mostly had left turns and a few light right turns, where the fastest time clocked was of press reporter, M. Aurangzeb Khan's 55.16 sec. In comparison, I clocked in a time of 1 minute and 4 seconds and I thought I had floored it around.
What interested me the most in the lap was how the car behaved on the sandy track. I had initially believed that the tail will be light and will feel out of control but instead, it had a nice grip enough for me to overcome my fears of doing a barrel roll. Even though the circuit was short and I just wanted to go at it again but it would've been unfair to the rest of the folks who also clocked the times during the Fun Fest in just one lap and without knowing the car's limit and the track. However, given that the top three times were under a minute, Vigo Champ adapted to the driver pretty easy.
Second position: Abdur Rafay Alavi posted a 57.47 sec,
Third position: Rizwan Bhatti posted 57.90 sec;
While yours truly posted an embarrassing 1 minute and 4 seconds!
What made this journey worthwhile was that the PIA flight to Multan from Khi and the return flight from Bahawalpur's airport were on time. No, I am just joking. What made it worth while was the enthusiasm of the people and Toyota towards motorsports in Pakistan. Though a Corolla and Civic will always remain ecoboxes but the Vigo Champ, may well be a tough competitor to fight some sand dunes in the desert and elsewhere.
Fun fact: Talking with the guys from Indus Motor, we were told that when they went to shoot the ad for the Toyota Vigo Champ up in the northern areas, the production team had recommended that they keep extra pair of shocks and suspension components because they would have the vehicle take some leaps for some exciting shots. The team kept three pairs with them but as it turned out, the car had to take the jump multiple times to get the right shots but the shocks never broke and the car kept working throughout the shoot flawlessly.
Vigo Champ ad:
Le Mans and Nurburgring isn't just racing. They are a sort of cultural events that surrounds the 24 hours endurance racing. While Cholistan Rally isn't anything close to that, it isn't even endurance racing but people come over here in celebration of motorsports for a couple of days just like the European events. A vision can transform anything from dust to gold. Given the interest and enthusiasm of people and the companies such as Toyota, that vision can be collaboratively created to change the area to a motorsports and tourist safe haven.