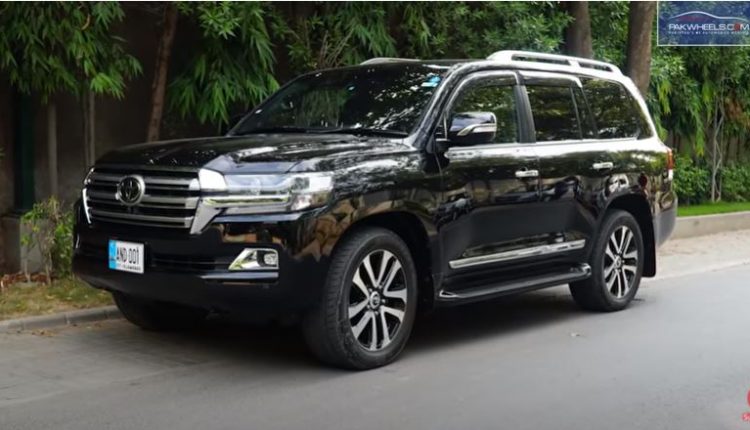 Toyota Land Cruiser ZX 2016 Frontier: Review by Owner
Under the user's and owner's review series, we have brought the review of Toyota Land Cruiser ZX 2016 Frontier.
If you want to buy an imported car, do use PakWheels Auction Sheet Verification and Inspection Service to buy the right vehicle without any issue.
Purchase Decision, Price: 
Talking about his purchase decision, the owner said he wanted to buy a spacious car. "I was looking at Range Rover and Lexus, but people told me about the unavailability of their parts, so I chose Land Cruiser," the owner said.
Furthermore, the owner was not satisfied with the imported cars' conditions because dealers can temper their meters, change the parts, or repaint them. "I was also  concerned about the land cruiser drive earlier, but now I am totally satisfied with its performance," he said.
Meanwhile, the owner paid Rs4 crores to purchase this car, including import, registration and customs duty. 
Fuel Average of Toyota Land Cruiser ZX: 
As per the owner, its intra-city fuel average is 5.4 kilometers per liter, while it gives 6.5-7 kilometers/liter on long routes.
Key Features: 
The car comes with adaptive cruise control, blind-spot monitor, 360 cameras, parking sensors, traction control, cool box, heated and cold seats, and a collision monitor. "I have used the cruise control on highways but it is impractical to use within cities in Pakistan due to the irregular traffic," the owner said.

Furthermore, the owner told us that blind-spot monitor, parking sensors, cold seats, and 360 cameras are handy for Pakistan's traffic.

Head Unit of Toyota Land Cruiser ZX: 
After the 2012 model, the company has installed a head unit with the English language, which greatly benefits the user. Talking about the head unit's Bluetooth connectivity, the owner said he is not much satisfied with its performance. "It connects with a delay, and voice-during phone calls is not much clear," he added.
Furthermore, the car has two screens behind the front seats, so can backseat passengers can enjoy the journey.
Difference Between Land Cruiser ZX Vs. ZX Frontier: 
There are three main differences between the two cars, including diamond-cut leather on seats, black-shaded front lights, front grille, and alloy rims. The overall look of the car is black, which gives it an exclusive look.

Safety in Toyota Land Cruiser ZX:
The car has eight airbags and ABS, making it an extremely safe vehicle for you and your family.
Availability of Parts, Oil Change Cost: 
According to the owner, he gets its oil change after every 5,000 kilometers, and it costs him around Rs20,000. Furthermore, he believes that there is no issue in the availability of its parts in Pakistan.
Known Faults: 
This vehicle's hydraulics wear out with time, which is an issue with all land cruiser models.
Stability:
The car  has traction control, which makes it more stable than earlier models of the land cruiser.
Seating Capacity in Toyota Land Cruiser ZX: 
The owner told us that Toyota Land Cruiser ZX 's seating capacity is ample, but only children can sit comfortably in the last two seats.

Verdict: 
In its category, Land Cruiser is a clear winner because of its parts availability, comfort, sitting capacity, and options.
Watch Video: