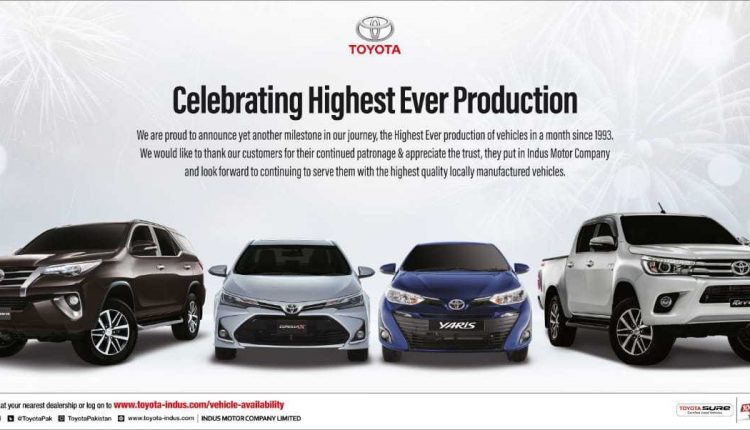 Toyota Pakistan Celebrates Highest Car Production Since 1993
2021 has been a striking year for the Pakistani automotive industry. Car sales numbers are growing every month, which is great news for all automaking companies, especially for Toyota Pakistan. Last month, the company reported the highest car production numbers since 1993. Yesterday, Toyota Indus Motor Company (IMC) celebrated "Highest Ever Production" in March 2021. 
Pakistan Automotive Manufacturers Association (PAMA) reported massive sales of Toyota cars since the resumption of business activities after the first wave of the COVID-19 pandemic. This appeared out of the blue yesterday when Toyota IMC announced the production of 6,815 cars in March, the highest production volume in a month since 1993. That's why the company is celebrating being Better Than Ever. 
Best Sellers of Toyota Pakistan
Toyota sales went off the charts with the launch of the brand-new Toyota Yaris in March 2020. The car outsold many kings of the Pakistani market, including Honda Civic, Honda City, and Toyota Corolla,  for months. Other Toyota front-runners in Pakistan contributing to this highest production volume are Toyota Corolla, Toyota Fortuner, and Toyota Hilux. 
Such big production of Toyota cars in a month also means that Toyota cars are still in demand, even with excruciating competition. Many new automaking companies have entered Pakistan, and their latest cars have taken the local market by storm. From sedan to hatchback and SUV, every segment of the local market is now loaded with options. These new entrants are posing serious competition to the Big 3 Japanese car brands in Pakistan, including Toyota. But, looks like the company is standing its ground in the Pakistani auto market. 
With the recent launches of Toyota Corolla X and Toyota Corolla Cross, things are going to get even better for the company. Congratulations to Toyota Indus Motors Company for this big win and good wishes for its future.