One of Pakistan's leading Japanese automakers, Toyota, has shut down its manufacturing plant for an indefinite period of time as mentioned in a public notice issued by the company.
The notice asserts that the prevalent conditions due to coronavirus worldwide have caused delays in our delivery and production schedules while also affecting our national and international supply chains. As per the government and advisory issued, the Indus Motor Company production plant will remain closed as per the directive. We request your patience in these testing times and assure you of our tireless efforts to ensure vehicle delivers and service.
Note here that the plant will remain closed until further notice, however, the production plant of IMC has been closed from the 23rd of March 2020. It was thought that in April the plant will resume its operations, but the government hasn't given a green signal to the local automaker to start its production in April as well.
On the other hand, the government a few days back has given go-ahead to a few industries to start their work including the construction industry.
The notice further states that: "Due to the international economic conditions and the fluctuation in the FOREX index, regretfully the prices of our products and vehicle range are being revised. The new prices will not affect any full payments made however if a customer requires a refund, they may approach our Customer Assistance Center (CAC) which will process a complete refund without any penalties or deductions."
See the complete notice below: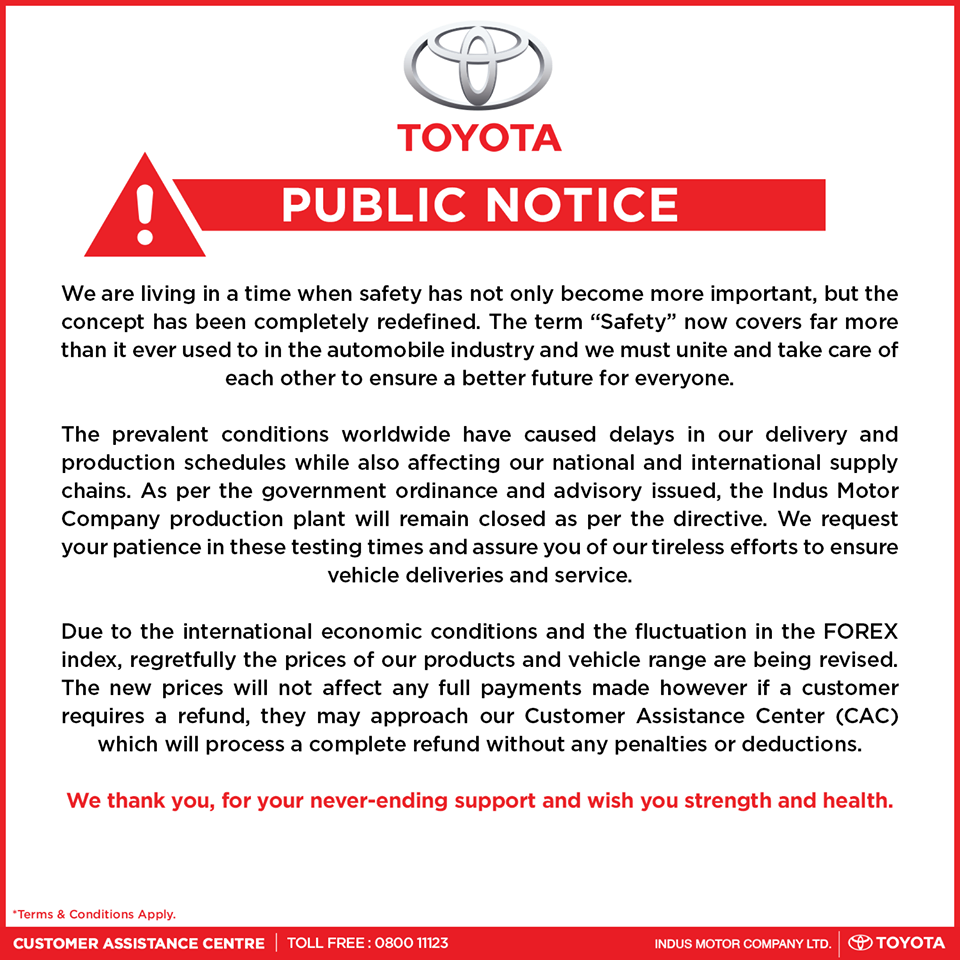 Aside from Toyota Pakistan, the following are the major local manufacturers that haven't started their operations as well.
Pak Suzuki Motor Company (PSMC)
Honda Atlas Cars Limited
Al-Haj FAW Motors
JW Forland
Master Motors
Hyundai Nishat Motor
KIA Motors
Regal Automobiles
United Auto Industries
It is imperative to mention here that Toyota has also increased the prices of its cars including Yaris two days back by up to PKR 500,000.
Stay tuned for more news related to the automotive sector of Pakistan and drop your thoughts in the comments section below.