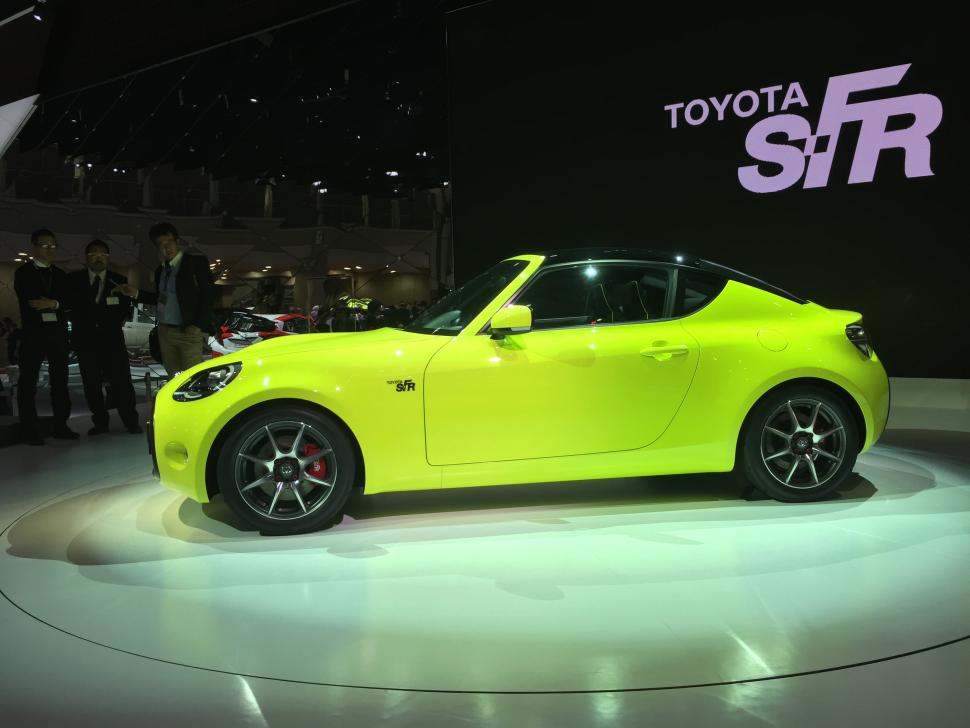 Toyota S-FR Is The Baby Sports Car Promised By Toyota
Almost every Japanese automaker has brought all kinds of concept and production bikes and cars at the ongoing Tokyo Motor Show. Toyota is also displaying its new creations. First one is the crazy looking Kikai, and the other is more sane and practical S-FR concept. The little new concept gathered the most crowd upon its reveal.
Well, one thing is for sure, the car does look great. I know beauty is subjective and blah blah blah, but look at it….just look at it. It is gorgeous. Reminds me of the Toyota's 2000GT sports car; only modern and smaller. Its the baby 2000GT. It looks like someone from Japanese anime drives this thing. Considering how angular cars Toyota has been making for some time now, this car is completely different from their typical design language. Even latest Prius has sharp lines and angles everywhere. Toyota once decided to completely stop making fun little cars. There were nothing but good ol' boring Camrys, Corollas and bunch of other plain looking cars in their catalog until Toyota came up with GT86. Now, once again, Toyota has done very cool.
Also Read: New Mazda Sportscar Might Be The Next RX7
Also, do keep in mind it isn't Toyota's first attempt in making this size car. S-FR's roots go all the way to Toyota Sports 800 that was produced from 1965 to 1969. S-FR is developed on the same principle of light and fun to drive rear wheel drive car. No insane fire spitting turbo engine, but just a homely 1.5l 4 cylinder naturally aspirated petrol engine that produces modest 130 horsepower. Being small and light, that engine is enough to bring a smile to your face when driving through twisty roads. Car itself weighs just 980 kilograms. Mate that 1.5 liter mil with a manual 6-speed transmission and you've got yourself a winner.
About the S-FR, Toyota said,
"make a whole new generation fall in love with driving".
Toyota's S-FR concept is one of the three promised sons from Toyota. First one was the amazing Toyota GT86, this S-FR is the 2nd one. And the car that will replace the legendary Toyota Supra will be the third one. Toyota sports car chief engineer Tetsuya Tada, speaking to Australia's Drive at the show had the following to say as to where does the S-FR sit in the family tree.
"I already tell you Toyota's sports car goal must be three brothers – 86 is the middle [brother], top model is something like a Supra," Tada said, confirming the S-FR sits at the bottom of the family tree.
Let's hope this car goes to production, and considering it will be priced lower than other sports cars, there are chances you will see one or two S-FR cars on the streets of Pakistan as well.