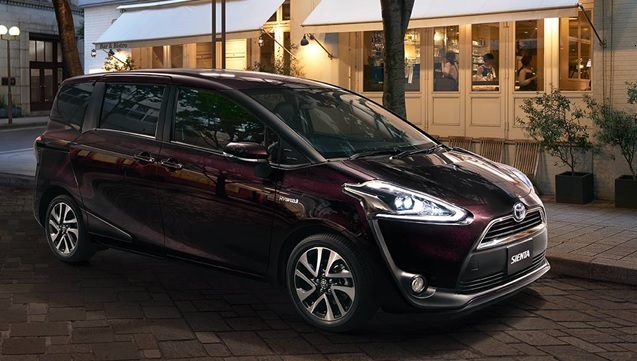 Toyota Sienta Hybrid – The overlooked family car?
MPVs or Multi-Purpose Vehicles have been a popular choice among families, particularly large ones due their spacious cabins and credibility for carrying people and cargo. With Toyota Sienta, the Japanese automaker believes it can merge the versatility of its Hybrid Synergy Drive powertrain with the practicality of an MPV, much like the Toyota Prius Alpha and Honda's i-DCD hybrid offerings like the Freed and Jade, which we recently took a look at. Let's see how well they are doing as we take a look at the Sienta Hybrid and see what it's made of.
Also Read: Honda Jade overview – A hidden gem!
Exterior:
The Sienta sports an exterior design that is similar to most MPVs. It is tall, upright, boxy and not too attractive. The character lines going up and down the car does give it some personality and helps it stand out from the crowd. To my eye, it looks better than the Honda Freed but falls well short of the Honda Jade and BR-V. There are some premium touches like the optional diamond-cut 16-inch alloy wheels, full-LED headlamps, and DRLs that make the car more appealing, but this isn't the point of the car. It was never designed to look great but to be practical instead. The electronically operated sliding rear doors, due to which getting in and out of the car is dead simple, make this apparent. Similarly, the ground clearance is impressive especially compared to rival models from Honda. Only the largest of speed bumps and potholes will require the driver to make a passing maneuver. Overall the Sienta comes out as looking like a compact, premium minivan which is not a bad thing for the Sienta's intended purpose.
Interior:
The moment you get into the car, it becomes immediately clear: Sienta comes from a carmaker whose popularity comes from promises of quality and reliability. The Sienta houses a well-built interior, with material quality that is a step above even the Honda Jade and Freed and in an entirely different league than Honda BR-V. Every surface you see, and touch has an attractive texture; the dash, the gear lever, the steering wheel and the seats all feature contrasting stitching which gives the cabin a premium look and feel. The 7-inch LCD infotainment is mounted directly in the driver's line of sight which reduces distraction when using. Similarly, the instrument panel is located right in front of the driver and houses a 4.2-inch LCD helper screen that displays vehicle statistics like the trip meter, odometer, and fuel economy. The stalks, steering wheel controls and all the buttons feel high quality and well put together. Sienta offers enormous amounts of head and leg rooms, as expected of a car of this class. However, the snug 3rd row is good only for occasional use. The seats are soft and supportive, and the entire interior design-ethic gives the impression of a homely cabin.
Driving Dynamics, Performance and Fuel Economy:
The Sienta shares its powertrain with the Aqua, Vitz Hybrid, Corolla Axio and Fielder Hybrid. The unit is Toyota's 1.5 L Hybrid Synergy Drive system. The 1.5L Atkinson-Cycle inline-4 engine produces a scant 71 HP, but when paired with the electric motor that contributes a further 60 HP and a CVT transmission, the total system output jumps to 99 HP. It drives like you would expect it to. Due to instant torque from the electric motor, power is ample for day-to-day driving. But one can argue that cars like Sienta are never fun to drive. The suspension is tuned to be comfortable and compliant rather than sporty and commanding. However, it does a good job handling rough terrain, potholes, and imperfections on the tarmac. Where the 1.5 HSD excels in its efficiency, Toyota claims 27.2 km/l on the JC08 cycle! Even though these manufacturer claims are mostly superficial, you might be able to achieve around 20 km/l if you drive the Sienta with a gentle foot.
Features and Comfort:
The Sienta is packed to the brim with technology; safety tech includes Toyota's "Safety Sense C" system that contains autonomous emergency braking and lane departure prevention. Six SRS airbags including dual front airbags, knee airbags, front side airbags and side curtain airbags are standard on the Sienta, while the front crumple zone ensures pedestrian safety as well. As a result, it scores a full 5-star safety rating in the JNCAP (Japanese New Car Assessment Program). The Sienta is a very comfortable car, even for long distances. The 1st and 2nd-row offer tonnes of room, however, like all compact MPVs the 3rd row does feel cramped. The eyebrow-style instrument panel is nicely rendered and houses a 4.2-inch LCD trip computer, while the 7-inch LCD is of a standard double-din size meaning it can be replaced easily (since JDM models have head units in Japanese). Cruise Control, steering wheel mounted controls, DRLs, LED headlamps and alloy wheels are all offered in the Sienta. The electronically operated sliding rear doors, make ingress and egress a breeze and give an undeniably premium touch to an MPV.
Pricing, Availability and Running Costs:
The good news continues as the Toyota hybrid badge guarantees great fuel economy and low running costs. Parts availability is not a big concern either as the Sienta shares a lot of it parts like suspension components, brake pads and many engine components with its little sibling, the Aqua which is quite popular here and finding parts is not difficult. But procuring body parts can be a pain. The only way to get your hands on a Sienta Hybrid is to get one from the JDM auctions. A 2015 Sienta Hybrid "G" with an auction grade "4" and less than 20000 km on the odometer can be had for under 24 lacs pitting it directly against the Honda Freed, Honda BR-V, and older Toyota Prius Alpha models.
Unfortunately, as of now, only 6 Toyota Sientas are listed for sale on PakWheels. The SUV and crossover craze has caused the MPV category to decline considerably in comparison, which is a shame, to be honest. MPVs offer a great deal more space than similarly sized crossovers. They are versatile, they usually cost less than their crossover counterparts, and they enjoy something that is different from what everyone else is driving. The sad reality is that people prefer the greater road presence and the bolder statement an SUV makes over everything else. Which one would you choose, an SUV or an MPV? Let us know in the comments below and as always stay tuned to PakWheels for more great content.