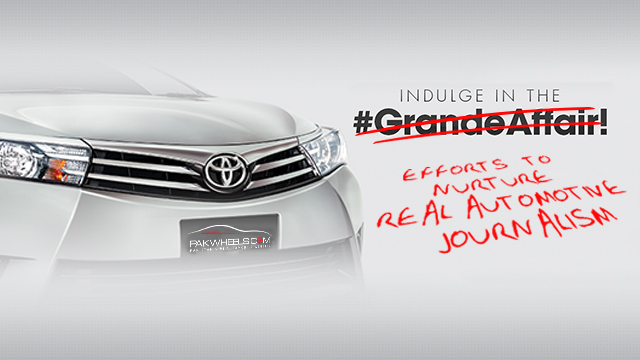 Toyota's Blogger Meet Up Was An Event To Promote Auto Journalism In Pakistan
PakWheels has been leading the automotive journalism from the front, with little to no experience of journalism, but interest and enthusiasm in cars that made us left pretty great jobs to never work again. Meaning, we joined PakWheels. Just to write, to tell stories, to educate, to entertain, and to further strengthen the automotive culture in Pakistan.
It has been a steady sail in these murky waters for us, and today, at the Indus Motor Company's Bloggers Meetup we realized that we were not the only ones striving towards the same benefit. The automakers of Pakistan are in full support to nourish it and last weekend's event by Toyota Pakistan was a step to introduce automotive journalism to the non-car-bores.
The event was a presentation > lunch > factory tours > some more presentations > two minutes test drive > and a cruise to dine out in the sea of Karachi.
Related: Read about the event here.
The event; we could brag on about how it did not give us enough time on the car to write about it, how we were not able to shoot a video to show how your Corolla comes into being, how is a Corolla's engine tested and built, where do the metal comes from to create the body panels, and on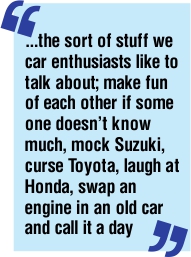 on, the sort of stuff we car enthusiasts like to talk about; make fun of each other if some one doesn't know much, mock Suzuki, curse Toyota, laugh at Honda, swap an engine in an old car and call it a day but it fares little relevance here today because this day was about introducing the masses to the realm of automotive culture and journalism.
The bloggers came from all categories of Pakistan's internet population: Beauty, fashion, masala, buzzfeed, travel, food, twitteraties, etc and etc. While some could easily drop your IQ below 40 if you stand beside them for a while but for the most part, it was nice to see human beings other than us embrace cars and talk about them, discuss them, cherish this new found enthusiasm, albeit motivated through such a grand event, still, they talked on about it. And I sure hope they actually talk more than just 'what a car', 'my next car', 'love is grande', etc etc because this can only mean good things for Pakistan, and its automotive industry when more auto-pundits and auto-journalists are born and both women and men are equally important for this side to flourish.
See, while discussing with an official of Indus Motors, he carefully and correctly pointed out that the industry is so small and Pakistan government's policy are so unstable that policies and government affect Pakistani automotive market more than the consumer, who will matter more when the market is competitive.
So you have to enable people to talk about it.
Toyota did just that through this event, from girls to guys, each were introduced to the process of building a car, and further opportunities and presentations were made to talk on about it. It was an event to promote automotive journalism and blogging in Pakistan because as I said above, the traditional media outlets are focused on who died, and what did his wife wear, while in the morning, they organize wedding mehndi events, so who'll talk about the unstable industry policies that forces the change in the automotive industry and which bring us all the cars we crave for? We can, together!
If you like to talk, write, entertain, educate, whatever, about cars, you can have your go at automotive journalism in Pakistan by joining PakWheels. We have quite a few positions open on which you can apply here: Automotive Writer and also Senior Automotive Content Manager.