Interesting trends of opting for auto finance for a car in Pakistan uncovered!
Buying a car is a hectic task, and it becomes even more gruesome when one doesn't have enough money to buy the desired car. However, the latter problem in the country is somewhat not the issue, as many local banks both conventional and Islamic are now offering auto finance to help people buy their desired car. PakWheels.com conducted Automobile Industry Survey in 2017 to get a clear picture of trends in the local automobile industry for example what brand people prefer or did they opt for auto finance or which car they own or what they think about some particular brand etc.
Read Also: Honda Civic and Yamaha YBR 125G bag the biggest awards of the year!
In this survey, a total of 19,155 numbers of responses were recorded from all over the country. 54 percent of those who responded hailed from Punjab, 27 percent Sindh, 12 percent Islamabad, 6 percent KPK, 1 Baluchistan and 0.10 percent from Gilgit Baltistan.
PakWheels.com asked two question regarding auto financing from the people who are as follow:
        Did you buy a car through auto financing?

        Did you buy the vehicle from a conventional bank or the Islamic bank?
Also Checkout: Bikes for Sale in Karachi
The people responded to the above-mentioned questions as follow: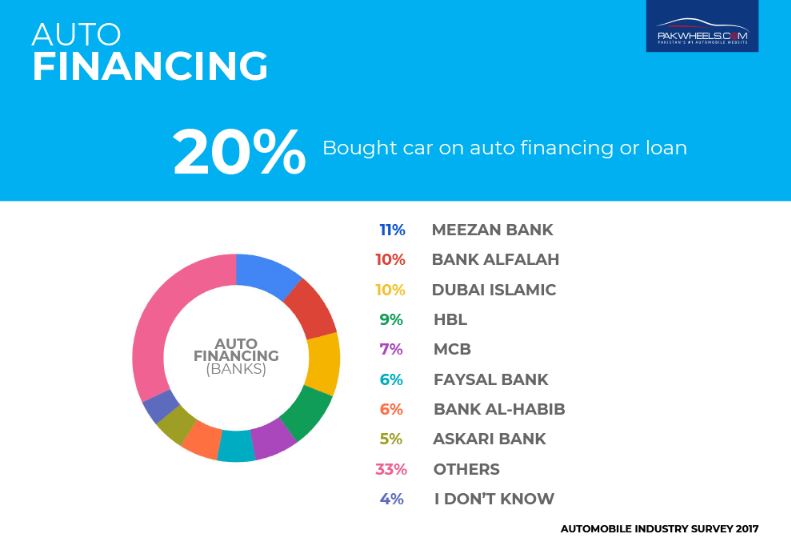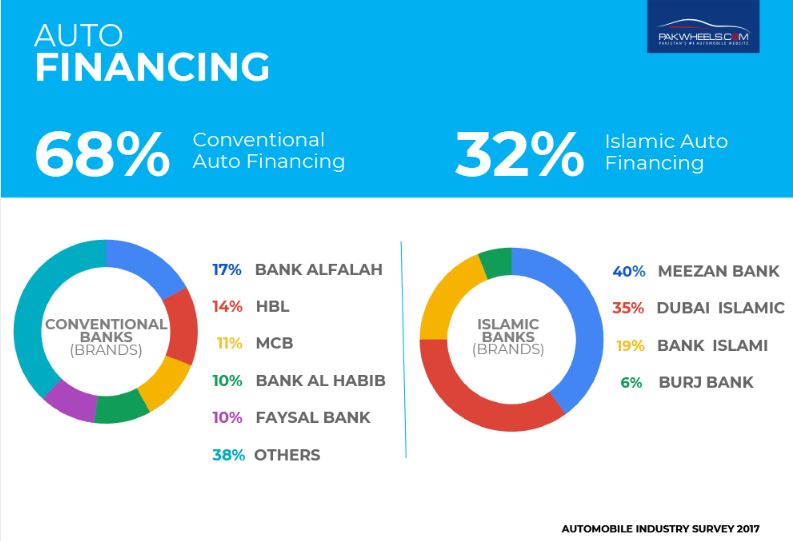 As far as the first question is concerned out of the total respondents, only 20 percent said that they bought a car through car financing. While answering the second question, 68 percent said they purchased a car through conventional banks such as MCB, HBL and Alfalah etc. Only 32 percent asserted that they had bought the vehicle from Islamic bank such as Meezan. Islamic auto financing has risen significantly if compared the data with the previous auto survey which PakWheels.com conducted. In the previous survey, 27 percent of the respondents said they bought the car through the Islamic bank, and as mentioned above in 2017 auto survey, the people who opted auto financing are 32 percent. 
In this survey, Bank Alfalah won people's choice award for the best conventional bank for opting auto financing.
Many other brands have won people's choice award as well.
Click here to view the complete report and list of award winners!
Few benefits of Auto Financing:
        No prepayment penalties

        After paying the loan with an easy instalment plan, you now own property of your own

        One can easily acquire refinancing from the same bank one has obtained a loan from
Did you buy a car through auto financing, tell us in the comments section below.