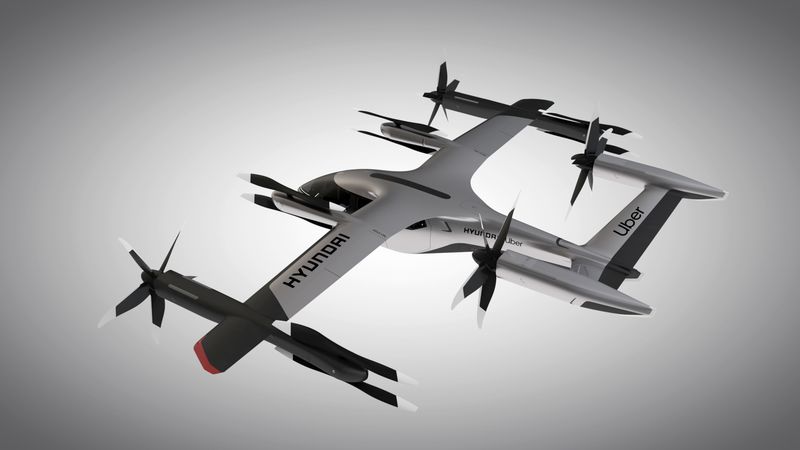 Uber to get flying taxis from Hyundai
Multinational ride-hailing service, Uber, has signed an agreement with South Korean automaker, Hyundai, to provide it with air taxis. Hyundai will manufacture these air taxis for Uber for its future aerial ride-sharing network. Uber will help Hyundai in the design of these air taxis. Hyundai announced about this partnership with Uber before the CES convention held in Las Vegas, United States. The CES is an annual tech trade show. At CES, Hyundai also showcased its new aircraft concept SA-1. The purpose of this agreement between Hyundai and Uber is to create an on-demand aviation community. 
The SA-1 is a four-seater concept that was designed with the help of Uber's open design process. This aircraft can cruise at 180 mph at a height of 1,000 to 2,000 feet. The range for this aircraft is 60 miles. Moreover, this is an all-electric aircraft which is powered by propellers and multiple rotors. It will also use distributed electric propulsion. The smaller rotors on the SA-1 will make it quieter than rotor helicopters. Even though the SA-1 will be autonomous, it will still require a pilot or driver on board.
Under this partnership agreement between Uber and Hyundai, Uber will provide airspace support services and customer interfaces. Hyundai will manufacture and deploy air taxis. In a joint press release, both Uber and Hyundai stated that they were working on infrastructure concepts. These concepts will help in developing structures and mechanisms for landing and take-off of air taxis. Uber has also developed partnerships in the real estate sector with organizations like Macquire, Oaktree, and Hillwood Properties. 
The agreement between Uber and Hyundai is done under the new program called the Uber Elevate. By virtue of this program, Uber is planning to provide a shared flight system for riders within the city. This program, which is also called Uber Air, will help in eliminating traffic congestion in urban areas. Uber already has eight partners to help it develop the air taxis it needs. These partners include Boeing, Bell, Embraer, Karen, Pipistrel, Jaunt Air Mobility, Hyundai, and Joby Aviation. Other partners include NASA and Georgia Tech. 
Uber Elevate will start its operations in a limited number of cities in 2023. The flight demonstrations will commence from 2020. Hyundai is the first mainstream and major automobile manufacturer to join Uber. The decision to collaborate with Uber has pushed Hyundai in a new direction to innovate aggressively. It will also help Uber to become a major logistics provider and a global transportation entity. The head of Uber Elevate, Eric Allison, stated at the 2020 CES convention: 
"Hyundai is our first vehicle partner with experience in manufacturing passenger cars on a global scale. We believe Hyundai has the potential to build Uber Air vehicles at rates unseen in the current aerospace industry, producing high quality, reliable aircraft at high volumes to drive down passenger costs per trip."
Stay tuned for more news-related content like this one and drop your thoughts in the comments section below. 
Pics Courtesy: THE VERGE