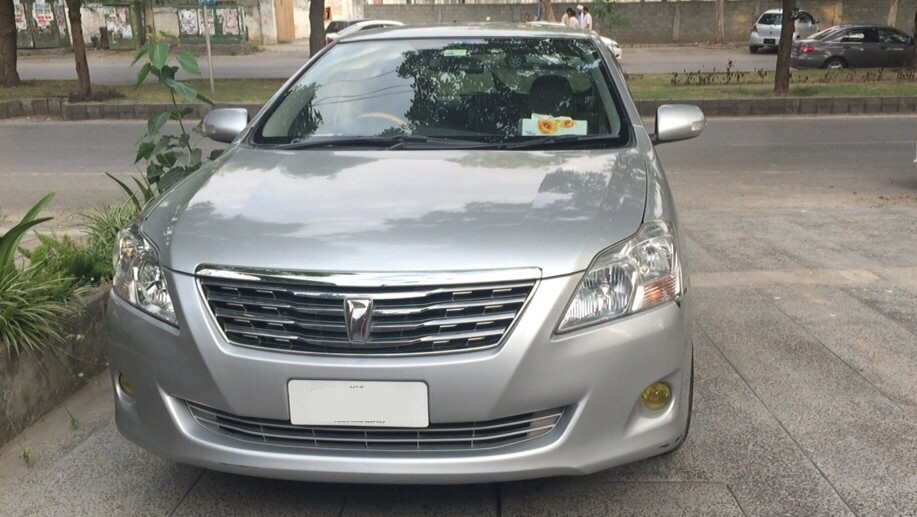 Used Car Review: 2007 Toyota Premio
We are back with another episode of our Used Car Review series and this time we have none other than the very handsome Toyota Premio. The purpose of these blogs is to help you find options in a certain budget. Last time, for our first article, we looked at a used 2001 Suzuki Baleno. And believe it or not, that exact car got sold this week. We thought to do another installment of the series, and test drive a car and let you guys know our feedback.
You Can Read 2001 Baleno Review Here
Being at PakWheels gives you a unique opportunity to meet all sorts of auto enthusiasts, who are not only petrolheads but also amazing people. I hadn't decided what car I would drive for the next blog when I met Waqas and saw his silver 2007 Premio XEX. We have a mutual friend and I met Waqas through him. I asked my friend if Waqas will be willing to lend me his car for a review. And next thing I know, Waqas was in the parking lot next to my office in his Premio. I met him and briefed him what I want to do, how we review used old cars and inform people about car options in certain budget. He laughed and said, "Get out of my car. You called it old. It's not old", and handed me the keys of his Premio. But before I start with the actual review, a little bit about the Premio and its history.
A bit about Toyota Premio
Toyota Premio was launched in the December of 2001 and was meant to be a replacement of much beloved Carina and Corona cars. Carina had been in Toyota family since 1970, and Corona even longer. It was time Toyota came up with the replacements. In Japan, the last model of Toyota Corona had the one trim called Toyota Corona Premio. The 'Premio' name was then used for the upcoming replacement. Premio was accompanied by Toyota Allion. Allion was supposed to be a slightly cheaper version of Premio and was targeted towards younger buyers.
Just a trivia, the name 'Allion' was derived from 'All in One'.
The first generation Premio was slightly longer than its predecessor. It was launched with three engine variants:
1.5l producing 108 BHP
1.8l producing 130 BHP
2.0l direct injection producing 150 BHP
First generation Premio was typically a front wheel drive car but there was 4WD with 1.8l engine version as well.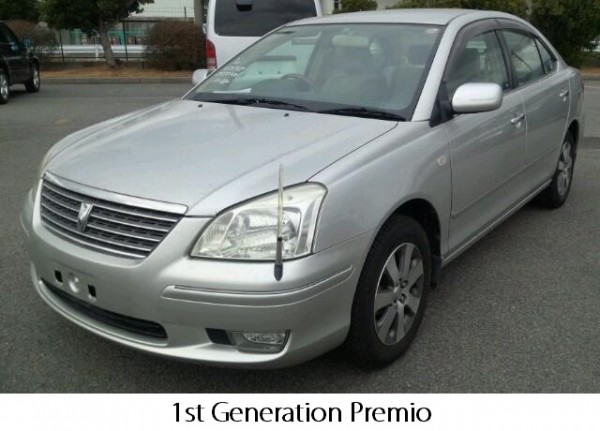 The second generation of Toyota Premio was launched in 2007. Although the outer dimension were kept the same as the previous generation, the interior however was slightly larger. All second generation Premios were equipped with smart entering system. Initially, Toyota introduced 1.5 and 1.8l engine for the second generation at first but in 2008, a 2.0l version was launched as well. The new engines had slightly higher output than their previous iterations.
1.5l producing 109 BHP
1.8l producing 135 BHP
2.0l direct injection producing 155 BHP
Test car's background and first impression
I asked the owner how he would describe his car in one word, and he said 'comfortable'. And after driving it for half a day on city roads and street, I agree. He has been using the car for around a year now. And then I asked him what he doesn't like about it. He paused for a second to think, and said nothing. I said there must be something. And he said that he genuinely can't think of anything, except maybe the body parts are expensive, but other than that, drive-wise, he felt the car was great.
My first impression of the car when I saw it was that it looks executive. And that is what Toyota was planning it to be; a mid-sized executive sedan. Car definitely feels premium. When you enter the car, you will see splash of wooden trim on the dashboard, the center console and the door handles. The seats were all electric and very comfortable. The dashboard is multicolor but the beige color is frequent in the car otherwise. I am a bit tall, and first thing I notice about the seats of any car is how good they carry me. The back support of front seats was wide and will support you if you have wide shoulders. In simple words, you won't be hanging off the seats of the car if you are a big guy. Everything in the car is electric…makes you dislike your own car.
City drive
It was a great day to go on a drive. And the good thing about it was that I had a nice car under me. The engine was already running when I took on the driving duty. I lightly pressed the brake pedal and put the car in 'D'. Since it is a CVT, the shifting is effortless. Being used to the conventional automatic gear box, I was expecting it to give the slight bump when the gear is engaged but there was nothing. I lift my foot from the brakes and expected the car to start creeping, as you would expect from an auto car, but it didn't. For a second, I doubted even if this car is running or engaging gears, or not. I turned the steering to right to get out of the parallel parking spot we were parked in and it was mighty smooth. The car is equipped with an electric power steering. I don't know why, but the steering wheel itself felt small. I mean I felt slightly awkward holding it. It felt like one of those gaming console steering wheels. Maybe the car's interior is wide and roomy, so everything else was feeling relatively small. The steering itself is telescopic. You can adjust the way you want.
I pressed on the throttle and the car just started to glide. I didn't feel anything; no engine roar, no thudding and clunking, no bang and no boom. I pressed the throttle hard so I could feel anything from the car, and for a second I went back in the seat and car was cruising at the highway speeds on a city street. Which is wrong by the way; never over speed. I immediately reduced the speed to normal, and started to drive from street to street and sector to sector, looking for a patch of empty abandoned road where I can try hitting slightly higher speeds. Premio has decent ground clearance for a slightly larger car and although I was a bit worried about going over speed humps, the belly of the car didn't touch even once. I can't say how the car would act with all five passengers in.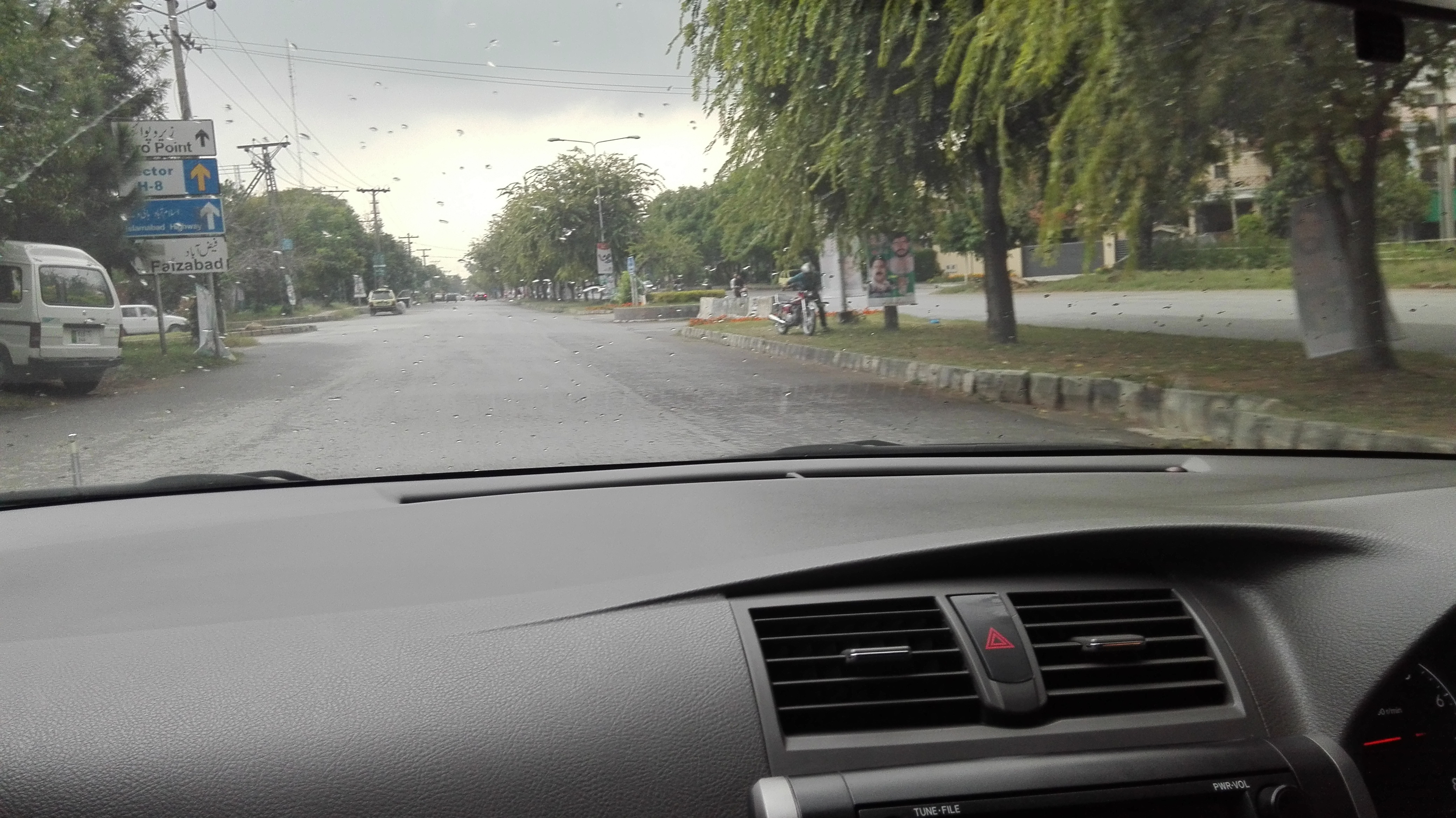 One thing that I liked about the car was its consistency in providing the same experience every time you drive it. I had the car with me for around half a day. And every time I started the car and started driving it, the experience was same as before. No matter the road, no matter the weather, no matter the traffic – the car provided exact same experience as before again and again. You do not feel the bumps. Of course if you are hitting the car in a pothole, you are going to feel the car's wheel going in and coming out. But that is about it. Otherwise, if it's a patchy and cracked road, the suspension is so good, that you won't even notice them there.
As far as the handling of the car is concerned, you are fine unless you are planning to pull a Scandinavian flick. The car slightly leans outside if you are cornering hard. But I don't count that as a negative. Premio was never intended for you to bring out your inner Takumi. The car otherwise felt calm and collected, and not bulky and slushy. It does give you slight liberty to be adventurous when you in a roundabout but that is about it. Be more adventurous and you might end up in the back seat of a Qingqi.
Car is equipped with ABS and all-wheel disk so there is no surprise that it stops quite quickly. You have SRS airbags all around you.
I must say, the car doesn't feel mechanical at all. It's like it is all electric. I am pretty sure a 20 year old would call it a boring car. That can be a good thing or a bad thing depending on what kind of a car and ride you are looking for. But I myself being someone old, don't mind a boring car; a boring but comfortable car. Premio being an executive sedan, I personally don't blame it to be all robotic and quiet. Toyota isn't declaring it to be a track car. It is supposed to transport slightly older men from one place to another in comfort. From home to office, one meeting place to another, and then to their second wife's place.
Fuel average:
On long routes Premio easily gives around 18 km/l
Within city, around 12 km/l (car comes with an eco-mode)
It was not possible to take the car on motorway, but we did manage to find Kashmir Highway almost empty. Waqas, owner of Premio, was sitting next to me and told me to floor it…and I did…and it was quick. The needle of the speedo climbed the numbers effortlessly. I have driven few other 1.8l cars, but Premio felt smoother. The engine is sequential injection, so maybe that has something to do with its inner city and highway driving behavior. Although my time at high speed was short, I can safely say car felt planted. Even if it was squirming underneath, it didn't let me know.
Likes
Very comfortable
Roomy
Consistent
Fuel efficient for its engine and body size
Dislikes
Body parts are hard to find and expensive
Overall maintenance is expensive
Can be a bit boring
Gives less feedback and felt mute
How I would rate Premio
Performance 4/5
Handling 3.5/5
Comfort 4.5/5
Practicality 4.5/5
Behind the Wheel 4/5
Overall 4.1/5
Price of Toyota Premio in Pakistan
There are a bunch of variants and trim levels of Japanese imported cars and it's hard to keep track on all of those. I was told this is XEX, and that it is top of the line. Since the shape and generation changed in 2007, I won't be including the previous generation. I did a little research on PakWheels used car section found Premios from Rs 1.8 million to Rs 2.5 million. Rs 2.5 million for a 2007 Premio is a bit unrealistic to say the least. Mostly you can buy a nice 2007 Toyota Premio between the range of 1.8 million to 2.2 million PKR. If you go for a relatively newer model, like 2010 and above, the price varies between 2.7 million to 3.5 million PKR depending on variant and year.

Other cars you can buy in same price
In the price of Rs 1.8 million to Rs 2.5 million the very obvious options are the new Toyota Corolla and Honda Civic. Not only will you be getting a brand new car but also you don't need to worry about its maintenance. But both Corolla and Civic are compact sedans, and are not as big as Premio. And if you want to stick to an imported car, you can get yourself a Toyota Mark X in the same price bracket. However, Mark X is also not as roomier as Premio and it is more of a sporty saloon than a business. Mark X and Premio are made for different purposes. There however is the option of a Honda Accord. Accord and Premio sort of target the similar segment but if you look at CL-7 and CL-9 versions, they are also a bit sportier that the Premio. The infamous Thai version Accord however can be compared with Premio even though that Accord is available with a 2.4l engine. If you want to go German, you can find both Mercedes and BMW in this price range and around the same year of manufacturing. 2006 C-Class is abundantly available in 2 million plus range. Or a simple 2006 316i BMW can also be an option.
To some it all up, if you think you have outgrown your boy racer age, do consider buying this car. I believe this car can be a great second family car if you are fortunate enough to own more than one car. Something you can haul your family in on the weekends. I hope this brief write up will give a hint about what this car has to offer.