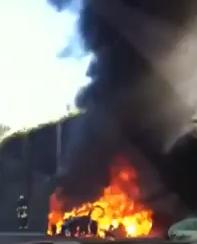 Video: New Ferrari FF catches fire during test drive, keeps tradition alive
Ferrari 458's caught fire in the first few deliveries which gave Ferrari new reputation of, if its a Ferrari than how come its now on fire yet? Internet was riddled with such memes but finally Ferrari responded and offered a fix to the calamity.
Internet calmed down and the new FF, Ferrari's first four-wheel-drive car debuted and customers' were being delivered their new precious car and the internet again was growing impatient to see the new FF catch fire and it has finally lived upto Ferrari's reputation as one of the 300,000 US $ car caught fire.
A 44-year-old man was out test-driving the new FF in Frankfurt, Germany when he heard a bang and noticed flames coming from the tail in his rear view mirror.
He bailed out of the car unharmed and saw how the Ferrari burned itself down to the ground.
However, the first FF was burned to the ground sometime last month but today's fire incident has a video and a lot of witnesses but like before, Ferrari will blame the drive and later on recall all the cars for a fix.