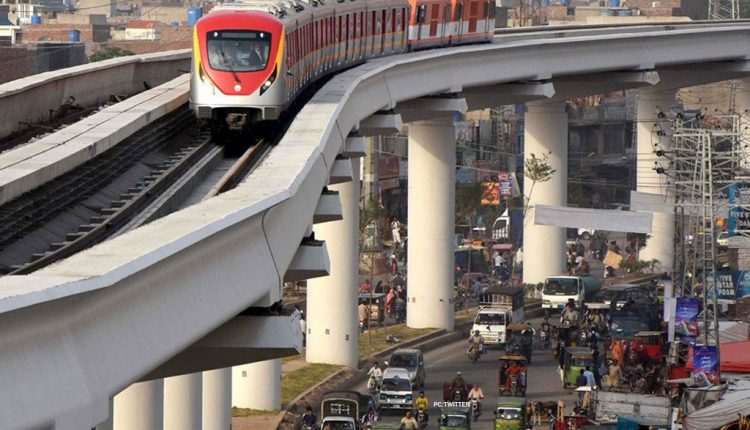 A gantry of Orange Line Metro Train (OLMT) has fallen after a serious accident. The incident happened just ten days after the launch of the mega project. According to details, a high-speed container truck crashed into a height gantry under OLMT track near Baghbanpura, Lahore. The truck driver reportedly lost control of the truck.
In the result of the crash, the gantry toppled onto two parked cars on pavement. In a video, one can see that the gantry completely destroyed two cars. However, the truck driver and passenger only sustained a few injuries. There was no casualty in result of the accident.
باغبانپورہ کے قریب اورنج لائن کا ایک پلر زمین پر گر گیا#Lahore #Pakistan pic.twitter.com/EcPpS4z8f7

— Yusra Askari (@YusraSAskari) November 4, 2020
The eyewitnesses told media that the accident happened due to extraordinary height of the container on the truck. Reacting to the accident, OLMT representative said that height-gantries are a vital part of OLMT as they guard the underlying electric wires for the train.
After repeated delays and halts, the Punjab government launched OLMT on October 25, 2020. Currently, there are 22 trains on the track. The 27-kilometre long completed one-way journey in 45 minutes, connecting Ali Town and Dera Gujran. Furthermore, the train can facilitate around 250,000 people on a daily basis.
Electricity Cost on Orange Line Metro: 
Earlier in February, Lahore Electric Supply Company (LESCO) revealed that during the 90-hour test run around 2.7 million electricity units were burned. The To put that in perspective, the total cost came out upwards of 50 million rupees.
 LESCO estimated that Orange Line is bound to consume electricity worth PKR 25 million each day to function properly, which translates to PKR 750 million in terms of electricity bills for the Government for each month. The common man will pay its bill from his pocket. In return, it will only benefit a limited set of users on a 27km long track based in Lahore.
Moreover, the Government will have to pay an additional PKR 10 billion in subsidies even after keeping the ticket price at Rs60. This isn't an affordable option for many, but anything higher than this will bottleneck 
For more views, news and reviews, keep visiting PakWheels Blog.