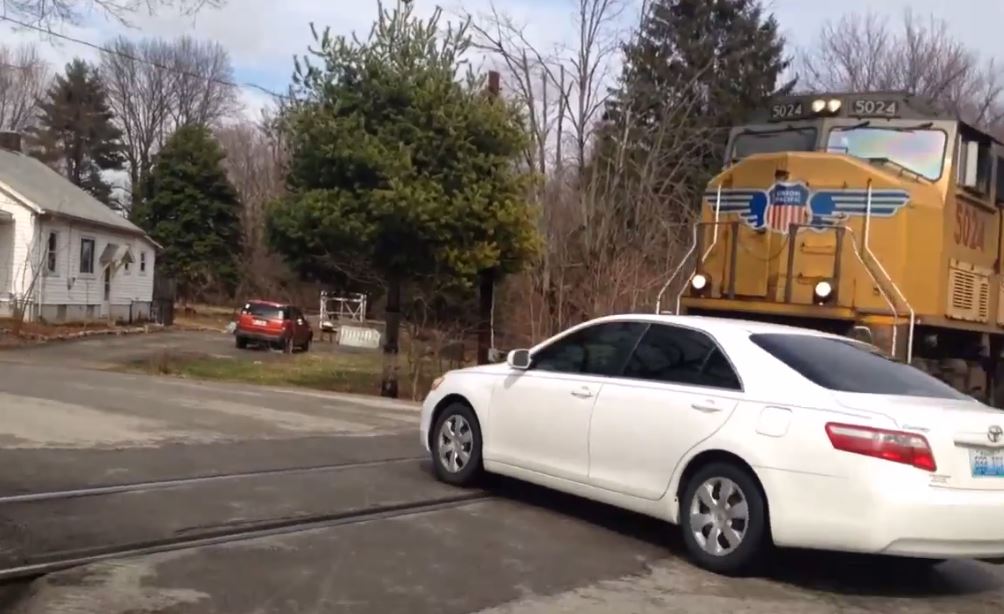 Watch How A Speeding Train Crashes Into A Toyota Camry As It Runs A Red Light
Sometimes we tend to learn easy lessons the hard way and the results of which can be catastrophic. The road sign and laws are there for our own safety yet we take risks by breaking laws without realizing how things could turn out. There is a famous saying that "common sense in not that common". Running a red light can be one of the most dangerous acts on roads. We watch, read and listen stories about some avoidable crashes on the road but never learn from them.
This past weekend two teenage students were killed and two others were injured when they jumped the signal to cross the railway track while the train was almost approaching. Couple of train enthusiasts were video recording the approaching train when a white Toyota Camry ran a signal and tried to speed through the crossing. Train was blowing the horn to alert everyone but the driver of the Camry took it very lightly and went ahead. Unfortunately, he misjudged and found himself in front of the speeding train. The train pushed the Camry for more than a mile before it came to a stop. According to local area news and police department, the driver clearly jumped the Train Alert Red Light System and ignored the loud signals before coming in front of the train track which was moving on track speed. According to the eye witnesses, the driver was speeding and ran the train alert blinking stop signs. Distraction within the car can also be a reason which can result in not realizing the seriousness of the situation and acting accordingly. NTSB is investigating the accident at this time but initial reports hints at driver's fault.
Most of the train tracks are not gated in the United States. There is normally an initial buffer zone and main track area. Before the arrival of train, visual and audio signals alert the oncoming traffic in both the zones. A new legislation is in pipeline to secure the track crossing with better design. The video below should serve as another lesson for everyone who takes control of the driving seat. Life is very precious. Don't save time by running a light, save a life instead. Obey the road signs and follow the traffic rules; they are there for your own safety.
---
RELATED: Stop On Red, So No One Is Dead
---
WARNING: Graphic material, viewer discretion is advised.
Alternate View: