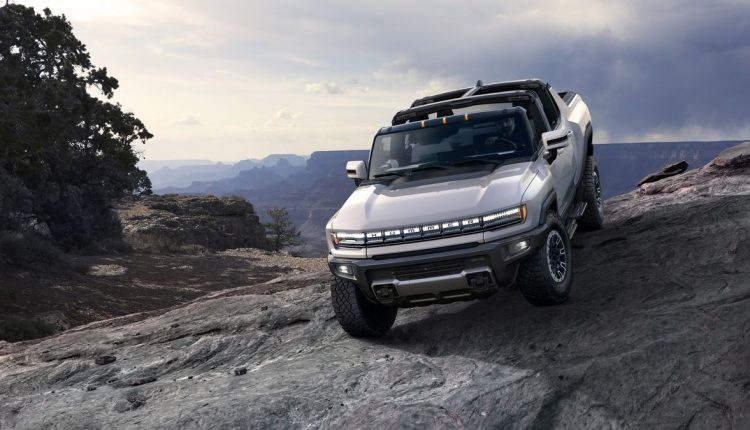 WATCH VIDEO-Hummer is BACK!
Around a decade ago Hummer, a gas-guzzling vehicle was put to sleep by GM. Today, it woke up BUT as a fully electric Super Pickup truck with extraordinary off-road capabilities and performance.
Price and Engine: 
The fully loaded variant Edition 1 with 1000hp and 15,592-nm is priced @ $112,595 and will be available in 2021. This has 3 motor system and can cover 563km on full charge using GM proprietary Ultium battery pack. Hummer EV Edition 1 is capable of 350kwh charging capacity, and you can get 162 kilometres of range with 10 minutes of charge. The Edition 1 will be available with all bells and whistles.
New Variants of Hummer: 
Later GM will offer other versions like in 2022 a Hummer EV 3X. This also has 3 motors but with reduced power of 800hp with 12,800-nm. The company will price this vehicle at $99,995. The model will still be able to go around 483 kilometres.
In 2023, GMC will offer EV 2X, powered by 2 motors and priced at $89,995. The power output of 625hp and still 10,033-nm of torque. A full charge will make it capable of 483 kilometres. In 2024, a base model will arrive in the market with 250 miles of range, and a price of $79,995.
Watch Video: 
Interior: 
On the interior, there will be a 12.3-inch digital cluster and an additional 13.4-inch infotainment and control panel for the vehicle. The Hummer is equipped with 18 different cameras to view different angles of the car, which includes underbody. The roof panels are also removable. There will be standard 35 inches all territory Goodyear tires, with an additional offer of 37-inch tires. The truck also has " CrabWalk" function which helps the truck to move sideways / diagonally.
Power Technology in Hummer:
Hummer EV uses new battery technology known as NCMA (a combination of Nickel, Cobalt, Manganese & Aluminum). This technology reduces the percentage use of metals like cobalt. Cobalt has controversy associated with facts like illegal mines from for major global supply chain has poor human rights and worker protection. EV makers are slowly reducing and eventually replacing the use of cobalt. GMC in joint venture with LG has manufactured the battery packs. 
Although GM already offers EV's under their portfolio, Hummer EV could be the starting point of future of GM's electric vehicles onslaught. Target models are the upcoming Rivian Pickup, Cybertruck from Tesla and Ford F series EV.
Update: Edition 1 is already sold out, means the first whole year production is gone within the first few hours of launch.