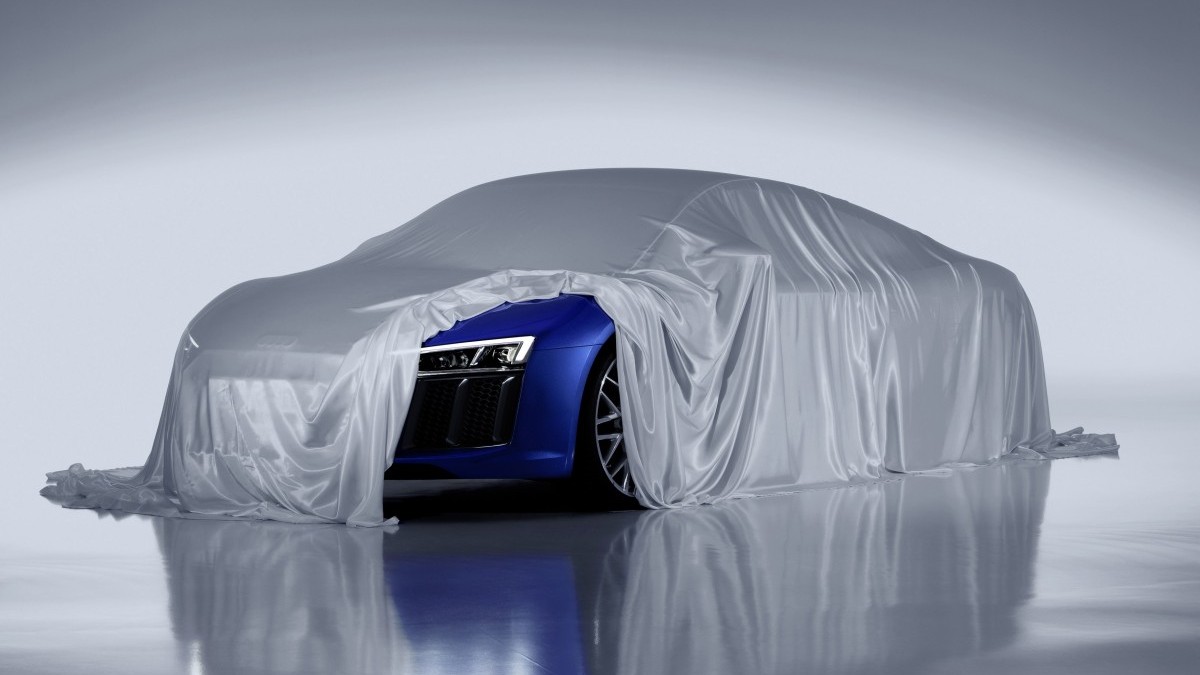 2016 Audi R8 Officially Teased
Few weeks ago, we shared a leaked photo of upcoming Audi R8. There is a lot of buzz about it on social media as well as on automotive forums that it might be some fake image. One major reason was the headlights. Audi released laser headlights on the limited production R8 LMX to bid farewell the first generation and it was very obvious that BMW i8 is also coming with laser lights then how come a super car like R8 will come without it? BMW showcased Iconic Lights for the M4 in the recent CES show as well. As Laser Headlights are still illegal and not approved by DOT in United States, there is a possibility that R8s coming to US might still come with regular Audi LED headlights, as seen on the earlier leaked R8 images.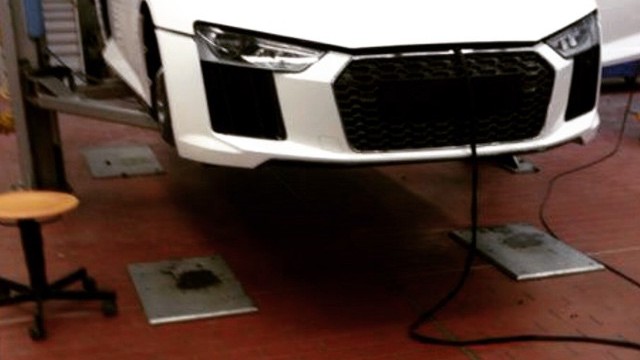 Today, Audi officially teased the upcoming R8, which will be fully revealed in Geneva next month. Audi officially announced that new R8 will come as standard with LED headlights that house 37 individual diodes. At extra cost as option laser headlights will be available. There is no word on power outputs but a 5.2-liter V10 making somewhere between the 570HP is expected.
Official Press Release:
Ingolstadt, 2015-02-16
Audi reveals laser headlights for the new R8

– New mid-engine sports car features high-tech headlights
– Laser high-beam offers high light intensity and excellent range

Audi is revealing the headlights of its new R8* as the first of a number of technology highlights of the top sports car. The R8 uses LED headlights which can be supplemented by a laser high beam lighting module as an option.

The new R8 will set new standards among high‑performance sports cars – including in its lighting technology. As an option, the latest car development by Audi can be equipped with a laser spot as the high‑beam headlight. The special appeal of laser lighting is that it uses high‑intensity laser diodes, which generate a lot of light energy from a very small component. Compared to LED high‑beam headlights, laser high‑beams attain nearly twice the lighting range.

Each headlight contains one laser module that operates with four high‑intensity laser diodes. This module bundles the four intense blue‑light laser beams. Then a phosphor converter transforms the blue light into pure white light. An identifying characteristic of the laser headlights is their blue light signature. Standard equipment in the new R8 includes an LED headlight system. All lighting functions are produced with 37 LEDs per headlight.

The laser spot for the high‑beam light made its debut in the summer of 2014 in the Audi R8 LMX, a limited edition model of the previous R8 model series. Shortly before that, it was used in the Audi R18 e‑tron quattro race car at the 24 Hours of Le Mans. The laser spot is the latest production technology in a long line of lighting innovations. Audi introduced LED technology to the market for the first time in 2004 – in the daytime running lights of the Audi A8 L W12*. Lighting technologies such as LED daytime running lights, Matrix LED headlights and laser spot high‑beam lights are prime examples of technology that visualize the core values of the Audi brand: progressiveness, sportiness and sophistication.

Fuel consumption of the models named above:
Audi R8:
Combined fuel consumption in l/100 km: 14.9 – 12.4** (15.8 – 19.0 US mpg);
Combined CO2 emissions in g/km: 349 – 289** (561.7 – 465.1 g/mi)