More and more leaked shots of the to be unveiled 2016 Honda Civic have surfaced as it makes its way to Honda's authorized dealerships nationwide. Just yesterday, I released my analysis over the exclusive leaked photos of the 1.5-liter VTEC Turbo variant taken by a fellow PakWheeler.
Have a look: 2016 Honda Civic – Leaked Images Ahead of Launch in Pakistan!
The photos which were leaked yesterday helped a great deal to clear the confusions regarding the unannounced equipment of the 1.5-liter VTEC Turbo. However by then we still did not know much about what will come installed on the 1.8-liter VTI Oriel variant. As at the time of pre-bookings, the dealers across the country came with a different set of specifications which were made entirely on the basis of ongoing rumors.
Also Read: Honda Atlas Teases 2016 Civic's Launch on their Website!
The confusions regarding the VTI Oriel variant of the new Civic were made worse when spy shots of multiple hard-top and lesser-spec Honda Civics parked at Honda Atlas factory started to make rounds on the social media.
In these images, you can clearly see that alloy rims, fog lights and sunroof are absent while the 1.5-liter VTEC Turbo variant (which is easily identifiable due to a different piano black front grille) has all of these features this sparked various false rumors on the internet. Some laid claim that Honda Atlas is unable to sell the 1.8-liter for around 25 lacs so to make a profit, they are reducing features with some extending to an absence of VSA (Vehicle Stability Assist) in the 1.8-liter trim. Moreover, some suggested that Honda wants to differentiate the PKR 2.5 million 1.8-liter model from its PKR 2.9 million sibling to justify Turbo variant's price by reducing the features of VTI.
Also Read: Here is How You Can Book 2016 Honda Civic In Pakistan Now!
Now though after seeing the leaked images and a video of PKDM Civic's 1.8-liter VTI Oriel, we can safely say that Honda has not taken off features instead when you link the spy shots of the lesser-spec Civic with the pictures of fully loaded 1.8-liter VTI Oriel at dealerships, a third lower price and lesser equipped variant looks to be the only explanation for the 'hardtop' Civics seen at Honda Atlas factory. Furthermore, Honda is not new to introducing a less feature packed trim of Civics at a lesser price; as they have been doing it successively for the last three generations, so we won't be surprised to see this again!
Apparently, the VTI Oriels sent out by Honda to dealerships are factory equipped with Honda's utility package since navigation and leather seats are otherwise optional for 1.8-liter VTI Oriel.
The leaked pictures confirm the following features of Civic 1.8-liter VTI Oriel
Chrome front grille, fog lights and daylight running lamps (DRLs)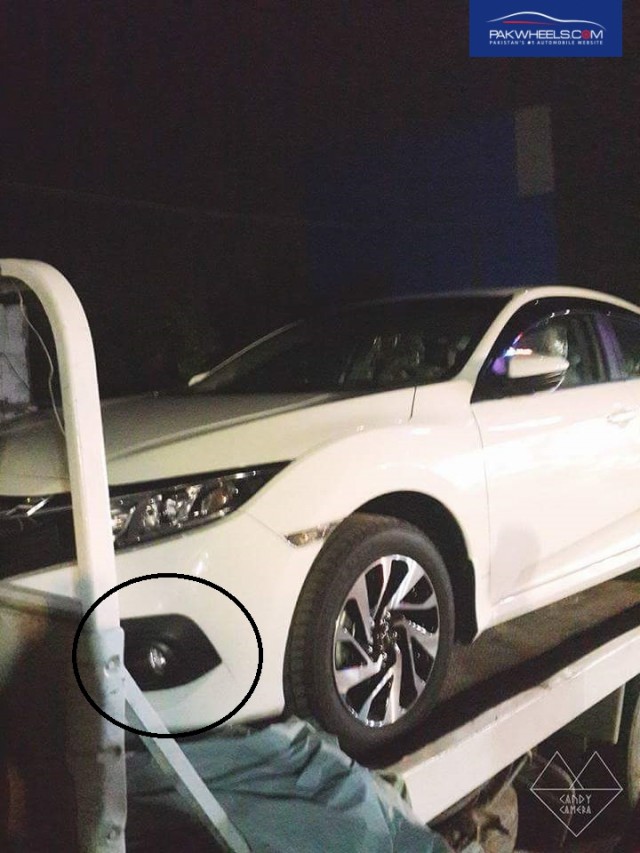 16-inch Alloy Rims with wheel dimensions of (215/55 R16)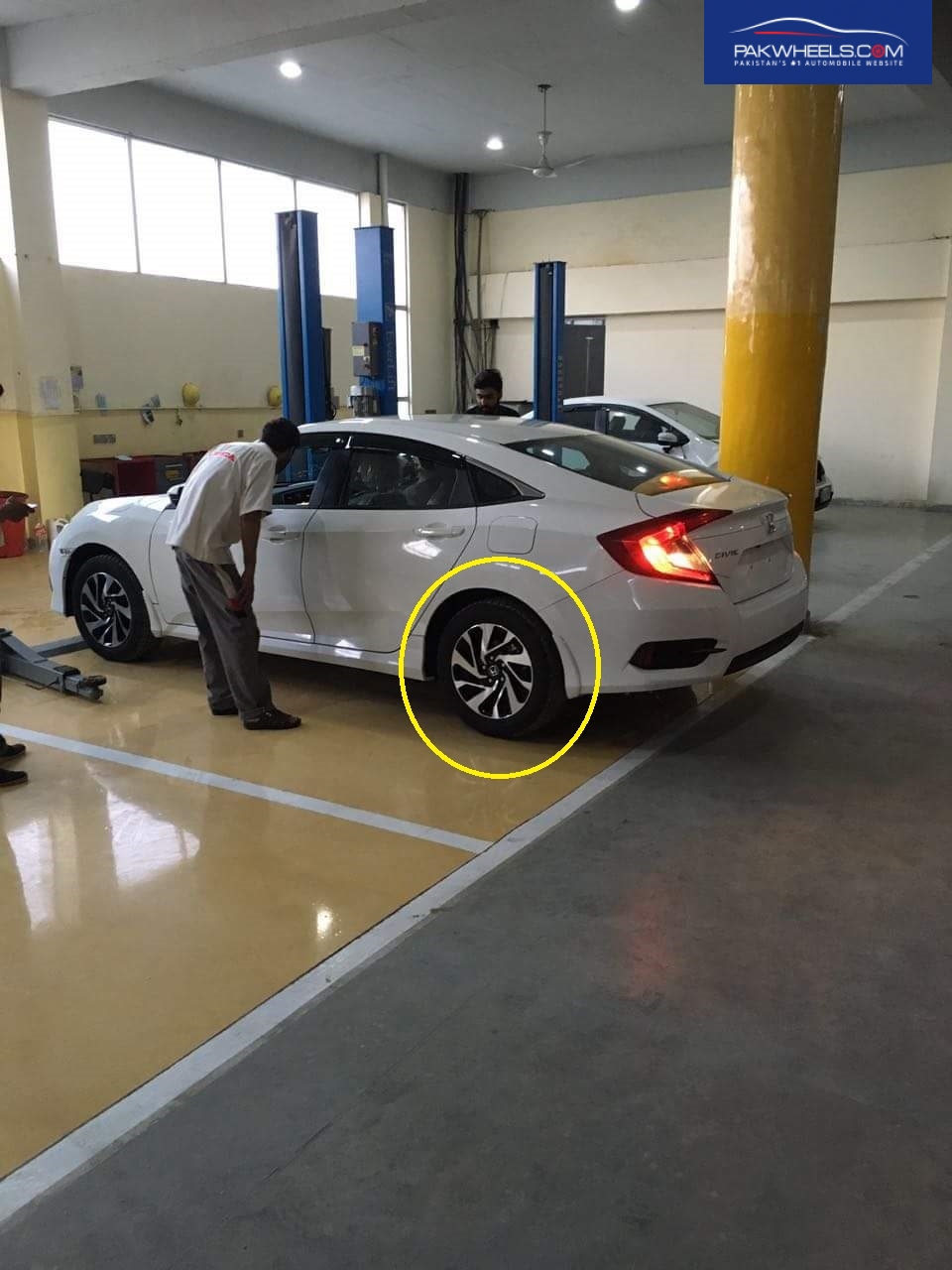 Stickers on the rear window confirm ABS (Anti-lock Braking System) and VSA (Vehicle Stability Assist)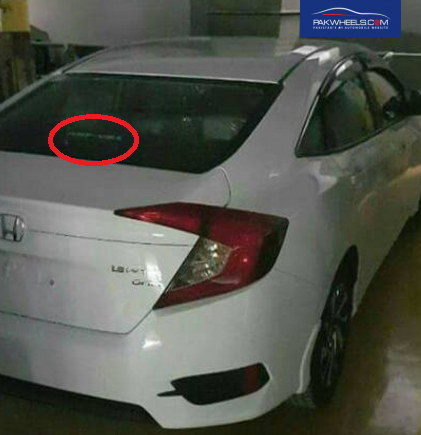 As far as interior is concerned, the following equipment made its way;
1) Steering Switches for  audio control
2) Steering Switches for cruise control
3) Single zone climate control system on dashboard
4) Digital speedometer
5) Push start button (which can be seen in the video at the end of this post and on the teaser image released by Honda Atlas)
Also Read: PKDM 2016 Honda Civic: A Pandora Box Full Of Confusion
While the following has been left out;
1) Leather stitching on steering wheel
2) Bluetooth control on steering wheel
3) Dual zone climate control system on dashboard
4) Colored speedometer
5) Paddle shifters (which are present on the VTEC Turbo variant of the new PKDM Civic)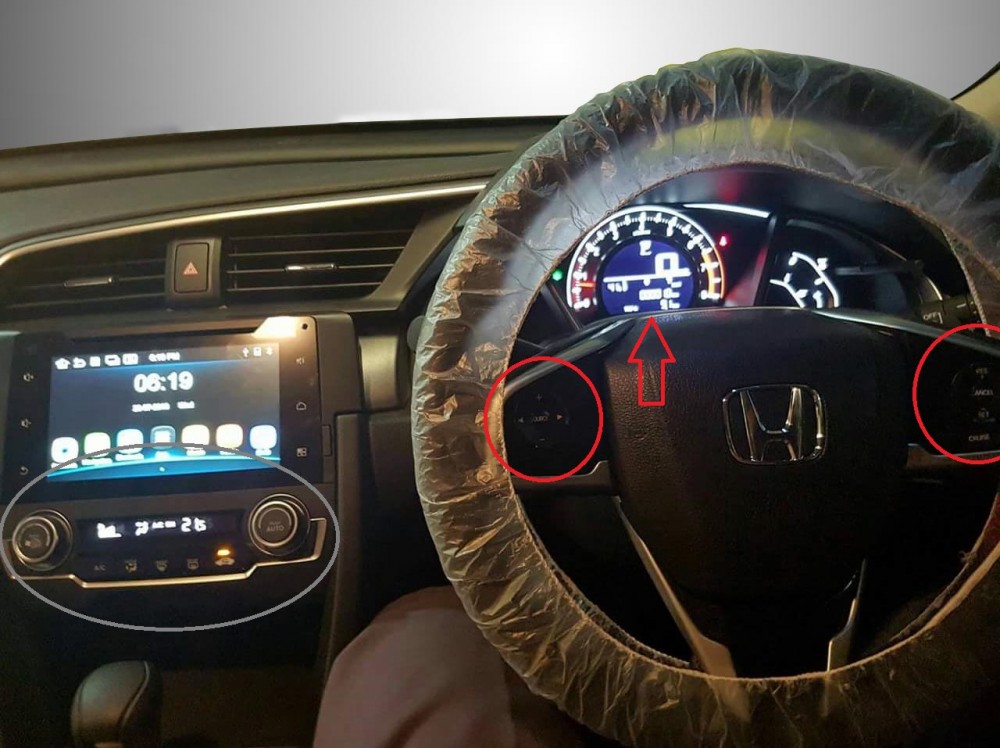 Here is a video showing the 2016 Honda Civic 1.8-liter VTI Oriel land at a dealership in Lahore! (Video's commentator also confirms sunroof on VTI Oriel)
Some additional leaked pictures of 2016 Honda Civic 1.8-liter VTI Oriel