It looks like the craze to know more and more about the upcoming Honda Civic 2016 is not subsiding. Every day something new pops up. We at PakWheels tried our best to keep our readers up to date about anything available to share about 2016 Civic X. By now we are confident that you guys know about the new Civic, features, engine or anything related to car's exterior and interior. Our subject matter for today's article is something different. From last few days, there are two numbers which are the point of discussion and stuck among everyone; 87 and 91. We will go over it shortly.
Also Read: 2016 Honda Civic In Pakistan – This is It!
The new Civic is not formally launched in Pakistan, but new information keeps on appearing. Honda dealers across Pakistan started taking pre-booking of the new car couple of weeks ago. Some reports suggest that around 5000 cars were booked in the first ten days when the booking started. This is very surprising for the fact that no one has seen the car on showroom floors, and yet people are willing to buy the 10th Generation Civic without even seeing it first.
Also Read: 5,000 Honda Civics Booked In Under 10 days
As expected, Civic will be available in two engine options in Pakistan. All-time tested R18, which is a naturally aspirated engine found in the 9th generation Honda Civic. The 1.8-litre Honda engine produces 141 HP. The big news around the world connected with the new Civic is the release of 1.5L Turbo engine. The 1.5-litre Honda Civic VTEC Turbo produces 173 HP. There were a lot of rumours and speculations about this engine coming to Pakistan. But since it is confirmed that it will available, we will keep our discussion on this topic about the 1.5L Turbo engine.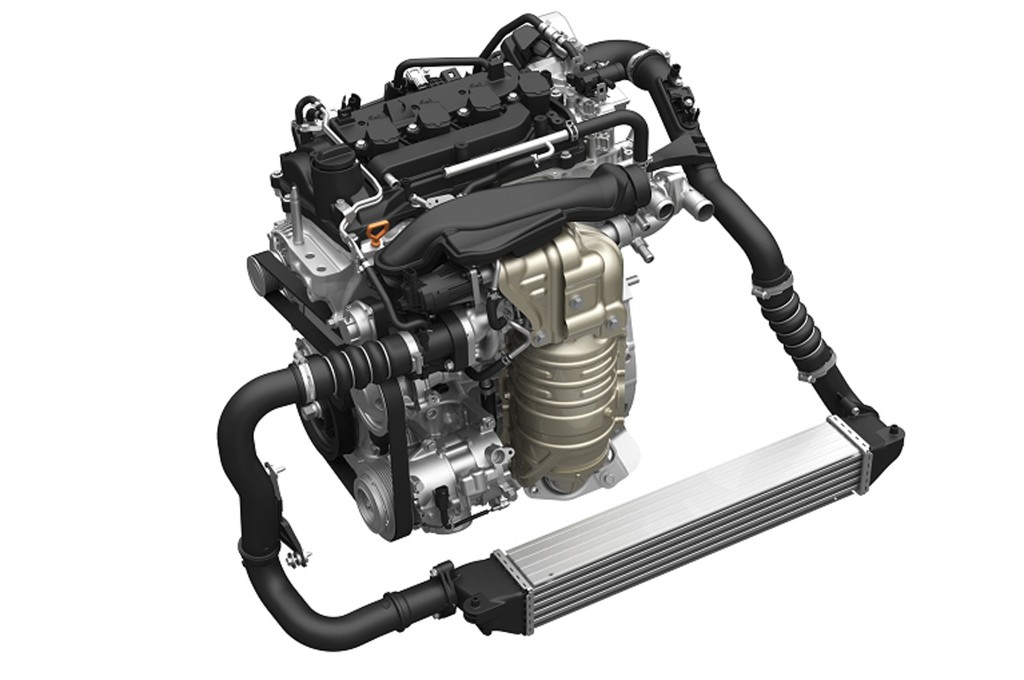 As I mentioned; there were if's and but's about the introduction of the turbocharged engine in the 10th generation Civic for Pakistani market. The one main reason is the availability of Hi-Octane grade petrol. I have been reading about a lot of confusion and misunderstandings about fuel required by the Pakistani Civic with 1.5L Turbo engine. I am not an auto specialist but will try to explain it in plain words so that we can remove the confusion.
Turbocharged engines are forced induction. To increase the performance and output of an ICE (internal combustion engine), air is compressed into the cylinder and its done by a turbine/turbo which is connected to the exhaust from the engine, and it spins with the force of exhaust gases and in return pumps air into the engine. A turbocharged engine can be smaller, but it can still produce equal or more power than a regular naturally aspirated engines. Turbocharged motors are fuel economical provided you drive them with a light foot. Driving them aggressively will make them more fuel thirsty than a bigger naturally aspirated engines.
A turbocharged motor has higher compression ratio compared to NA motor as more air is forced into the cylinder. Petrol is a volatile fuel, and it can burn on its own under pressure. You keep reading and seeing the octane level. People think higher octane implies more engine power. But the fact, octane rating of petrol tells us about the stability of fuel against premature ignition under load that is compression in case of an engine. To get this resistance, oil refineries add various additives during the production of the fuel. We can say that higher the octane rating, more it can be compressed without ignition.  As turbocharged engines have a much higher compression ratio. If you use low octane number than required in a turbocharged motor, the air-fuel mix can ignite prematurely in compression cycle before even spark plug comes into action. It causes the fuel mix to burn even before the spark plug ignition. And this is what is called knocking.
Many think that new motors are more complicated, and the ECU [Electronic control unit] just adjusts as per the fuel, thinking if we use low octane petrol in the turbo engine, it will not be an issue. It is not the case. Using a lower octane petrol regularly, over time engine components will start to wear and fail prematurely.
Over time, the turbochargers have become very common. They are available on small economy cars as well. In the past, we have associated hi-octane fuel with high-performance vehicles. But the fact is, even our Japanese 660cc turbo cars need better octane fuel. But there is as such no need for hi-octane fuel in NA cars. You might just be wasting your money on expensive fuel that your vehicle doesn't even need.
When new Civic was launched in the US last year, Honda told the press that the car can run on the regular petrol. The car's user manual show the same, "Unleaded 87 or higher required". It made people think that you can use the same octane fuel in Pakistan as well. But unfortunately, that is not the case. The US measures the octane level in a different way than the Europe or any other place. Simply put, 87 RON petrol in the US means 91 RON fuel everywhere else. Also, you can say that 87 sold in Pakistan is equal to 83 RON in the US.
Image from USDM user manual Turbo Civic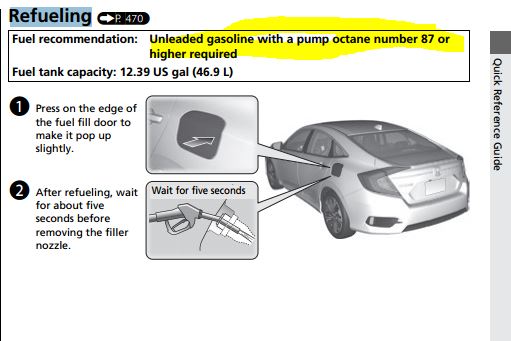 Automakers use two terms when it comes to using fuel, "Required" & "Recommended". It is always recommended to use that is written in the user manual of your car. If it says required, that means it is the least you need to make the car run without any issue. Your dealership can easily tell if you have been using low-grade fuel. And when you see recommended, it means it is best to use that fuel since it will provide the best possible performance.
Honda Atlas wrote a letter to its dealership dated June 15th, 2016. That letter went viral and caused some confusion as well. It had used both "Recommended" as well as "Only" word in the letter. In car refuelling world both are opposite terms.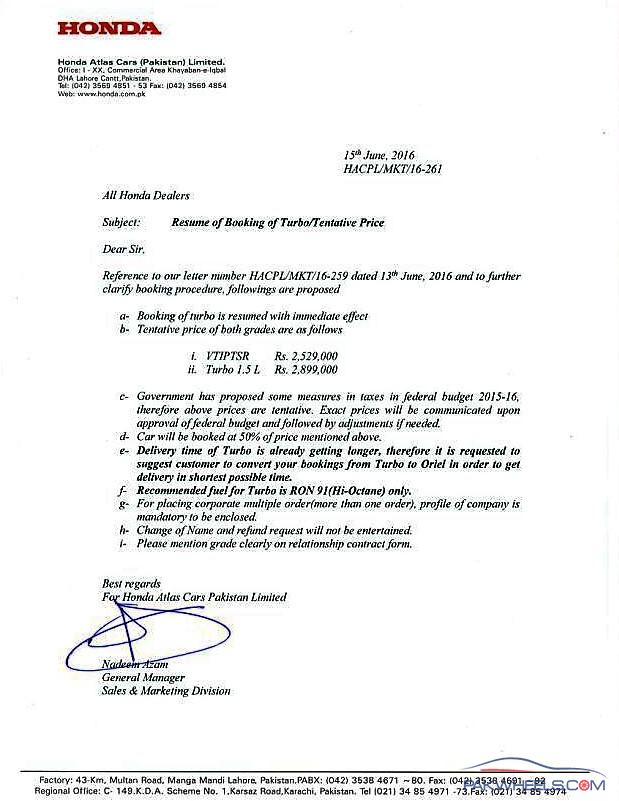 It confused me a little more. So is it mandatory or recommended? As you know, pre-booking started on Monday, June 6th and most of the new buyers went for the new 1.5T Civic without knowing the fact that it will need a high octane petrol. Also, this potential RON problem appeared after nine days when Atlas started taking new bookings (when the official letter leaked). According to some reports, Honda Atlas made Rs5bn in cash in 10 days. It appears the potential new Civic buyers are now in jeopardy due to the unavailability of the recommended fuel. Even the leaked photos of pre-booking slip show a warning informing people about the required fuel. The image is posted below. I guess new turbo Civic buyers should start researching how and from where they will acquire the required fuel. The hi-octane is not in stock on many fuel pumps. This also makes your 3 million PKR car limited to metropolitans. Current updates show that even in cities like Islamabad, Lahore, Karachi, and Peshawar, availability is limited or not at all
There is a detailed discussion thread about the 2016 Civic on PakWheels.com forum. Many Honda Civic, enthusiasts and potential buyers are disappointed after hearing the news. They feel cheated by the dealers and Honda. There are those who are thinking to opt for the 1.8l version. Honda will allow a switch before the delivery.
Few potential buyers with pre-booked 1.5 are even thinking to change to 1.8L Civic and sell it quickly instead of cancelling the order. The fuel requirement of turbo Civic has already dented it's resale value even before it left assembly line and made to roads. In short buyers who opted for 1.5T thinks that incomplete information resulted in a wrong decision by them, and as the advance is now non-refundable, they feel like this is now a forced sale.
Join Civic X Discussion: Pakwheels.com/Civic X
A lot potential new buyers still looking forward getting a turbo Civic are looking into alternative means to handle the issue of Hi-Octane.  One such way is adding octane boosters available off the shelves from auto accessory stores. I wish it was that easy, and we could do something like that. These additives or octane boosters are based on magnesium or lead, commonly known as MMT's.  All car companies, including Honda, stringently prohibit using any additives to the fuel. These boosters carry metallic additives which are dangerous and can result in premature failure of spark plugs as well as engine cylinders and the collapse of emission system. There is no substitute for Hi-Octane 91, and you can't add an additive to boost the octane amount. Also, these octane boosters mention on the packing that they add 5 to 7 point octane. In fact, in reality, the 5 to 7 point implies 0.5 or 0.7. So if we agree and assume, they raise the octane rating it will be 87.5 or 87.7 if combined to regular RON 87. Therefore, please don't think of mixing an additive/booster in your fuel if you own a Turbo Civic. It will hurt your car over time. Also, you will void the warranty on your car engine and component. Many studies have shown the adverse effects of these Octane boosters on the life and performance of the engine including the related components, especially emission system.
As Honda Atlas is assembly line and engine, transmission and other components are imported and assembled locally, the warranty on the individual parts is supported by Honda Global. So in simple words, your car has an issue with the internal of engines. Honda Global is liable for warranty claims provided the components are treated as per the required terms. So if Honda Global says minimum 91 RON, Honda Pakistan will never say Octane 87/regular fuel. Making such calls can make Honda Atlas responsible for any warranty claims.
Recently we came to know that oil marketing companies (OMCs) and domestic refineries have formed a pact with the federal government which will lead to a partial launch of better quality petrol in Pakistan, but country-wide availability on each and every pump is still a few years away. We might see increased volume of RON 91 fuel on petrol pumps which are already selling. Oil refineries need a to make a significant investment, and there are technological difficulties to do this change and state have currently permitted them to continue their operation. Some refineries will start blending and producing higher octane fuel by this year's end, but it will be priced high because it will be done by importing the additive material and the production will be limited. It's also a wide known fact that many petrol stations mix kerosene oil with the fuel further deteriorating the quality of available fuel.
Also Read: Agreement Made For Higher Grade Petrol
All of this has started another debate and serious discussion about how Honda Atlas handled the launch of the most anticipated Civic in the history of the automobile industry of Pakistan. Honda should have officially launched the car first and making car features, variants and other details public later opening a pre-booking across the dealership network like its normally done. Many who booked 1.5T without knowing the requirement of fuel grade are calling it deception on the part of Honda Atlas. I think it's time for Honda Atlas to don't further delay the launch of the Civic and make things public as soon as possible. Buyers right should be guarded, and they should be made well aware of all the facts about a product before it is sold.
In the end, I will throw a question towards my readers; If today Honda Atlas price the turbo Civic same as 1.8L variant.. will you buy it? Keeping in mind the required fuel grade and its availability.