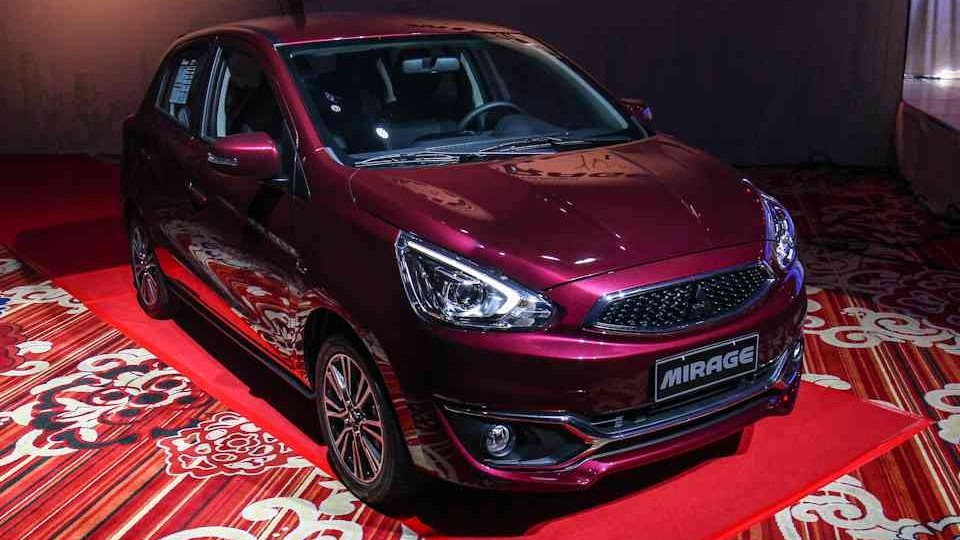 2016 Mitsubishi Mirage Facelift Revealed At MIAS 2016
Mitsubishi revealed its much anticipated 2016 Mitsubishi Mirage facelift at the ongoing 2016 Manila International Auto Show in Philippine. Mirage is currently one of the Mitsubishis most sought after vehicle. The Mirage name was first used back in 1978, but the line was discontinued in 2003. There were subcompact hatchbacks as well as mini hatchbacks. However in 2012, Mitsubishi once again launched a vehicle, this time only a hatchback, named Mirage. The production model was revealed at the 2011 Tokyo Motor Show.
In Pakistan as well, the imported Mitsubishi Mirage has been quite a hotcake. It is one of those mini hatchbacks that has been able to make a home in the hearts of Pakistani auto consumers. The imported 2013 Mitsubishi Mirage has been in demand for some time now. The imported Mirage is available with a 3-cylinder 1.0-liter petrol engine. The car comes with a CVT gearbox and according to Mitsubishi, it can do 27.2 km/l. One of our esteemed bloggers did a detailed review of his personal 2013 Mitsubishi Mirage. You can read his review below.
2013 Mitsubishi Mirage Owner's Review
Now Mitsubishi has revealed the new model of its already famous Mirage hatchback. The Mirage has already been quite a successful car for Mitsubishi in Philippine. The 2016 Mirage facelift was first revealed at the 2015 LA Auto Show. Both the US and the Philippine version gets a 1.2L MIVEC DOHC 12-valve 3-cylinder engine with either a 5-speed manual transmission or available Continuously Variable Transmission (CVT). Mitsubishi introduced the 1.2-liter version in almost all other international markets except Japan.
As far the appearance is concerned, the new Mirage now comes with an updated front fascia. The new front end looks a bit less aggressive than the previous shape but looks sleeker and modern. You get new headlights and daytime running LED lights along with the splash of chrome here and there. The interior has also been improved with more premium material.
Since Mitsubishi is assembling Mirage cars in Thailand and exports it worldwide, including Japan, it is yet to be seen if the Japanese version will also get the 1.2-liter engine. Considering its popularity in Pakistan, let's wait and see if importers bring the Mirage facelift to Pakistan or not.