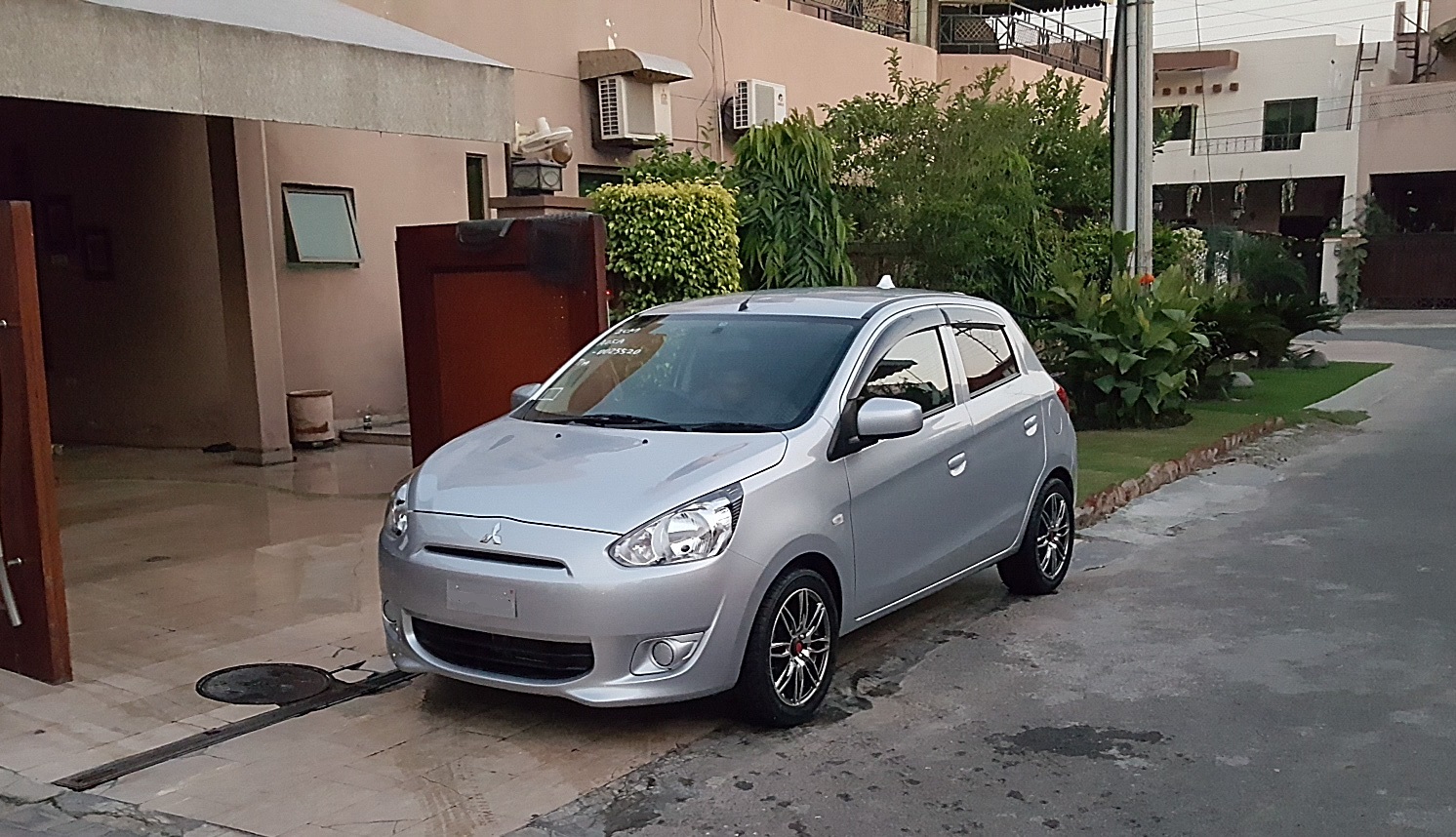 2013 Mitsubishi Mirage Owner's Review
Before beginning hunt for my next vehicle, I finalized the maximum amount I could spend. I was upgrading from 2011 Wagon R Stingray variant which my family and I used and enjoyed for almost two years. The maximum I wanted to spend was PKR 1.1 million. As usual, I started out by setting certain prerequisites: a) It had to be imported; b) it had to be a 2013 or higher model with no more than 20k kilometers on the odometer and; c) it had to be 4A grade or higher.
After a detailed survey, I shortlisted the following options;
• Toyota Passo 2012
• Suzuki Wagon R stingray 2013
• Daihatsu Mira ES 2013
• Honda N One 2012
• Nissan Dayz/Mitsubishi EK Custom 2013
• Mitsubishi Mirage 2013
• Suzuki Alto JDM 2013/14
• Toyota IQ 2012
• Daihatsu Move Custom 2012/13
Making the right call wasn't easy, but the fact that I had the option to move up from 660 cc to 1000 cc in my budget left me in the end confused between Toyota Passo and Mitsubishi Mirage. In reality, it was going to be judgment call and to many, a risk. But after careful workup, my mind and heart was set upon 2013 Mitsubishi Mirage. Mirage is available in 3 trims; S, M and G for 1.0L engine variant.
Intro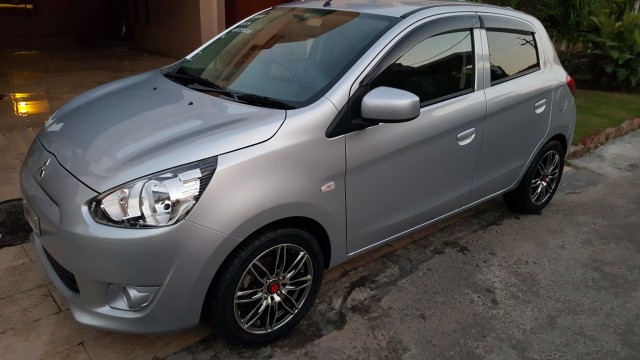 Lately, it's been a bit of decline for Mitsubishi Motors. First, their all-time favorite Pajero lost its charm and people started shifting to Cruisers. Lancer and Gallant lost their way after the 90's and now their sports icon "Evolution" has also been discontinued without properly announcing a worthy replacement. Nonetheless, as with all good companies, they've been recently trying to get their lost glory back with vehicles like new Pajero Sports, Outlander and other models invigorating anticipation among auto enthusiasts. In 1000cc category, Mitsubishi is offering Mirage with new shape since 2012. Internationally it has been received with mixed reviews but of course, as I keep telling people, be your own judge because every country has its own import policies and what might be good value for money in our country might not be worth the value abroad. And this is what convinced me in the first place for Mirage. I mean, seriously, what better options do we have under 1.1 million PKR category?
Now, after having owned and driven Mirage in various conditions for almost a week in Lahore, here are my detailed personal impressions about this car for all those who are or might be interested.
Design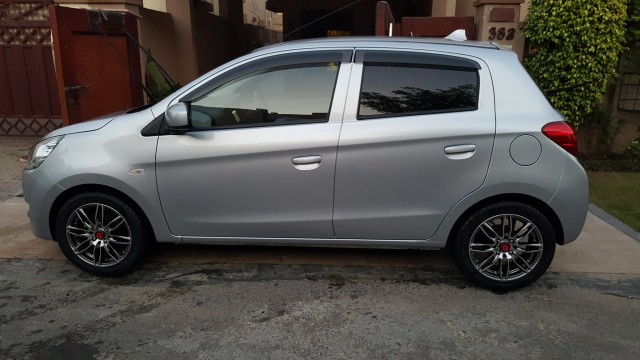 Exterior
Mirage is a small hatchback and has a simple yet graceful design. Let's face it, it's not a design you would look at the first time and go all 'wow'. But what Mitsubishi did right was not to undercook it, in the process making it anything but unattractive. Nice front with sporty bumpers, elegant rear and neat side look does the job very well from design perspective. Final product is overall very decent to look at and easy on the eyes.
Pros
Mitsubishi Mirage has decency written over it when a car enthusiast analyzes its exterior. The front lights are halogen reflectors, bonnet and bumper cuts give a nice sporty tinge. Door and fender cuts are sublime. Most of all, as a package, the road presence is graceful if not spectacular.
Cons
Rear lights could be a lot better in my opinion. Even if LED lights were not an option in this price range, still the designing could've been more futuristic than retro. Alloy wheels would've been nice as stock option as well.
Interior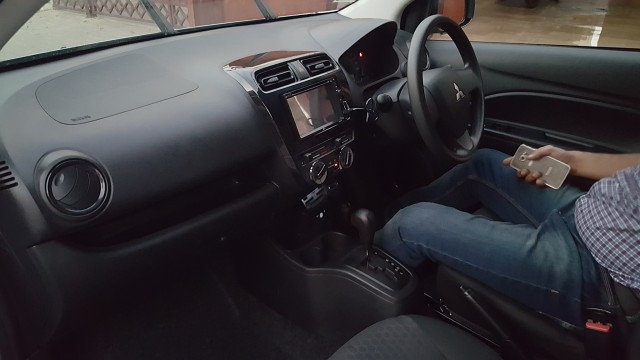 Pros
To be honest, I wasn't expecting out of the world interior in Mirage and due to the fact that it's a budget car, I was wary of the fact that low quality plastic materials would be used. But its interior has been made with much better care than I anticipated and that was such a relief. Materials are of very acceptable quality and designing is sober.
There's a leather stitched steering, climate control (M & G variant) and push start (G variant). Gear lever is smooth and easy. Seat fabric is decent as with most JDM's. Leg space and overall cabin space is great and it can accommodate 5 people on local as well as long drive with ease. Rear adjustable seats come in real handy when one wants even more space for cargo and stuff.
Cons
One might argue, the quality and designing could've been better, but then again considering the cost, I won't exactly consider it a serious drawback.
Engine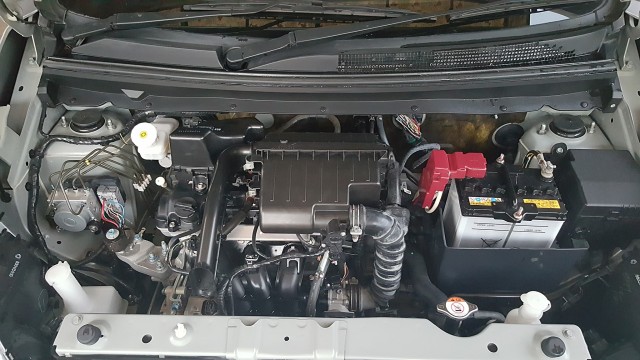 Mitsubishi Mirage is equipped with a 1.0L MIVEC three cylinder engine. It's as basic as they come but does the job efficiently and well. It has continuously variable transmission (CVT). 0-100 timing doesn't send chills down your spine but it was never meant to do that in the first place. It's extremely fuel efficient though and one can achieve city mileage of 18-20 kmpl with ease. These figures alone make it a worthy contender in decent price as we're all obsessed with mileages (rightly so), particularly when it comes to below 1500cc vehicles.
Drive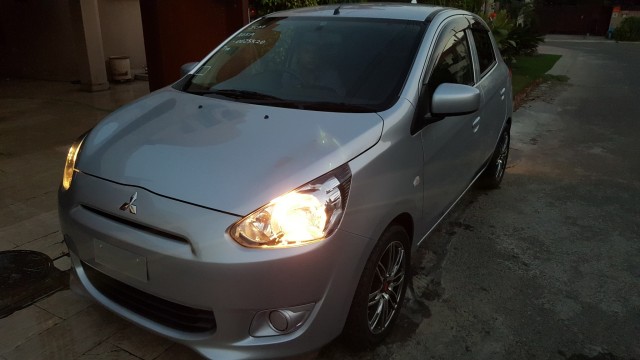 Pros
This is arguably, the most important aspect in a driving machine. It could be beautiful and have all the perks, but if it doesn't drive well, then that's a serious drawback. Fortunately, for Mitsubishi, Mirage doesn't disappoint here. Yes, it's not a driving joyland or electrifying experience per se but it's very smooth right from first gear. CVT makes the overall experience very calm, and on the whole pleasurable and soothing. I guess this is the preference when one is opting for a 1.0L engine. Sound proofing is above average. Under steer is present. Blind spotting is minimal. Anti-Lock Brakes do their job as they should and make you feel completely in control in decent speeds. I haven't been able to experience Mitsubishi's auto stop and go function (ASG) (commonly known as idle stop) as my base trim doesn't offer it.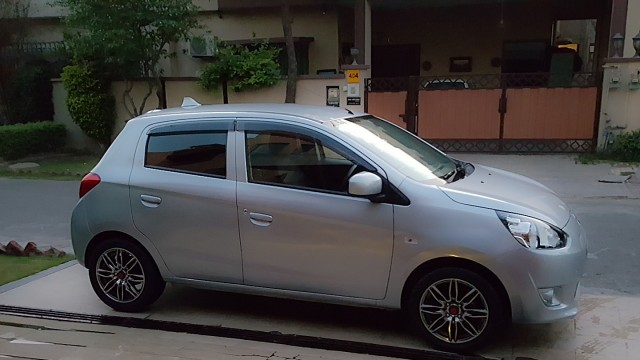 Air conditioning in Lahore climate is very effective I must say, and has performed very well. Turning radius is 4.4 meters making it ideal for city traffic conditions. Suspension holds up very nicely on bumpy roads I must say. Another very important factor for our conditions is road clearance (Vitz and Prius owners would verify) and thank God, Mirage has very good ground clearance. Even with 4 adults on board, I haven't experienced underbody scratching on higher bumps, a big plus in my opinion.
Cons
Handling leaves a bit to be desired as you may face under-steer in cornering at speeds above 90-100kmph which in any case is not recommended for smaller engine vehicles. Stability assist (traction) does come in handy to rectify any mishandling though but still better to avoid any stunt attempts above 100 kmph. Engine noise is squeamish when pedal is pushed hard, the same I have noticed in Vitz as well and may be distracting to someone who has a heavy foot per se.
Related: 2014 Honda Vezel Hybrid Owner's Review
Mileage Figures
It's giving me 16-19 kmpl with ac in Lahore city depending upon how one drives. I am sure the variants with idle stop (M & G) would perform slightly better. Have not been able to take a long drive on motorway yet but fellow owners have given excellent mileage feedback on longer routes as well.
Standout Handy Modern Features
• Push start (G)
• Climate control (M & G)
• Activated stability control (ASC)
• UV cut privacy glass
• Adjustable Head Lamps
• 4 airbags
• Anti-lock brakes
• Adjustable rear seats
• Immobilizer (M & G)
• Keyless entry
• Auto stop & go (ASG) (M & G)
• Hill start assist
• Eco assist and Eco lamp
• Emergency stop signal function
• Emergency tire puncture repair kit
Verdict
The Mitsubishi Mirage is a sure winner in my opinion. Its practicality and value for money makes it suitable for anyone looking for a comfortable daily ride or family car in excellent budget. With the options at our disposal in this price range, Mirage is surely a complete standout. It gives you features and luxury easily comparable to Vitz if not better and in much lower price. Availability of spares may be a distraction to some but in this time and age, with so much influx of JDM imports in the market, I personally don't see it as a deal breaker.
Overall 8.5/10
Click through the gallery for the photos of Mirage and browse Mitsubishi Mirage classifieds on PakWheels.