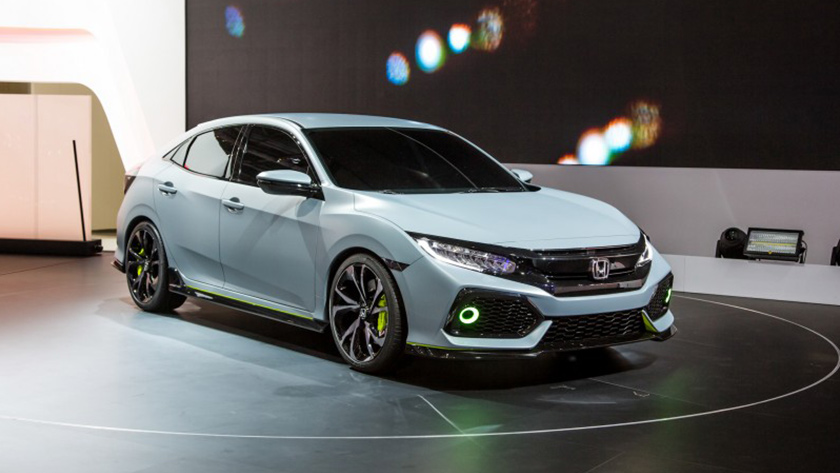 2017 Honda Civic Hatchback Concept Photos Leaked Before Its Reveal At Geneva Motor Show
Before the launch of its 10th generation Civic, Honda had announced they will be launching the car in various body styles, including a hatchback. Now according to latest reports, photos of new 2016 Honda Civic hatchback concept have been leaked on the internet. The concept car was scheduled to be revealed at the upcoming Geneva Motor Show 2016. The leaked images were made available thanks to Carscoops.
The 5-door 2017 Honda Civic hatchback European model will be launched with the smaller 1.0-liter 3-cylinders turbocharged VTEC engine. The front end of the concept vehicle is quite similar to the current 2016 Honda Civic sedan. By the looks of it, the Civic hatchback will sport full LED headlamps along with bigger air inlet on the front bumper. Considering this is just a concept, the actual production car might have exact front fascia.
Also Read: 2016 Honda Civic Coupe Revealed
However, the rear of the car is where the things get excited. According to the images, the rear bumper houses massive outlets on both sides while two exhaust tips are poking from underneath right in the middle of the car. The rear headlights now have a black in them as well and retain the basic shape of the sedan's rear lights. The back also features a top-mounted spoiler as well.
The concept looks quite sporty so expect Honda to tone down the aggressive styling attributes in the production car. The 3-cylinders turbocharged engine is reported to make 127 hp and 201 Nm of torque. As far gadgets are concerned, you can expect new hatchback Civic to offer all the toys sedan Honda Civic has, like, Collision Mitigation Braking, Road Departure Mitigation, Adaptive Cruise Control, 7-inch audio/video infotainment system and much more.
New Honda Civic hatchback will be put up for sale in the European market in the year 2017. This is the third body style in 2016 Civic line after the sedan and coupe models. Along with new 3-cylinder engine, the hatch will be sold with the regular 4-cylinder 1.5-liter turbocharged engine as well.