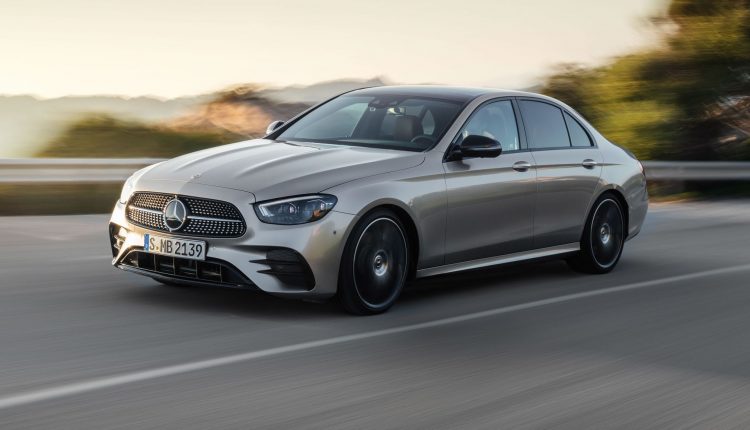 2021 Mercedes-Benz E Class Revealed, Here's What to Expect
The Mercedes-Benz E-Class, a downsized version of the iconic S-class, is the bread and butter for Mercedes-Benz, promising to deliver equal parts comfort and style as its bigger brother, but in a smaller, tidier package.
The current fifth-generation E-Class, released back in 2017, is at the midway point in its life cycle, and in typical Mercedes tradition, the range of sedans and coupes have received a round of updates to keep it looking and feeling fresh against some of the newer competition.
Let's take a look at the tweaks the German automaker has made to its luxury line and see if it has what it takes to keep up with the ever-growing competition.
Mercedes-Benz E-Class Exterior:
The E-Class' styling upgrades are better described as evolutionary rather than revolutionary but we have come to expect that from Mercedes. The latest iteration of the German Luxobarge gets a slinky body just like the old car, but look closer and you'll spot some new LED headlights, redesigned alloy wheels and a set of wider brake lights. The Mercedes E-Class's grille has also gone under the knife: now it curves up as standard and sweeps down in sportier AMG Line cars so it looks a bit grumpier and more aggressive.
AMG Line versions also get extra bulges in the bonnet that Mercedes calls the 'power domes' in addition to featuring more definitive vertical grille slats than on the previous model. The rear end is new, too, with a distinctive shape and updated light fixtures that mimic those on the smaller A-Class and CLA sedans. Buyers can now pick from three new paint jobs, too: Graphite Grey, Mojave Silver, and Cirrus Silver.
The tweaks to the styling are extensive but by no means alienating, the car still looks and feels very much like an E-Class, which is no bad thing for prospective Mercedes-Benz customers, who are often conservatively minded. Overall, the E-Class still
Interior and Features:
The E-class features an interior that is upscale and suitably posh for a car of its stature, the cabin is beautifully detailed with brushed aluminum, lovely wood, and some of the most comfortable seats in the automotive world. Every model comes standard with customizable ambient interior lighting, heated front seats, a 12.3-inch digital gauge cluster, and memory settings for the driver's and front passenger seat.
More desirable options include a head-up display, massaging front seats, a panoramic sunroof, and ventilated front-seat cushions. Under its shapely rear end is a trunk that offers less space than some rivals, but the Benz has them beat when it comes to interior cubby storage. Lowering the rear seatbacks opens up much more space for hauling cargo, but they don't fold completely flat, so heavy loading items may feel like a chore. We still managed to fit 18 of our carry-on suitcases inside the sedan with the rear seats stowed.
Both the coupe and convertible models offer a 10-cubic-foot trunk; with the top down, though, the cabriolet model's available space shrinks considerably. We could only fit two carry-on suitcases inside the trunk with the convertible's top stowed, but the coupe managed to hold five.
The new Mercedes E-Class comes with two 10-inch displays, but you can upgrade these to massive 12.3-inch screens instead. You could get all this in the old Mercedes E-Class, but the new car had them joined between one piece of glass rather than divided by black plastic. The old rotary dial controller has been chucked away, so now you get a touchscreen and a touchpad on the center console instead – just like in the new Mercedes GLE.
You also get the latest Mercedes infotainment system with a built-in 'Hey Mercedes' voice assistant, which lets you adjust the cabin temperature or program the sat-nav on the move, similar to Google Assistant or Siri on your smartphone.  The AMG E53 also comes standard with Apple CarPlay, Android Auto, a Burmester stereo, and wireless charging.
While the 2021 E-class has not been crash-tested yet by the National Highway Traffic Safety Administration (NHTSA), the Insurance Institute for Highway Safety (IIHS) or the European New Car Assessment Programme (EURO NCAP), you can be assured it is one safe ride since it packs the latest in safety tech. It comes standard with several driver assists, such as automated emergency braking and blind-spot monitoring.
Optional safety features include adaptive cruise control with stop-and-go technology,  lane-departure warning, and lane-keeping assist, and automatic high-beam adjusting headlights. One of the new, more advanced items is an enhancement for the adaptive cruise control. The system can use live traffic updates to recognize and respond to a build-up of traffic on a highway well before the driver is even aware of the situation. When it detects traffic ahead, and the driver doesn't take any actions, the system will automatically slow the vehicle to 100 km/h as a precaution.
Performance and Driving Dynamics: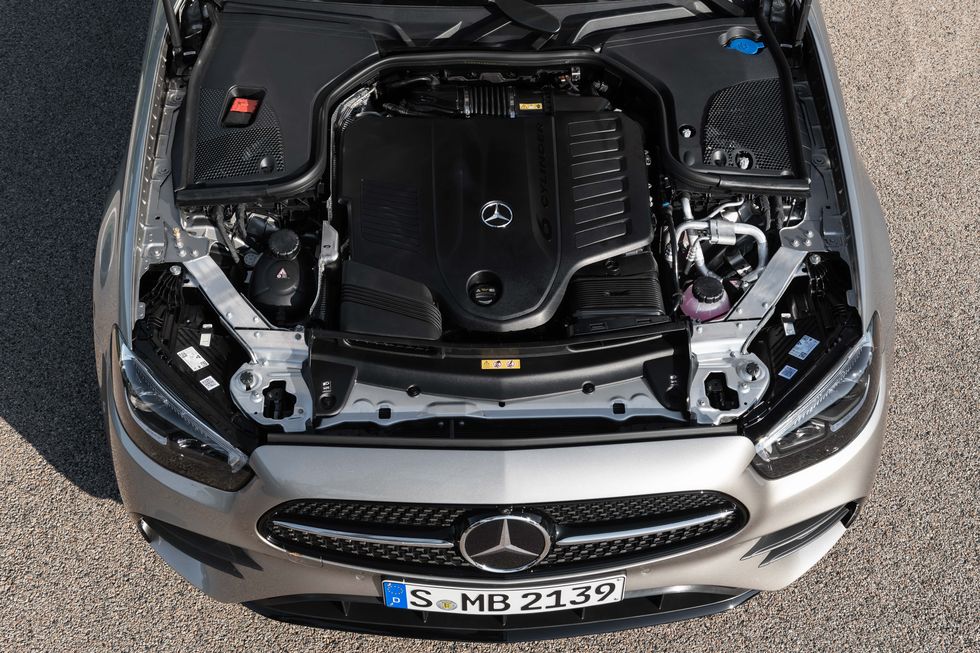 The E-Class, for now, comes as a family of four: the entry-level E-350 turbo petrol, the E-350e Plug-in Hybrid, the E-450 straight-six hybrid, and the top of the line E53 AMG. E350 has a turbocharged four-cylinder that makes 255 horsepower and 370 Nm of torque. It pairs with either rear- or all-wheel drive.
The plug-in-hybrid E350e is only available with rear-wheel drive, but its four-cylinder engine works with an electric motor to generate a total output of 315 horsepower and 700 Nm of torque. The E450 is powered by a turbocharged inline-six-cylinder engine with a 48-volt hybrid system that doubles as an electric supercharger. The setup sends 362 horsepower and 500 Nm of torque to either rear- or all-wheel drive in the optional 4-MATIC variant.
The top of the line E53 is powered by an AMG-tuned turbocharged 3.0-liter inline-six-cylinder engine that makes 429 horsepower and 520 Nm of torque. A 3.0-liter straight-six diesel engine that pumps out 387hp are also expected to join the range.
Every one of these powertrains is paired to a silky smooth nine-speed torque converter automatic transmission. Shifts are buttery and rarely even noticeable, which may not contribute towards making the E-Class a sporty ride but certainly makes it a comfortable one.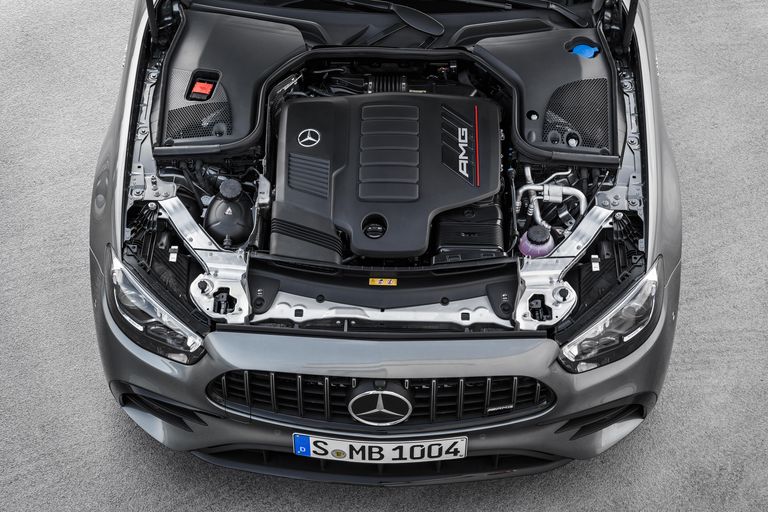 Since the E-class is a comfort-biased car, its handling is competent but not sporty. It leans in corners but holds its own and rarely feels overwhelmed even when pushed hard. With the optional air suspension in its most comfortable setting, the ride is creamy, and the E-class is perfect for gobbling up stretches of road. It glides over pavement imperfections with only slight notification of such unpleasantries communicated to the cabin. With the drive-mode selector set to either Comfort or Eco, the steering is nicely weighted—not too light, not too heavy—and feels accurate. The E-class tracks straight on the freeway with a solid and predictable nature, and feedback from the road is muted.
Pricing and Availability:
The 2021 E-class will go on sale globally at the end of this year, but Mercedes-Benz hasn't yet stated how much each model will cost. However, it can be reasonably inferred that prices will remain comparable to their predecessors, though we do expect a small increase. The estimated prices of the new models are as follows for the US market:
E350: $52 000
E350e: $60 000
E450: $59 000
E53 Sedan: $75 000
E53 Coupe: $76 000
E53 Cabriolet: $83 000
Unfortunately, there is no official word from Mercedes-Benz Pakistan as to when the E-Class will be available here, but when it does, incidences of import duty and taxes are likely to push the premium vehicles well north of the PKR 150 000 000 mark.
Final Thoughts:
The 2021 Mercedes-Benz E-class epitomizes sophistication with its bleeding technology, classy appearance, and extravagant cabin. Available as a four-door sedan or two-door coupe and cabriolet, the Mercedes can be made to match all manner of upper-class lifestyles. It also offers a set of distinct powertrains that range from an entry-level four-cylinder to a plug-in hybrid to a zesty turbocharged six-cylinder in the AMG models. The 2021 E-class chauffeurs passengers in quiet comfort thanks to a serene interior, and a pillowy ride and the overall experience are not unlike a smaller and more affordable version of the ultra-luxurious S-class.
Recommended for you: How To Book Toyota Yaris 2020 In Pakistan?