They say you can tell a lot about a person by how well they maintain their car. I feel this is a true statement. Your car is usually your most expensive personal possession, and so how you take care of it – regularly washing and polishing it, changing the oil and air filter on time, cleaning the engine etc. – often reflects how you take care of the important things in life. At least, that's how automotive enthusiasts think like!
Car maintenance used to be fairly difficult, but today it is as easy as pressing a virtual button. Fast WiFi & 3G connections let you access all of the world's car knowledge with a quick Google search, while a new breed of on-demand services like PakWheels-funded AutoGenie allow you to automate your car maintenance.
Still, there are those like me who prefer to maintain their car themselves. I find it difficult to trust car mechanics, having had bad experiences in the past. This takes up quite a bit of my time, especially considering I have a day job while running my own website.
For such busy people, you need every tool at your disposal to make car maintenance easier. One such set of tools are car maintenance apps for your iPhone or Android smartphones which we will discuss in this blog post, along with some really cool apps you can use to improve your driving experience. Let's get right into it!
#1 Gas Cubby – iPhone (FREE with ads)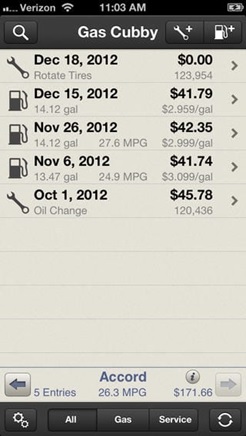 Gas Cubby is one of the most popular car maintenance apps for iPhone. It allows you to keep track of a number of items including mileage, oil change, filter change, tire pressure checks, tire rotation and more. It then processes your data so you can visualize your car's maintenance history. Gas Cubby thus acts as a smart log for your car – much better than the pen & paper log my father still maintains despite the rise of smartphones.
Gas Cubby is available as a free app with ads. You can, however, purchase the $1.99 version to get rid of the ads if you dislike them.
Android users: check out the similarly equipped aCar app.
#2 iOnRoad – Android & iPhone ($0.99)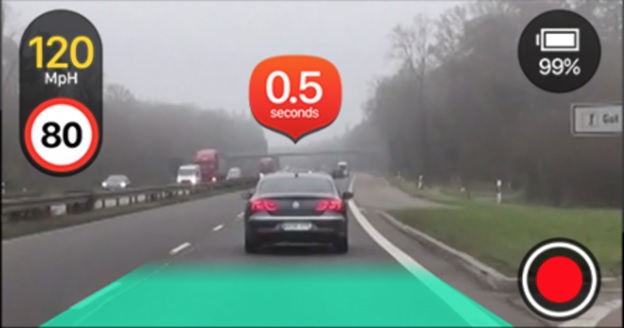 Car enthusiasts with limited pockets – including yours truly – are aware of how premium luxury cars like the Mercedes S Class come with sophisticated collision detection and auto-braking systems. Such futuristic technology is a source of great envy for many.
However, thanks to the rise of smartphones, you can enjoy something similar in your humble Honda City or Toyota Corolla. iOnRoad (Android, iPhone) uses your phone's camera and GPS to calculate how much time it would take for you to collide into the car in front of you. If the time is too little, like a few hundred milliseconds, it alerts you to slow down to drive at a safer distance. In this way, it is similar to pre-collision detection systems that are only beginning to be included in high-end variants of compact cars like the 2016 Honda Civic.
#3 Carcorder – iPhone (Limited free version & $1.99 Pro version)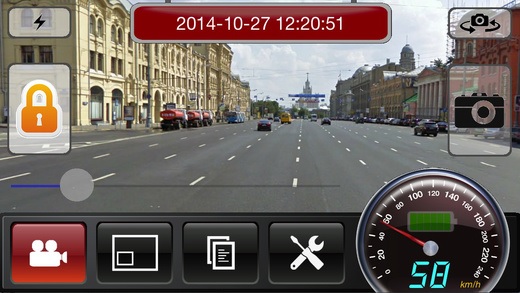 In the event of a car crash, the footage from your dashboard camera ("dashcam") is the most important recording of the accident. Rather than relying on unreliable eye witnesses, you can use actual footage to understand what went wrong, and who made the mistake that led to the unfortunate event. This, in turn, can save you a lot of hassle.
Dashcams are not common in Pakistan, but if you're anything like me, I recommend you should get one. They are available for a few thousand rupees in the market, and will save you tens of thousands of rupees in case you bump into someone.
The least you can do is spend a couple hundred rupees on an app like Carcorder, which turns your iPhone into a makeshift dashcam. It comes with a huge number of settings to meet your preferences including automatic space management, auto-focusing, auto-recording etc. along with smart features like auto-saving video when you receive a call, saving GPS logs alongside the video, and conserving battery life with auto-dim and disabled camera preview. I would say the app makes your iPhone as powerful as a mid-range dashcam!
Try it out today by downloading the limited free version of Carcorder today.
#4 iCarMode – iPhone ($1.99)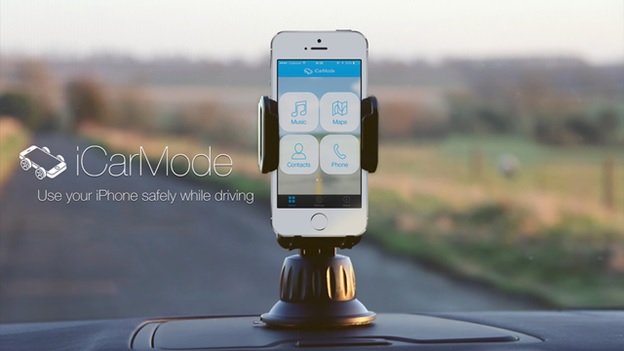 Using your phone while driving is incredibly dangerous. It reduces your attention, and takes your eye off the road which puts everyone around you at risk. It is recommended you pull over, stop your car and then use your phone if it's that important.
Yet, I do understand you sometimes just do need to use your phone in your car to make a launch, or to skip a song, increase/decrease volume. In that case, it's a good idea to use a car-friendlier interface: a carefully-design app that uses big, easily-clickable buttons for the most critical functions.
That's exactly what iCarMode does. Launch the app before you begin driving, and place your phone in a car mount. You can (relatively) safely control music, access your favorite contacts, quickly call them, launch your favorite GPS navigation app, and more.
Android users should check out Car Dashdroid (free) to enjoy the same functionality.
These are only four of the best, most useful apps you can use to enhance your driving and car ownership experience. I'm sure the PakWheels community is aware of more apps that I may have missed in the article. Consider sharing your favorite car related Android and iPhone apps in the comments section below!