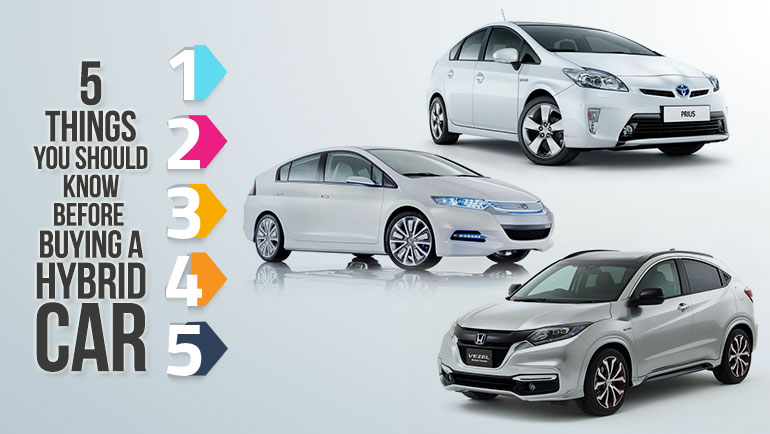 5 Things You Should Know Before Buying a Hybrid Car
Hybrid car is a big deal nowadays in the market as they are changing the auto market worldwide. Companies are using hybrid technology to bring more performance in their vehicles. Initially, they started to be just an add-on to improve the fuel economy but lately they have developed to be a whole new system on their own. In Pakistan the market is opening for hybrids. Recently, IMC has introduced Pakistan's first hybrid SUV, Corolla Cross, while Prince DFSK has announced to bring Huawei's first hybrid SUV, SERES SF5 in Pakistan soon. It means the hybrid cars will have significant share in local market in coming years.
Car makers have invested a lot in making these new systems more efficient and fuel economical. We have seen some serious influx of imported hybrid cars in Pakistan as well. There are a few points you should keep in mind before buying a hybrid car. You should first find out if they are the best bet for you or just a waste of cash.
Fuel Economy
Hybrids, especially plug-in hybrids, work best in city driving. You can get as much as 24 kilometers on all-electric motor in one full battery charge. So if you think you have a lot of city driving to do and want it to be effortless, a hybrid is your best bet. Honda Vezel is famous for giving more than 20 km/l consistently. But long gone are the days of hybrid cars that were not as efficient on long routes as you were hoping for. Hybrids like the third generation Prius are very clever when it comes to managing both power units under the bonnet. So if you are looking for a hybrid, be assured you will get the best quality.
Overall Cost
The initial cost of buying a hybrid is always going to be high compared to a regular sedan/crossover of the same kind. It takes more to make a hybrid, so it's a simple math. Indus Motor is selling a Toyota Prius for  Rs9.2million. Meanwhile, IMC launched Corolla Cross in price range of Rs7.7 to Rs8.4million. That is a lot of money for a family car. But the fuel average is the biggest plus point of a hybrid vehicle.
Battery Pack
Another issue people have with hybrids is the fear of a faulty battery. When second generation Prius started to appear on the street of Pakistan, the first point people raised was about a dead battery. But soon after the used battery packs started to appear in the scrap markets around Pakistan.
There is a misconception that battery packs are expensive. But that is not true in the international market. Although Toyota batteries are available locally, it will be interesting to see how Honda Vezel and Honda Fit Hybrid owners would react after a decade or two. I asked around the scrap market in Rawalpindi about the prices of battery packs, and these are the quotes I got:
Toyota Prius 1.5 – PKR 90,000-100,000
Toyota Prius 1.8 – PKR 90,000-1,100,000
Honda Vezel, Fit and Insight – PKR 90,000-95,000
Toyota Aqua – PKR 98,000

Options in Hybrids
Internationally you have a bunch of options in hybrid cars but in Pakistan, that is not the case. We only have three readily available options. Toyota Prius, Honda Vezel, Toyota Aqua and Honda Fit Hybrid. However, it is not all doom and gloom. Those three cars are currently popular and easily available but if you look a little harder, you will find a bit more options in hybrids as well. Currently, Hybrid Axio and Hybrid Fielder are also being imported to Pakistan as well. Honda Insight and CR-Z are also an option. If you want to go fancy, you can get a Hybrid Camry or even a Hybrid Crown Athlete. So if you look around in detail, you will find a lot more options than you would expect.
Changing Market
Pakistani automaker is continuously changing. Our market is in its evolution state, and it appears new market players are interested in getting in as well. Currently, only Indus Motors is selling a hybrid car locally and has offered a new one, recently. There is Honda CR-Z as well, but many don't consider it a viable option. Mostly available cars are imported. So as much as these imported cars are popular, the after sales service can never match to a car sold by a local manufacturer. So you need to decide yourself how will you manage if your imported hybrid ends up having a fault that cannot be fixed. Is it worth it to you or not?
These are just a few basic points regarding buying a hybrid car. We hope this might have helped you in some way.