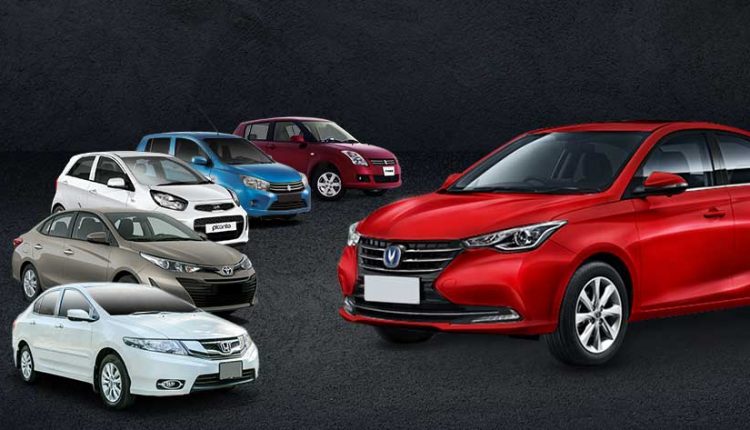 Alsvin Prices to SMASH Both Sedans & Hatchbacks' Sales
Changan has finally announced the prices for three variants of Alsvin today. As per the official Facebook page of Changan, the prices are:
1.37L Base model with 5 speed Manual transmission @

 PKR 2,199,000/-

1.5L Comfort with 5-speed Dual Clutch Transmission @

PKR 2,399,000/-

1.5L Lumiere with 5-speed Dual Clutch Transmission @

PKR 2,549,000/-
 Without any debate, the prices are very competitive as they are even lower than consumers' expectations. Earlier reports suggested that prices would start from Rs23,00,000; however, it is not the case. These prices will undoubtedly jolt the sales of both sedans and hatchbacks. These competitive rates will affect the sales of Toyota Yaris, Honda City as well as KIA Picanto, Suzuki Cultus and Suzuki Swift. Alsvin is indeed targeting a wide range of buyers, as a number of buyers will shift from hatchbacks to the sedan, due to its price, trunk space and features.
Price Comparison with Yaris and City: 
If we compare Yaris and Alsvin's prices, we will see that the cost of Yaris' base variant is Rs2.5million, and its top variants' rate is Rs 3million. This means that manual base variant of Alsvin is Rs3 lacs cheaper than Yaris, while the top of the line auto variants have price gap of around Rs4.50 lacs. 
Meanwhile, the situation is almost similar in Alsvin's comparison with Honda City. The price of City's base variant is Rs2.45million, while its top variant is available in Rs2.85million. This means Alsvin's base is Rs2.5-lacs and top variant is around Rs3-lacs cheaper, respectively.
One of the most critical aspects of this category is that Alsvin offers features like Cruise Control and Sunroof, unheard of in Pakistan. These two features make the new sedan, a standout, among its competitors.
Price Comparison with Picanto, Cultus and Swift: 
Let's compare the new sedan with hatchback KIA Picanto. Although Picanto's Manual variant's price is Rs1.9million, but rate for its top-of-the-line auto variant is Rs2.05million. Although it makes Alsvin's manual variant around 1.5-lacs expensive than Picanto, it is pertinent to mention that Changan's vehicle has a 1.3L engine, more space, and comes with a trunk and multiple other features. Henceforth, the buyer of Picanto Automatic will definitely think about  Alsvin before a purchase, which is a win for Chinese automakers.
Now, let's make a price comparison of Alsvin with Suzuki Cultus, which has dominated Pakistan's hatchback segment for a very long time. The manual variant of Cultus starts from Rs1.78million, while price of auto variant is Rs2.13million. So, it means that the manual variant of Alsvin is only Rs60,000 costlier than auto variant of Cultus AGS. So, a tough competition for Suzuki's hatchback.
Coming to Suzuki Swift, the price of this hatchback starts from Rs2.03million, while its auto variant costs Rs2.21million. So, its auto variant is Rs11-thousand expensive than Alsvin, which is a victory for the sedan.
Final Thoughts on Alsvin Prices: 
Alsvin has undoubtedly made a huge splash with its introduced prices of all three variants. With these features and specs, Changan is all set to give a tough competition to its competitors, especially Big-3. The consumers now have a good car to choose in the budget-sedan segment. Now, it all depends on after-service and parts availability of the vehicle, if Changan remained successful in it, than Alsvin has a bright future in Pakistan.